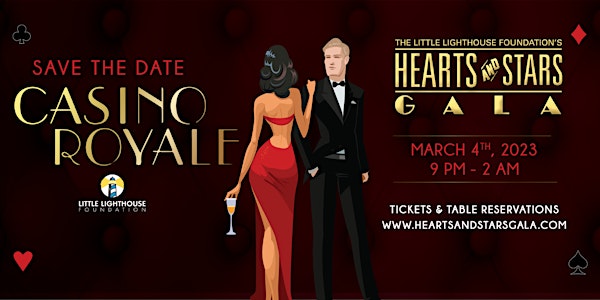 Hearts & Stars Gala: Casino Royale
The Little Lighthouse Foundation's ("LLF") 13th Annual Hearts & Stars Gala: Casino Royale
When and where
Location
TBD TBD Miami, FL 33131
About this event
The Little Lighthouse Foundation's ("LLF") 13th annual Hearts & Stars Gala will take place on Saturday, March 4th, 2023. ​Guests are invited to dance the night away at a James Bond-themed party with special performances.
The night will consist of 5 hours of open bar and light bite's from some of South Florida's top restaurants.
If you would like information on purchasing a VIP Table (nightclub style) which includes VIP tickets for ten (10) guests and unlimited bottle service please contact Jonathan Babicka at Jonathan@TheLittleLighthouse.org.
For tickets, visit www.HeartsAndStarsGala.com.
DRESS CODE:
This event is black tie optional and will be enforced. Male guests must wear a jacket and pants (not jeans). Hats are not allowed.
LIABILITY WAIVER AND RELEASE OF CLAIMS:
I acknowledge that I derive personal satisfaction and a benefit by virtue of my participation and/or voluntarism with LLF, and I willingly engage in LLF events and/or other fundraising activities (the "Activity").
RELEASE AND WAIVER.
I HEREBY RELEASE, WAIVE AND FOREVER DISCHARGE ANY AND ALL LIABILITY, CLAIMS, AND DEMANDS OF WHATEVER KIND OR NATURE AGAINST LLF EVENTS AND ITS AFFILIATED PARTNERS AND SPONSORS, INCLUDING IN EACH CASE, WITHOUT LIMITATION, THEIR DIRECTORS, OFFICERS, EMPLOYEES, VOLUNTEERS, AND AGENTS (THE "RELEASED PARTIES"), EITHER IN LAW OR IN EQUITY, TO THE FULLEST EXTENT PERMISSIBLE BY LAW, INCLUDING BUT NOT LIMITED TO DAMAGES OR LOSSES CAUSED BY THE NEGLIGENCE, FAULT OR CONDUCT OF ANY KIND ON THE PART OF THE RELEASED PARTIES, INCLUDING BUT NOT LIMITED TO DEATH, BODILY INJURY, ILLNESS, ECONOMIC LOSS OR OUT OF POCKET EXPENSES, OR LOSS OR DAMAGE TO PROPERTY, WHICH I, MY HEIRS, ASSIGNEES, NEXT OF KIN AND/OR LEGALLY APPOINTED OR DESIGNATED REPRESENTATIVES, MAY HAVE OR WHICH MAY HEREINAFTER ACCRUE ON MY BEHALF, WHICH ARISE OR MAY HEREAFTER ARISE FROM MY PARTICIPATION WITH THE ACTIVITY.
ASSUMPTION OF THE RISK.
I acknowledge and understand the following:
1. Attendance includes possible exposure to and illness from infectious diseases including but not limited to COVID-19. While particular rules and personal discipline may reduce this risk, the risk of serious illness and death does exist;
2. I knowingly and freely assume all such risks related to illness and infectious diseases, such as COVID-19, even if arising from the negligence or fault of the Released Parties; and
3. I hereby knowingly assume the risk of injury, harm and loss associated with the Activity, including any injury, harm and loss caused by the negligence, fault or conduct of any kind on the part of the Released Parties.
MEDICAL ACKNOWLEDGMENT AND RELEASE.
I acknowledge the health risks associated with the Activity, including but not limited to transient dizziness, lightheaded, fainting, nausea, muscle cramping, musculoskeletal injury, joint pains, sprains and strains, heart attack, stroke, or sudden death. I agree that if I experience any of these or any other symptoms during the Activity, I will discontinue my participation immediately and seek appropriate medical attention. I DO HEREBY RELEASE AND FOREVER DISCHARGE THE RELEASED PARTIES FROM ANY CLAIM WHATSOEVER WHICH ARISES OR MAY HEREAFTER ARISE ON ACCOUNT OF ANY FIRST AID, TREATMENT, OR SERVICE RENDERED IN CONNECTION WITH MY PARTICIPATION IN THE ACTIVITY.
As a participant, volunteer, or attendee, You recognize that your participation, involvement and/or attendance at any LLF event or activity ("Activity") is voluntary and may result in personal injury (including death) and/or property damage. By attending, observing or participating in the Activity, You acknowledge and assume all risks and dangers associated with your participation and/or attendance at the Activity, and You agree that: (a) LLF Events, Inc. (b) the property or site owner of the Activity, and (c) all past, present and future affiliates, successors, assigns, employees, volunteers, vendors, partners, directors, and officers, of such entities (subsections (a) through (c), collectively, the "Released Parties"), will not be responsible for any personal injury (including death), property damage, or other loss suffered as a result of your participation in, attendance at, and/or observation of the Activity, regardless if any such injuries or losses are caused by the negligence of any of the Released Parties (collectively, the "Released Claims"). BY ATTENDING AND/OR PARTICIPATING IN THE ACTIVITY, YOU ARE DEEMED TO HAVE GIVEN A FULL RELEASE OF LIABILITY TO THE RELEASED PARTIES TO THE FULLEST EXTENT PERMITTED BY LAW.
TERMS AND CONDITIONS:
LLF's Hearts & Stars Gala is a rain or shine event.
ALL GUESTS MUST BE 21 YEARS OLD OR OLDER and prepare to show proper ID at the entrance.
HELPFUL TIPS AND IMPORTANT INFORMATION:
We look forward to every guest enjoying the Little Lighthouse Foundation's Hearts & Stars Gala Weekend.
DRAMA FREE ZONE:
Please be courteous and respectful at all times. We create events for people to have a great time and meet other people. Treat other guests and the venue with respect during your event experience.
DO NOT DRINK AND DRIVE!
Drinking and driving is dangerous, illegal and is unacceptable. There are plenty of transportation options to ensure you arrive home safely, including a taxi, Uber, or Lyft. Please make sure that you make proper transportation arrangements.
WILL CALL FOR #HSGALA:
Every person must check in with their valid ID. No person will be allowed into the event without having first shown proper ID. Every person must have their own ticket for entrance. Printed tickets allow for the quickest entry into the event. We will process everyone as quickly as possible but please be patient; arriving early to check in will allow you to avoid lines and helps alleviate waits at the beginning of the event. NO RE-ENTRY – No re-entrance will be allowed for any persons.
TERMS & CONDITIONS:
By using your ticket and/or purchasing a ticket and/or using a ticket or band to gain admittance to Hearts & Stars Gala 2022 you agree to the following terms and conditions.
Refunds: There are NO refunds for any reason.
Indemnification: Attendee hereby agrees to indemnify and hold the Little Lighthouse Foundation, its members, directors, officers, employees, contractors, staff, sponsors and the venue harmless of and from all loss, cost, expenses, or damage with respect to any injury to person or property of any kind.
Force Majure: The Little Lighthouse Foundation shall not be liable for delays or failures in performance or presentation of Hearts & Stars Gala due to a cause beyond its reasonable control. "Event of Force Majure" includes: acts of God and the public enemy; flood, earthquake, tornado, storm, fire, civil disobedience, labor disputes, labor or material shortages, or sabotage, restraint by court order or public authority (whether valid or invalid).
Disclaimer: The Little Lighthouse Foundation retains the right to make changes to the event at any time including but, not limited to; entertainment, schedule, location, ticket cost etc.
Refunds: There are NO refunds for any reason.
Limitation of Liability: You voluntarily assume all risks and danger incidental to the event for which the ticket is issued, whether occurring before, during or after the event, and you waive any claims for personal injury or death against us, management, facilities, leagues, artists, other participants, and all of our respective parents, affiliated entities, agents, officers, directors, owners and employees on behalf of yourself and any accompanying minor. You bear all risks of inclement weather.
Limitation of Liability:IN NO EVENT WILL WE OR OUR EVENT PROVIDERS, SUPPLIERS, ADVERTISERS AND SPONSORS, BE RESPONSIBLE OR LIABLE TO YOU OR ANYONE ELSE FOR, AND YOU HEREBY KNOWINGLY AND EXPRESSLY WAIVE ALL RIGHTS TO SEEK, DIRECT, INDIRECT, INCIDENTAL, SPECIAL OR CONSEQUENTIAL DAMAGES OF ANY TYPE OTHER THAN OUT OF POCKET EXPENSES, AND ANY RIGHTS TO HAVE DAMAGES MULTIPLIED OR OTHERWISE INCREASED, ARISING OUT OF OR IN CONNECTION WITH THE SITE, THE CONTENT, OR ANY PRODUCT OR SERVICE PURCHASED THROUGH THE SITE, EVEN IF WE HAVE BEEN ADVISED OF THE POSSIBILITY OF SUCH DAMAGES, AND REGARDLESS OF WHETHER THE CLAIM IS BASED UPON ANY CONTRACT, TORT, OR OTHER LEGAL OR EQUITABLE THEORY. WITHOUT LIMITING THE FOREGOING, YOU EXPRESSLY ACKNOWLEDGE AND AGREE THAT WE WILL HAVE NO LIABILITY OR RESPONSIBILITY WHATSOEVER FOR (a) ANY FAILURE OF ANOTHER USER OF THE SITE TO CONFORM TO THE CODES OF CONDUCT, (b) PERSONAL INJURY OR PROPERTY DAMAGE, OF ANY NATURE WHATSOEVER, WHETHER ARISING IN CONTRACT OR IN TORT, RESULTING FROM YOUR ACCESS TO AND USE OF OUR SITE, (c) ANY UNAUTHORIZED ACCESS TO OR USE OF OUR SECURE SERVERS AND/OR ANY AND ALL PERSONAL INFORMATION AND/OR FINANCIAL INFORMATION STORED THEREIN, (d) ANY BUGS, VIRUSES, WORMS, TROJAN HORSES, DEFECTS, DATE BOMBS, TIME BOMBS OR OTHER ITEMS OF A DESTRUCTIVE NATURE WHICH MAY BE TRANSMITTED TO OR THROUGH OUR SITE, (e) ANY ERRORS, MISTAKES, INACCURACIES OR OMISSIONS IN ANY CONTENT, OR (f) ANY LOST, STOLEN OR DAMAGED TICKETS, OR THE FAILURE OF A VENUE TO HONOR A TICKET. YOUR SOLE AND EXCLUSIVE REMEDY FOR DISSATISFACTION WITH THE SITE IS TO STOP USING THE SITE. THE LIMITATIONS IN THIS SECTION WILL APPLY EVEN IF ANY LIMITED REMEDY FAILS OF ITS ESSENTIAL PURPOSE. THE ALLOCATION OF RISK BETWEEN US IS AN ESSENTIAL ELEMENT OF THE BASIS OF THE BARGAIN BETWEEN US. OUR AGGREGATE LIABILITY ARISING OUT OF THESE TERMS OR THE USE OF THE SITE WILL NOT EXCEED THE GREATER OF ONE DOLLAR ($1). SOME JURISDICTIONS DO NOT ALLOW THE EXCLUSION OR LIMITATION OF DAMAGES, SO THESE MAY NOT APPLY TO YOU. IN SUCH CASES, OUR LIABILITY WILL BE LIMITED TO THE FULLEST EXTENT PERMITTED BY APPLICABLE LAW. IN NO EVENT WILL ATTORNEYS' FEES BE AWARDED OR RECOVERABLE.
License; Ejection and Cancellation; No Redemption Value: The Little Lighthouse Foundation reserves the right, without refund of any amount paid, to refuse admission to, or eject, any person whose conduct it deems disorderly, who uses vulgar or abusive language or who fails to comply with the event rules. Breach of terms or rules will terminate your license to attend the event without refund. A ticket is a revocable license and admission may be refused upon refunding the ticket's face amount. A ticket is not redeemable for cash.
You Are Subject to Search: You and your belongings may be searched on entry to the event. You consent to such searches and waive any related claims that may arise. If you elect not to consent to such searches, you may be denied entry to the event without refund or other compensation. Under certain facility rules, certain items may not be brought into the premises, including without limitation, alcohol, drugs, controlled substances, cameras, recording devices, laser pointers, strobe lights, irritants (e.g., artificial noisemakers), bundles and containers.
Unlawful Resale of Tickets; Promotions: Unlawful resale (or attempted resale), counterfeit or copy of tickets is grounds for seizure and cancellation without compensation. Certain maximum resale premiums and restrictions may apply in some states and we cannot be responsible for providing legal advice regarding resale or pricing of tickets. You are responsible for complying with all applicable ticket resale laws. In addition, we reserve the right to restrict or deny ticket purchasing privileges to anyone that we determine to be, or has been, in violation of our policies. Because we do not guarantee the authenticity of tickets purchased from any non-authorized third party reseller (such as brokers or individuals), we recommend that you purchase tickets directly through us, authorized partners or from the venue box office to ensure ticket authenticity. Tickets may not be used for advertising, promotions, contests or sweepstakes, unless formal written authorization is given by us, provided that even if such consent is obtained, any use of our trademarks and other intellectual property is subject to our written consent.
By purchasing a ticket and registering for this event, you acknowledge that you are 21 years or older and you give the Little Lighthouse Foundation the right to photograph, videotape or otherwise record or collect your name, likeness, voice and sounds ("Works") during your attendance at the event. You irrevocably assign and grant to the Little Lighthouse Foundation all rights in these Works and the right to use or sublicense these Works and your name, likeness and biography, in the Little Lighthouse Foundation's discretion, in all media and for any purpose, including without limitations, advertising and other promotions for the Little Lighthouse Foundation, without any further consideration to yourself, your heirs, assigns or legal representations, and without any right to review any such use beforehand.
ACCEPTANCE OF TERMS OF USE:
BY USING THIS WEBSITE AND/OR PURCHASING A TICKET OR TABLE, YOU SIGNIFY YOUR AGREEMENT TO THE TERMS OF THIS AGREEMENT. If you do not agree to the terms in this Agreement, you must not purchase a ticket or table.
Privacy Policy: By using our site, you consent to our privacy policy.
We collect information from you when you purchase tickets or make a donation for processing transaction and to send you periodic emails of Little Lighthouse Foundation events, programming and other information related to the charity.