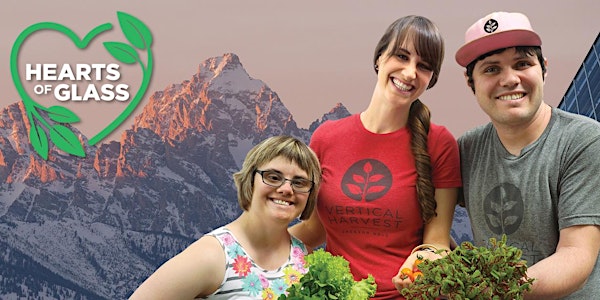 "Hearts of Glass" Documentary Showing & Panel Discussion at The Press Hotel
Enjoy a showing of award-winning documentary "Hearts of Glass" followed by a panel discussion with the filmmaker and Vertical Harvest team.
When and where
Location
The Press Hotel, Autograph Collection 119 Exchange Street Portland, ME 04101
About this event
The Press Hotel invites you for a special movie showing of "Hearts of Glass." This documentary film highlights values that are profoundly important to Mainers: local food production, innovation and solutions for a better tomorrow. This award-winning documentary film provides viewers with a preview of what is coming to Maine in the Fall of 2023 with the opening of Vertical Harvest in Westbrook; a business that emphasizes the importance of sustainable farming practices and the wellbeing of community members.
Attendees are welcome to view the feature film (68 mins) followed by a moderated panel discussion and audience "Q&A" session featuring the co-founder of Vertical Harvest Farms, Caroline Croft-Estay; Vertical Harvest employee, Sean Stone; filmmaker, Jennifer Tennican; and Maine Medical Center's Employee Relations Specialist, Chris Hynes, to hear about what's happened since the making of this film in Jackson Hole, Wyoming and about Vertical Harvest, Maine – which will open Westbrook during the Fall of 2023.
PLEASE NOTE: This film will be screened with open captioning. If you are a viewer experiencing vision impairment, please check the box below to receive an audio file for your reader in advance of November 29th.
The Press Hotel will be offering two complimentary show times of the film on Tuesday, November 29th at 3:00PM and 7:00PM. At the event, attendees are welcome to enjoy complimentary movie theater treats and beverages supplied by The Press Hotel.
Enjoy a drink at our Inkwell Lounge or add dinner at UNION restaurant to your plans for the evening. Total event time is approximately 2 hours (film: 68 minutes; 45-minute panel discussion and "Q&A" session).
ABOUT THE FILM
Hearts of Glass follows the first 15 months of operation of Vertical Harvest Farm in Jackson Hole, Wyoming. The first of its kind in North America (in 2016), this multi-story, state-of-the-art hydroponic greenhouse grows crops while providing meaningful, competitively-paid jobs for people with disabilities.
The film weaves the story of Vertical Harvest's launch with the personal journeys of several employees with intellectual and developmental disabilities. Innovation and inclusion create a fertile environment for people and plants to grow. Hearts of Glass is an intimate portrait of social entrepreneurship at the intersection of disability rights and sustainable, local food production.
Watch the "Hearts of Glass" Documentary Trailer by selecting this link.