Description
What better way to shatter xenophobia, Islamophobia, anti-Semitism, and hate than to come together in a family celebration of compassion and diversity at the Toronto City Hall!
On Sep 9th, the Institute of Canadian Archives launches North America's first 'Hearts & Minds Living Library – Compassion Catalogue'. This unique daylong celebration brings together over 36 diverse faith and non-faith based leaders with stories of resilience, compassion, and coexistence. Visiting readers will borrow each of these 'compassion' leaders as 'Living Books' for a duration of 25 min each.
These Books include actors, comedians, journalists, filmmakers, musicians, politicians, authors, entrepreneurs, artists, writers, and leaders from Agnostic, Buddhist, Christian, Jewish, Muslim and Sikh backgrounds.
Coming together to challenge all forms of hate, these thought-leaders share their vision for a Compassionate Canada: "Compassion is the core human value, irrespective of our individual or collective identities"
Curating Living Books such as the critically acclaimed author Catherine Wallace, Toronto Film Commissioner Zaib Sheikh, and MPP Nathalie Des Rosiers, the Catalogue is a reminder that compassion has no religion.
Links:
Website: www.MeetABook.com
Registration: www.bit.ly/2017FBReg
PARTNERS

QUICK BREAKDOWN:
Location: Toronto City Hall
Date and Time: September 9th, 2017 – 10 am to 4 pm
Five Programs
General Registration Recommended
Living Library Sessions Registration Required: meetabook.com/booking
Theme: Compassion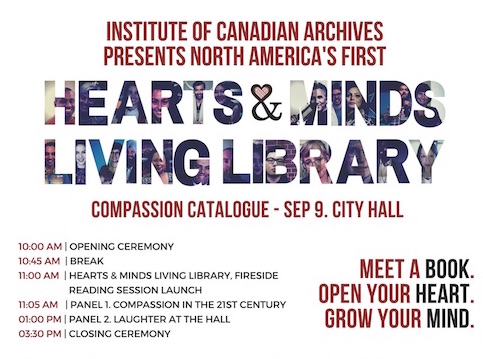 LIVING LIBRARY SESSIONS (11:00AM – 3:40PM)
Featuring 16 Living Books throughout the day. Living Library works just like a normal library: readers browse the catalogue for available titles, choose the Book they want to read, and borrow it for a limited period of time. The only difference is that in the H&MLL, 'Books' are people, and 'Reading' consists of a personal dialogue: one-on-one conversations held in an open anti-oppressive space. Limited sessions so register today!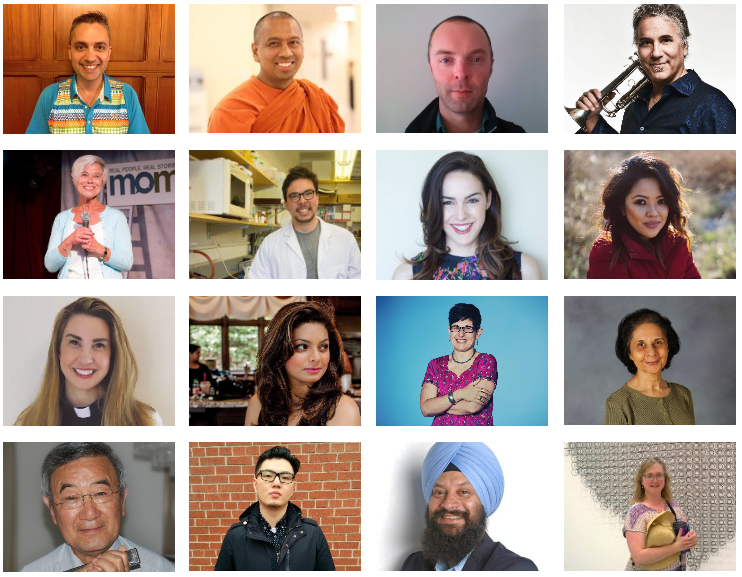 See all of our Book Profiles: https://meetabook.com/books/

FIRESIDE READING (11:00AM – 3:25PM)
Come hear the experiences and successes of our Bestsellers throughout the day. There will be 6 sessions in total. Featuring Toronto Film Commissioner & Actor Zaib Shaikh, Entrepreneur Mohammed Fakih, Author Catherine M. Wallace, Storyteller Erin Kang, and MPP Natalie Des Rosier.
See our Bestseller's profiles: https://meetabook.com/bestsellers/



COMPASSION PANEL: COMPASSION IN THE 21ST CENTURY. WHERE DOES CANADA STAND? (11:00AM – 12:15PM)
This year's Compassion Panel deals with some of the most pressing conversations from across North America. The unique panel explores the intersectional compassion themes & the myriad of commonalities. The participants will share their wisdom through the lens of art, queerness, academia, literature, spirituality, policy and social entrepreneurship. The conversation moderated by Naheed Mustafa will unveil how despite all differences, each individual journey coincides at one point in the end: Compassion. A short Q/A will follow.
See our lineup of panellists: https://meetabook.com/panelists/
LAUGHTER AT THE HALL
COMEDY PANEL: LAUGHTER IS THE BEST MEDICINE (1:00PM – 3:30PM)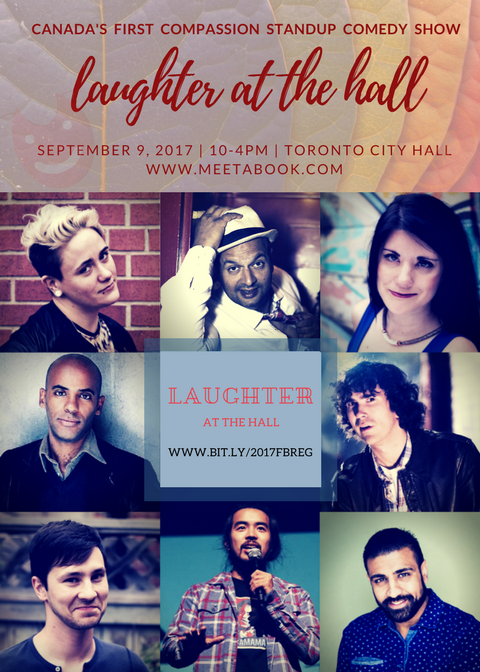 The Hearts & Minds comedy acts provide a moment of reflection on our commonly held stereotypes.
Join us as Comedian and motivational speaker Anto Man-Ming Chan, Chantel Marostica and Lwam Lwam bring stories and funny personal anecdotes to our Comedy standup act and panel at the Toronto City Hall.
Witness the live podcast as Courtney Gilmour and Dan Curtis Thompson are joined by Ali Hasan (Laugh out Loud on CBC Radio, StandUp Ali), Amesh Patel (Fade to Brown, Second City Toronto Inclusion & Diversity, Grand Wave Entertainment Inc.) and Marc Hallworth (Marc Hallworth, Vest of Friends)
More about our Comics: https://meetabook.com/event/#comedy
MeetABook.com | CanadianArchives.ca
Twitter: @cdnarchives
Instagram: @cdnarchives
Facebook: @canadianarchives