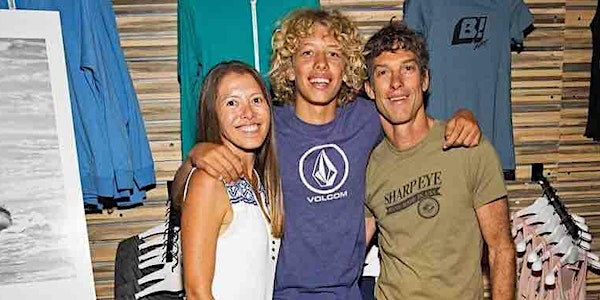 Hearts for Hart: A Fundraiser for Brian Hart
When and where
Location
Haut Surf Shop 345 Swift Street Santa Cruz, CA 95060
Refund Policy
Refunds up to 7 days before event
Description
Come join us for an afternoon of aloha to benefit the Hart family on Sunday, September 23rd at Haut Surf Shop. We'll have great food and drinks, live entertainment throughout the event, and a raffle featuring $5,000+ worth of wonderful items from local businesses.
Why? As many of you have heard, our friend and neighbor, Brian Hart, was tragically injured in a surfing accident at Steamer Lane. You may know him as the father of life-long surfer Santi Hart. Several folks on site, including his 15-year-old son, Santi, were successful in resuscitating him and keeping him alive until the emergency medical team arrived. When he first arrived at the hospital, Brian was unable to breathe or move on his own, but he improves a bit every day. Brian, in true surfer form, is staying positive during this difficult time, keeping the faith that he will be better soon.
A small group of Hart family friends is planning this fundraising event for the Hart family. All money collected will go directly to helping the Harts rebuild their life during Brian's recovery.
How will the money collected benefit the Hart family?
As an athlete, active father, and provider for his family, Brian's life has changed dramatically as a result of this accident, and it is unclear when he will be able to work again. Recovery is going to be a long-term process, and the entire family will need the support of our community. Since Brian's floor business is the sole income provider for the family, the Harts will be experiencing a huge financial loss, as well as experiencing the emotional roller coaster ride of recovery. Also, Brian will need expensive equipment and services, such as an electric wheelchair and in-home nursing care.
It's time we give back to this well-loved family when they need it most - Veronica, with her big heart and big smile, their son, Santi, a star surfing competitor, and Brian, a long-time surfer who has done beautiful work in many of our homes.
To make a donation to the raffle or volunteer at the event, please send us a note by clicking the contact button at the bottom of this page or via Facebook.

Join us on Facebook at https://www.facebook.com/HeartsForBrianHart/ for updated event information and raffle item listings.