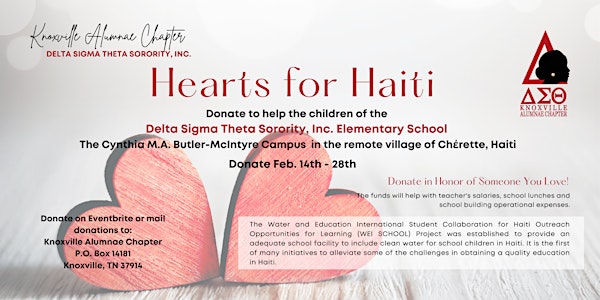 Hearts for Haiti
Knoxville Alumnae Chapter of Delta Sigma Theta's Hearts for Haiti Campaign
About this event
Donate to help the children of the Delta Sigma Theta Sorority, Inc. Elementary School. The Cynthia M.A. Butler-McIntyre Campus in the remote village of Chἐrette, Haiti. Donate Feb. 14th - 28th. The funds will help with teacher's salaries, school lunches, and school building operational expenses.
The Water and Education International Student Collaboration for Haiti Outreach Opportunities for Learning (WEI SCHOOL) Project was established to provide an adequate school facility to include clean water for school children in Haiti. It is the first of many initiatives to alleviate some of the challenges in obtaining a quality education in Haiti.
Donate on Eventbrite or mail donations to: Knoxville Alumnae Chapter P.O. Box 14181, Knoxville, TN 37914.
Make checks payable to: Knoxville Alumnae Chapter. Put Hearts for Haiti in the memo line.
Donate in Honor of Someone You Love!