About this Event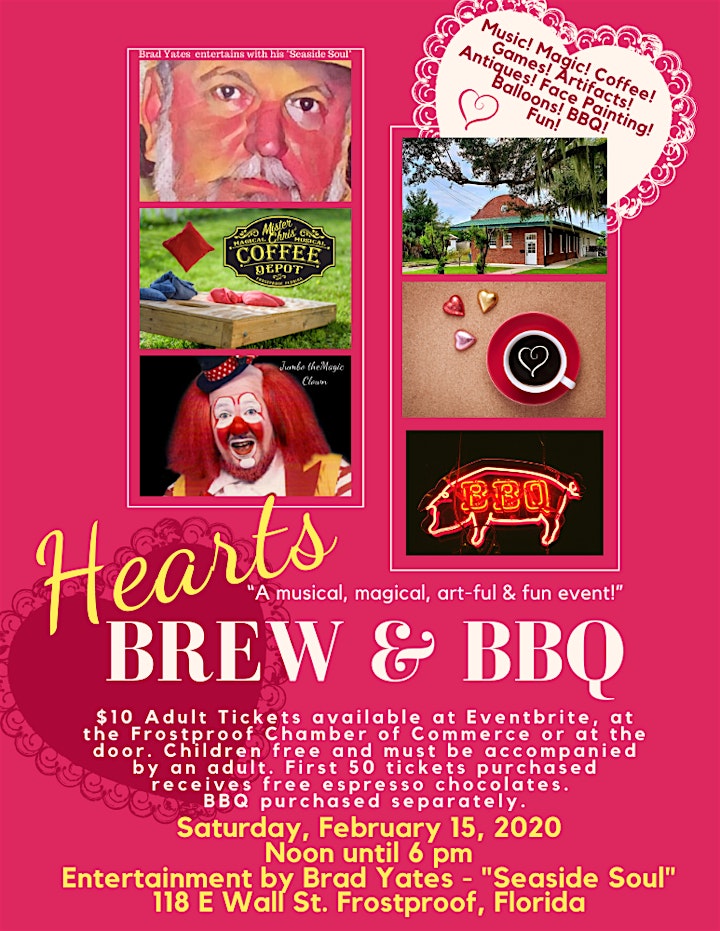 Frostproof, Florida - Frostproof's Historic Train Depot was built in 1912 and is now the home base for Mister Chris' Coffee Gallery. Recently, the Depot was renamed "Mister Chris' Magical & Musical Coffee Depot" by the new owner Chris Drake. Mister Chris--a curiously, creative and imaginative individual is on a mission to create a place that is magical, musical, fun and a great get-a-way.
Frostproof is a small city in rural Polk County, Florida and many residents go outside Frostproof to find things to keep them busy, pique their curiosity and stir up fun while enjoying time with their family and friends--That is until recently. Mister Chris' Magical & Musical Coffee Depot is bringing more creative, diverse and fun things to do right here in the Frostproof Community.
A portion of net profits from this event will benefit St. Jude Children's Hospital and the Frostproof Historical Museum.
Hearts, Brew & BBQ will be a fun and inexpensive Valentine's weekend event for families, friends and folks who just want to celebrate the Valentine's weekend a little differently. We will have live entertainment by Brad Yates with his Seaside Soul. There will also be free face painting, balloons, and magic by Jumbo the Magical Clown. Taste the difference in Mister Chris' Coffee and get to know the man behind "Mister Chris' Coffee Gallery and his great tasting brew. Learn more of the history of the Historic Train Depot, play lawn games with your loved ones and more. We will also have mouthwatering BBQ available for purchase separately. Additional fun things may be added.
http://www.mrchriscoffeegallery.com
https://www.facebook.com/coolbreezeflorida/
http://www.jumbothemagicclown.com/