Heartfulness Speaker Event
When and where
Location
University Hall University Pl University of Redlands Redlands, California 92373-0999
Description
Free adminssion | Open to all | Age 15+
Heartfulness Institute along with University of Redlands and A. K. Smiley Public Library invites you for an inspirational conversation with the Joshua Pollock, co-author of the international best seller 'The Heartfulness Way'. The book was unveiled by the President of India, Ram Nath Kovind and has been endorsed by dignitaries from around the world.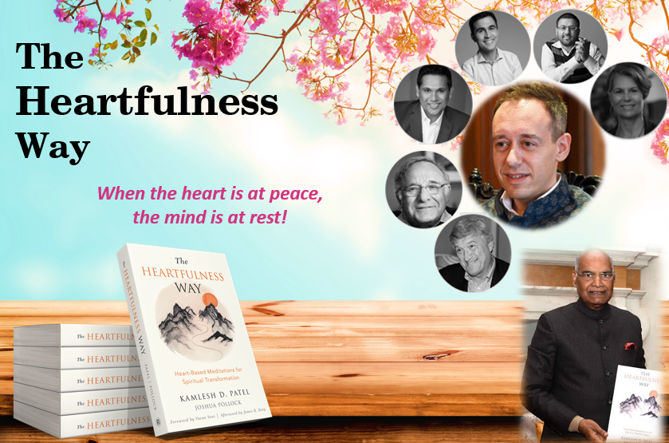 Bottom Right: President of India, Ram Nath Kovind unveiling the book, Center: Joshua Pollock, Endorsements around Joshua from left:
James

R. Doty, Professor, Neurosurgery

, Stanford

University School of Medicine

Dr

.

Ichak

Adizes

, Founder and

President,

Adizes

Institute

Partha

Nandi, Emmy award winning

show and

international best-selling author

Vasco

Gaspar, Human

Flourishing, Facilitator

, SIY Certified

Teacher (

Mindfulness-Based

Emotional Intelligence

)

Varun

Soni

, Dean of Religious Life

, University

of

Southern California

Cassie

Stockamp

, President,

The Athenaeum

Foundation and Founder

, Monumental

Yoga Indianapolis
The program includes:
Speaker Joshua Pollock

Introductions by Dr. Fran Grace, University of Redlands

Interview by Jennifer Downey, A.K.Smiley Public Library

Meditation session conducted by Joshua Pollock

Question & answers/ Meet the author


Refreshments
About the Speaker:
JOSHUA POLLOCK is a Heartfulness trainer and practitioner from the United States. An accomplished Western classical violinist, he has performed and taught throughout the world, including multiple collaborations with composer A.R. Rahman. Pollock is a dedicated spiritual aspirant, and is enthusiastic about sharing his passion for meditation, frequently lecturing at private seminars, holding practical demonstrations in corporate, educational and governmental settings. Pollock holds a Bachelor of Musical Arts degree from Indiana University and two master's degrees from Guildhall School of Music and Drama in London. He currently resides in India with his wife and their two children.
Interviewed by: Jennifer Downey, A. K. Smiley Public Library
Jennifer Downey serves as the Principal Librarian at the historic A.K. Smiley Public Library. She is the author of Public Library Collections in the Balance: Censorship, Inclusivity, and Truth (2017, Libraries Unlimited) as well as several professional articles about equity of access, intellectual freedom, censorship, and outreach to underrepresented groups. She has also worked for ten years as a social worker providing services to at-risk families. A student of meditation and yoga, Jennifer enjoys bringing new and mind-broadening experiences to her library patrons and partnering with others to bring these programs out of the library and into the greater community.

Introductions by: Dr. Fran Grace, University of Redlands
Fran Grace is a professor of Religious Studies and Steward of the Meditation Room at University of Redlands. Her teaching and writing examine the upside of religion, mainly the "inner life" -- its inspirational teachers, various methods for spiritual development and healing and the paths to Self-Realization, Enlightenment and Divine Union as taught by the sages and mystics of the world's spiritual traditions.
Follow the events around various cities in United States @ www.theheartfulnessway.com