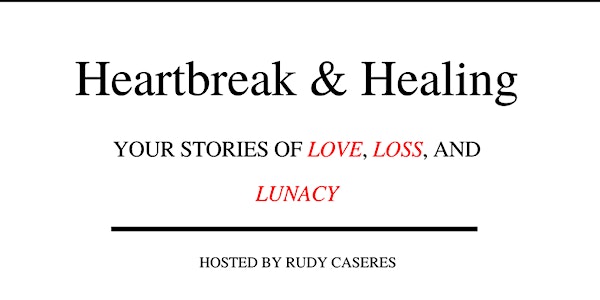 Heartbreak & Healing: Your Stories of Love, Loss, and Lunacy
When and where
Location
The Garden Church 429 West 6th Street Los Angeles, CA 90731
Description
Heartbreak & Healing: Your Stories of Love, Loss, and Lunacy taking place on SUNDAY, FEBRUARY 11TH 7PM at The Garden Church. I'm Rudy Caseres and I'll be your host for this storytelling event. I'm an award-winning mental health and suicide prevention advocate who has given inspirational speeches across the US. My work has been featured on The Mighty, This is My Brave, Healthy Place, and The S Word. I'm also the host of my own live online talk show called No Restraints with Rudy Caseres. You can follow me on Facebook, Instagram, and Twitter.
The reason I chose that specific date is because it's the Sunday before Valentine's Day. Although the pain of being alone during that time may not be as extreme as losing a loved one to suicide who hasn't had their heart broken at some point in their life?
And yes, I really do mean your stories. Whether it's the tale of your first schoolyard crush, getting stood up at the high school prom, a nasty divorce, or even the passing of a spouse, I want anyone to feel safe sharing their most heartbreaking experiences. I cannot stress enough that this isn't so much about entertainment but, rather, it's about healing. It's about strength. And I truly believe that is best achieved with full freedom of expression and with the support of others who understand.
So if you think this is something you'd be interested in please let me know. Even if you can't physically attend as I'll also be accepting video submissions.
*Also note that this is a secular event and all are welcome.
Download and share a printable flyer here: https://drive.google.com/open…
Additional Visual Settings
Enter Watch And Scroll
Click to enlarge