About this Event
Join us for an afternoon of family fun. Heartblaster has collaborated with some really amazing people from all over to bring you an experience that you will enjoy and be proud of. Our Back to School / Back to Preschool kick off will feature a popup, runway show, fundraiser, entertainment, special performances, bowling, games, sweet treats, raffle prizes, and good vibes. It will be just what you need before heading in to the new school year!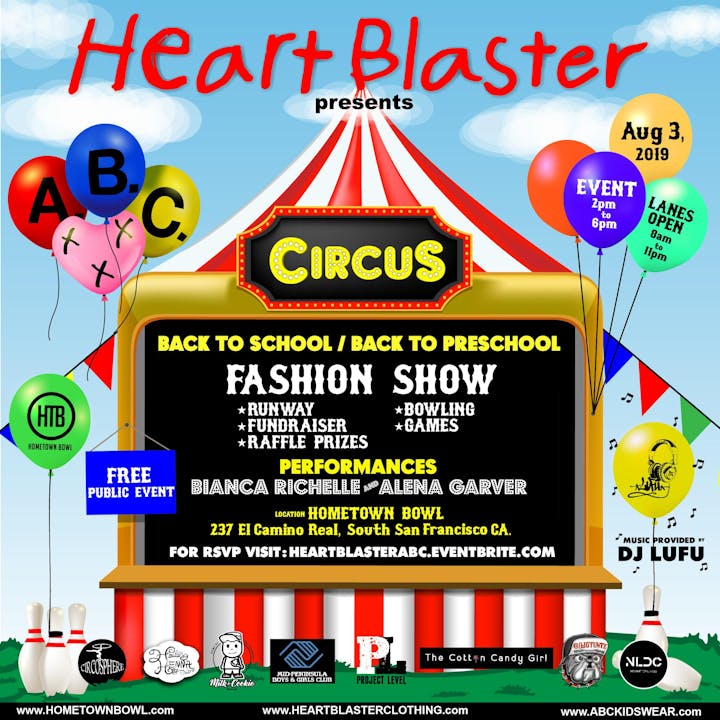 REGISTRATION: PLEASE RSVP!
This is a FREE public event but we are encouraging RSVP so that we can cater to your needs properly.
This is what you get for registering: (participants only)
• 1 raffle ticket for a free slice of pizza
• 1 raffle ticket for a chance to win some cool raffle prizes
RAFFLE PRIZES:
• Win a Heartblaster tote bag
•Concert tickets- KINGS OF THE WEST (FEATURING BERNER)
•Giveaways from A.B.C KIDSWEAR
•Game play cards up to $25 each for HTB
•Gift card for Cookies Clothing
FREE: (while supplies last)
•Cotton Candy
•Popcorn
•1 slice of pizza (With Eventbrite Registration)
•Ice cream
•Heartblaster Henna
•Raffle tickets for prizes (With Eventbrite Registration)
BOWLING: (not included)
Lanes are open on a first come first come serve basis
ARCADE: ( not included )
Hometown Bowl is fully equipped with a top of the line arcade for your entertainment needs. Also on a first come first serve basis
POPUP:
Shop Heartblaster Clothing and A.B.C KIDSWEAR for super cute Back to School threads for kids sizes 2T - 14 Youth.
HEARTBLASTER CLOTHING:
Our mission is to support the youth in being more kind and uplifting to one another, while raising awareness for equality and diversity for a brighter and more inclusive future.
Be the first to shop our new line at this special event, and our super dope collaboration tee with A.B.C KIDSWEAR.
A.B.C KIDSWEAR – A KIDS STREETWEAR BRAND CREATED BY FOUR DADS.
RUNWAY:
Check out our friends from No Limit Dance Company from Dinuba, CA, as they rock the runway!! These kiddos will be proudly strutting their stuff in Heartblaster Clothing and A.B.C KIDSWEAR. This runway show will be sweet and sassy, from cute toddlers to a one of a kind choreographed group performance by Alena Garver and her awesome friends and students with NLDC. Follow @nldc5678 and @alenagarver_dance
SPECIAL PERFORMANCES:
YES, Bianca Richelle is coming to Hometown Bowl just for you! At just 11 years old Bianca has multiple songs on iTunes and a new music video on YouTube. Her latest single " Best Friend " is a major hit and was just released this summer! Bianca is set to perform "Best Friend" and "Homerun" with her awesome squad from Project Level.
Project Level is a non-profit organization in San Francisco who mentors the youth through performing arts. Giving the youth all the tools they need to follow their passions from music, film, fashion, radio, dance and marketing. Project Level was founded and is organized by Big Rich, and Danielle Banks. Projectlevel.org Follow @bianca_richelle on IG and for a second raffle ticket for prizes at our event download "Best Friend" on ITunes or Subscribe to her YouTube channel and show us when you check in at the door.
MUSIC:
DJ LuFu is in the mix for Back to School vibes. This guy is just 8 years old and he decided to follow his passion for music just over a year ago. Following in his Dad's footsteps he is excited to connect with all of you for this awesome event for the youth. " I am an 8 year old baseball player, big brother and avid reader. I love playing Motown, hip hop and 90's, but I am open to all music." - Lucas DJ LuFu @dj_lufu
FUNDRAISER:
We are always proud to work with our good friend AJ STUNTZ. AJ is a community organizer and influencer in and out of his own community of San Mateo County. In fact AJ was awarded the Humanitarian Award by San Mateo County in 2018 for all of his commitment and community service to create positive change. AJ has collaborated with the Mid-Peninsula Boys and Girls Club of San Mateo for our Back to School event. This club is special to AJ for is also a member there.
HOMETOWN BOWL is going to donate 5% of all proceeds between the hours of 2-6 for or Back to School / Back to Preschool event!!! For this event your money spent will be helping the Boys and Girls Club of San Mateo care for the Bay Area Youth.
MID- PENINSULA BOYS AND GIRLS CLUB:
MISSION:
"To inspire and enable all young people, especially those who need us most, to reach their full potential as caring, responsible and productive citizens."
A non-profit organization that has served the youth between the ages of 5 and 19 years old since 1955. https://www.midpenbgc.org
DINER:
The diner at Hometown bowl is such a cool and modern space to get a quick bite. It will be open for individual orders not covered by the event.
BAR:
There is a bar in at this venue. It will be open but there will be limitations as we remind you that THIS IS A FAMILY EVENT FOR CHILDREN.
PARKING:
Hometown Bowl is in a partially residential/commercial area. There is limited parking along the side of the Hometown Bowl building on El Camino Real, that is ok. DO NOT park at the gas station or you will be towed at your own expense. Please do not block any driveways if you are on the residential side. There is near by parking lot at Smart and Final and other shopping centers just a 2 min walk away.
Come hang out with the Heartblaster Family. We have joined forces with so many awesome people to bring you a fun filled family circus event.Everything we do is for the kids. People who share the same passion to support each other and bring communities together through positivity, friendship, for equality, unity, and diversity always inspire us. Thank you in advance!
A special thanks to our friend and owner of Hometown Bowl Trung Tran
For your Hometown Bowl event contact: www.hometownbowl.com