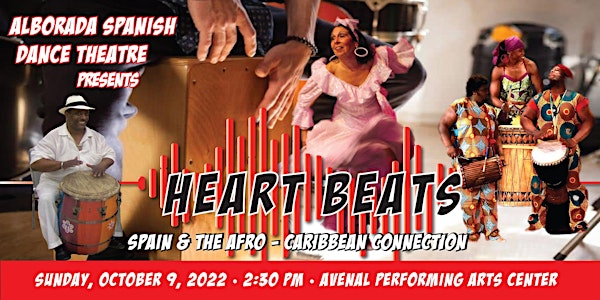 "Heartbeats" Spain and the Afro-Caribbean Connection
Journey with us and explore the Spanish - Afro-Caribbean Connection!
When and where
Location
Avenel Performing Arts Center 150 Avenel Street Woodbridge Township, NJ 07001
About this event
Drums, the heartbeat of music and dance and communal communicators of cultures are the inspiration for Alborada's exciting new production, Heartbeats! Alborada and its Guest Artists, West African Dancer, Amazonas and Puerto Rican Bomba Master, Nelson Baez and Los Cimarrones, will fill the stage with riveting Drum and Dance Dialogues tracing the three roots of Afro-Caribbean Music and Dance. Alborada takes you on a journey through centuries of music and dance from Spain's age of exploration and colonization to the present day with fabulous traditional costumes and live music. Audiences of all ages will be dazzled by pounding feet, strumming guitars, cajón tapas, clicking castanets, twirling fans, parasols, flying ruffles and fringed shawls in Alborada's Bailes de las Ida y Vuelta, Flamenco dance and music inspired by the Caribbean as well as the driving rhythms and high power dances and drumming of Africa and Puerto Rico.
ABOUT ALBORADA SPANISH DANCE THEATRE:
The Alborada Spanish Dance Theatre, New Jersey's premier Spanish Dance Company's passionate artistry reveals the many diverse and historical threads that comprise the multicultural roots of Spanish Dance and Music. Both entertaining and educational, the variety of its repertoire runs the artistic gamut of Spanish Flamenco, regional and classical dances performed by its critically acclaimed dancers and musicians. As stated by Tammy LaGorce, New York Times, Alborada is "awhirl in drama and color!"
Grant funding has been provided by the Middlesex County Board of County Commissioners through a grant award from the Middlesex County Cultural and Arts Trust Fund and The Geraldine R. Foundation.
Pre-Show Brunch or Post show Dinner at Curtains Bar & Restaurant will available on the day of the show for your convenience. Make your reservations now 732-582-4595