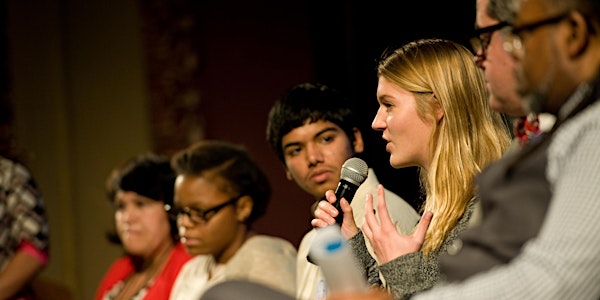 Heart & Soul Talks: Everyone Gains when Youth Join Leadership
Description
Getting young people involved in community leadership brings fresh perspectives and new energy. Small cities and towns across the country are giving meaningful roles to youth and helping young people realize their voices matter. On this free talk, you'll hear from youth advocates and a youth leader how to authentically involve the next generation in local decision-making.
Speakers:
--Laura Furr, program manager for justice reform and youth engagement, National League of Cities (NLC)
Laura helps municipal leaders take action on behalf of children, youth, and families in their communities. She assists cities in establishing authentic systems for youth engagement through initiatives such as youth councils, juvenile justice reform, and participatory budgeting. Prior to joining NLC, Laura was the Interim Executive Director and Senior Director of Youth Justice Initiatives at Community Law In Action, Inc., a non-profit that engages youth as active citizens, critical thinkers, and advocates for positive change in Maryland.
--Blair Rice, youth member, City of Cortez Parks, Recreation, and Forestry Advisory Board
Blair served as high-school liaison for the Parks, Recreation, and Forestry Advisory Board in Cortez, Colorado. He helped the board tackle tough issues such as establishing tobacco-free zones. He also participated in the High School Leadership Program with the School Community Youth Collaborative and founded Cortez Youth for Climate, a project to educate elementary-aged youth about climate change.
--Lee Krohn, senior planner, Chittenden County Regional Planning Commission
Prior to joining that Commission, Lee served as Planning Director, among other roles, for the Town of Manchester for over 24 years. His work to engage youth was named the 2009 Project of the Year from the Vermont Planners Association. Lee serves on the Vermont Urban & Community Forestry Council and as Northern New England Chapter of the American Planning Association (NNECAPA) Assistant Professional Development Officer for Vermont, is a past President of the Vermont Planners Association. He was a founding member and longtime Chair of the Manchester Community Land Trust. His current work involves land use and emergency management planning, as well as direct assistance to municipalities. Lee is a firefighter, an award-winning professional photographer, skier, biker and runner.
--Fran Stoddard, moderator
A national award-winning producer of video programs, Fran produced and hosted Vermont Public Television's weekly "Profile" interview program for more than a decade. She frequently serves as moderator for community events and has served on numerous non-profit boards.
This FREE event is 2-3 p.m. Eastern, Thursday, August 17.
Heart & Soul Talks features stories and insight from Community Heart & Soul®, a community development model that builds stronger, healthier, and more economically vibrant small cities and towns. Learn more at orton.org.