Heart, Soul & Mind Hybrid National Women's Conference 2021
Heart, Soul & Mind Location Union City Apostolic Church 33700 Alvarado Niles Road, Union City, CA 94587 Even
About this event
Heart, Soul & Mind Hybrid National Women's Conference 2021
City:  Union City, California
Theme: Sheltered in Grace / Refugiada en Gracia
Verse: Psalm 91:1-4/Salmo 91:1-4
Dates: 07/09/2021 - 07/10/2021
Event Starts 07/09/2021 Start Time 4:00 PM (PST)
Event Ends 07/10/2021 End Time 3:00 PM. (PST)
Location
Union City Apostolic Church
33700 Alvarado Niles Road, Union City, CA 94587
Reserve your seat for the National Conference: 
General Registration: $60.00
Precious Pearls Registration: $40.00
(for women 65 years of age or better.  Proof of age required at the door)
Registration will be open until capacity is reached.
Refund Policy:  No Refunds / Completely Transferable.
Event Capacity 400
Notes: 
-For safety and legal reasons, we cannot accommodate children under the age of 12.
- Young ladies over the age of 13 may register and must be accompanied by parent or legal guardian.
- Attendees are required to follow safety protocols including the wearing of face masks throughout the entirety of the conference.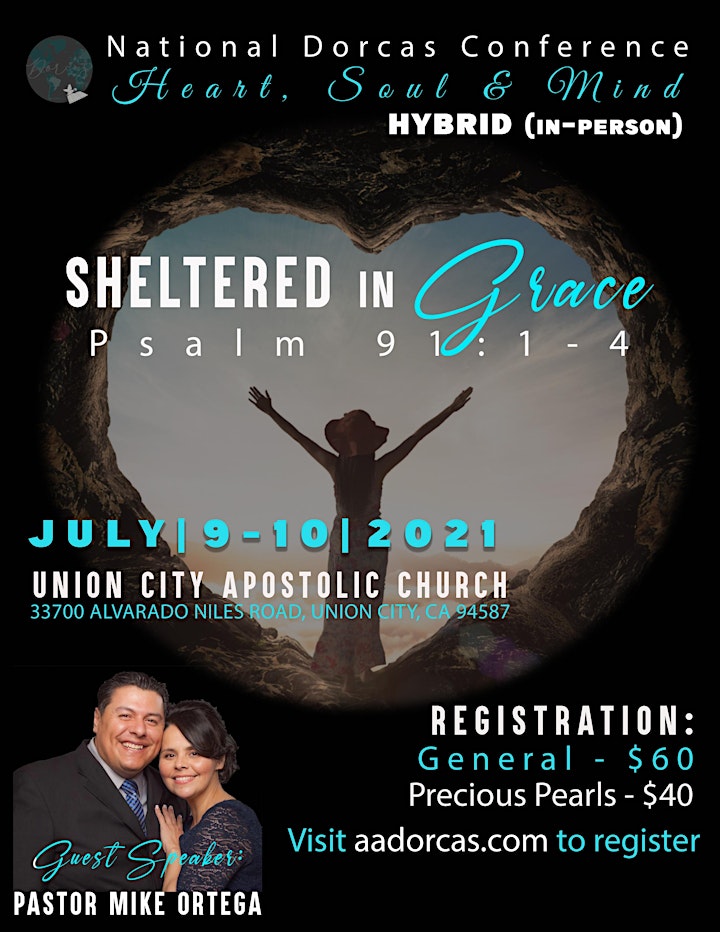 Organizer of Heart, Soul & Mind Hybrid National Women's Conference 2021