HELP MOTHERS BREAK BARRIERS...BECOME A PEER MENTOR!!
About this event
We are looking for a couple of more women to join us in our group of peer advocates!!! We are looking for women who have faced and broken through the barriers of CPS cases, addiction, incarceration, homelessness, domestic violence, etc. to become peer advocates to mothers currently facing those same barriers. This is a great opportunity to gain leadership experience and give back to a community who could desperately use your support. If you would like to learn more about the program or you are interested in applying, please contact us at info@heartcourage.org. Please share with other individuals/organizations. 💜 #heartofcourage💜 #helpingmothers #judgementfreezone #unitingfamilies #changingfutures #empoweringwomen #empoweringmothers #mothersofencouragement💜 #mothersfightingfortheirfamilies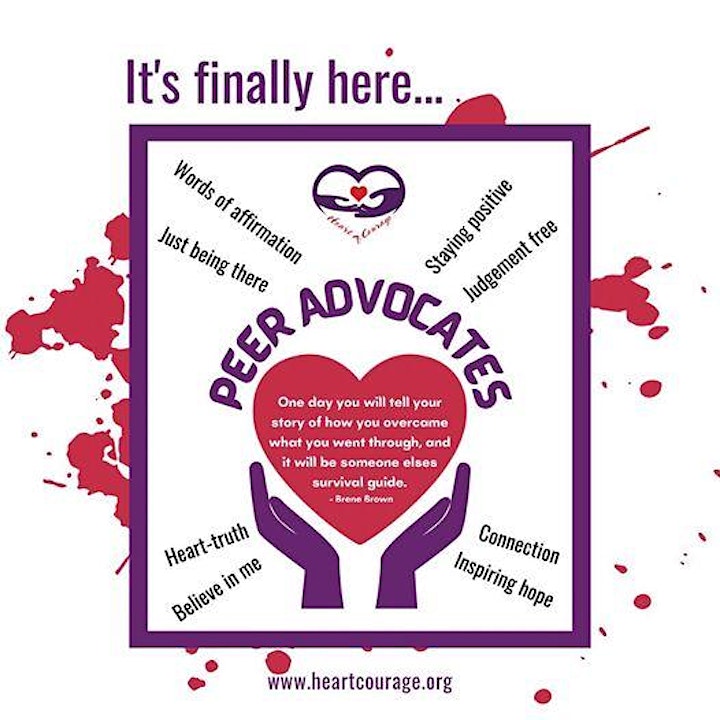 Organizer of Heart of Courage Peer Mentoring Informational Meeting
Heart of Courage is 501(c)(3) organization. Our mission is to empower women with children in foster care to unite their families and create a better future for both mother and child. We do this by providing a full array of wrap around services, including one to one mentoring and parenting talk support groups. 
Our vision is to help woman develop their attitudes, goals and expectations of themselves.
* ​Attitudes: To inspire pro-social friendships, strong interpersonal skills, and instill a sense of hope in the future.
* Goals: To empower self-sufficiency in our clients in establishing goals and following through on commitments.
* Expectations: To expand the perspective of our clients and make them aware of life's possibilities.