Heart of Business - Be it in Hospitality, Retail, or Digital Platforms
Join us for a discussion on business, leadership, and unleashing human magic with Hubert Joly, Former Chairman and CEO of Best Buy.
About this event
"Best Buy's turnaround under Hubert Joly's leadership was remarkable—a case study that should and will be taught in business schools around the world. Bold and thoughtful—he has a lot to teach."
—Jeff Bezos, founder and CEO of Amazon
We are proud to host Hubert Joly, former Chairman and Chief Executive Officer of Best Buy, now a senior lecturer at Harvard Business School and author of "The Heart of Business".
Joly has been recognized as one of the top 100 CEOs in the world by the Harvard Business Review, one of the top 30 CEOs in the world by Barron's and one of the top 10 CEOs in the U.S. by Glassdoor.
During Hubert's time at Best Buy, he and his team rebuilt the company into one of the nation's favorite employers, a sustainable leader, and an innovator, dramatically increasing customer satisfaction and growing the company's stock price ten-fold.
---
Have a question you'd like to ask the speaker?
Follow this link to submit a question for the Q&A Section.
Leave your mailing address on the submit a question form to be entered in a raffle for a free copy of Heart of Business: Leadership Principles for the Next Era of Capitalism By Hubert Joly!
*raffle is limited to the continental US
---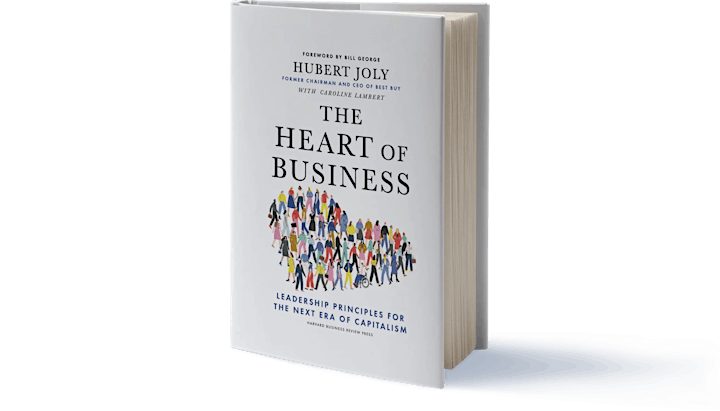 Get your copy of the Heart of Business: Leadership Principles for the Next Era of Capitalism by Hubert Joly
---
About the Interviewer
Dr. Peter Hsieh, General Partner of Acorn Pacific Ventures, has been in the venture capital (VC) business since 1997. He is one of the few VCs with over 10 years of direct VC experience in Silicon Valley, and another 10 years of the same in Greater China. Ventures sponsored by Peter have created values of over USD$8B
In addition to traditional high tech VC investment, he also successfully invested in a multi-channel baby product retailer Leyou (www.leyou.com.cn). As a significant shareholder and board member, he helped grow the company by close to 80x. In another case, representing a large shareholder, Peter was instrumental in turning around Liuli Gongfang (琉璃工房, www.liuli.com), a premier contemporary glass studio devoted to artistic Chinese glassware, with retail footprints throughout China.
After spending 11 years in Asia as a VC and public company executive, Peter moved back to Silicon Valley in 2015. He has a Ph.D. in Ultrasound and Optics from Stanford, and a BS ME from National Taiwan University.
---
Host: Monte Jade Science and Technology Association
Co-hosts: Global MJ and MJ Taiwan
Organizer of Heart of Business - Be it in Hospitality, Retail, or Digital Platforms
Monte Jade Science and Technology Association is a professional association organized to foster the relationship between technology professionals and corporations on both sides of the Pacific Ocean. Started by Chinese-American professionals based in Silicon Valley in 1989, Monte Jade West provides an opportunity for professionals to share valuable experiences in business investments, opportunities, and management in the technology sector.