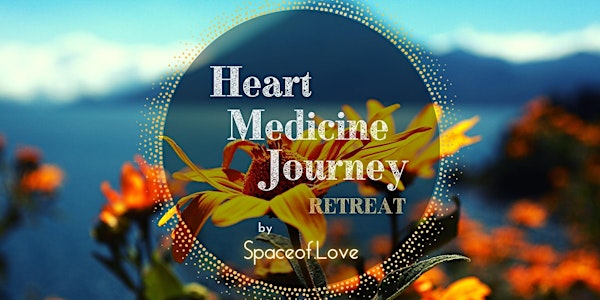 ❤️ Heart Medicine Journey Retreat in Lake Atitlán, Guatemala ❤️
A DEEP RETREAT TO HELP YOU STEP INTO THE PRESENCE & POWER OF YOUR HEART, GUIDED & SUPPORTED BY THE GREAT WISDOM OF MOTHER NATURE'S MEDICINES
When and where
Location
Tzununa Casa Kula Tzununa, Sololá 01 Guatemala
Refund Policy
Contact the organizer to request a refund.
About this event
7 NIGHTS/ 8 DAYS RETREAT in LAKE ATITLÁN, GUATEMALA
DECEMBER 14 - 21, 2022
WHY ARE YOU HERE?
Maybe you've been locked up in the concrete jungle and pandemic fear far too long, and are craving a deep immersion in nature. Perhaps you've lost sense of your true nature and are ready for a re-set, a letting go, a life pivot, a step in a new direction. Maybe your pragmatic mind has been steering your life ship and you're disconnected from the intuition of your heart. There might be a knowing that a part of you is yearning to be free from unhealthy habit patterns and judgements, to express, play, love and be loved!
So, we've got the medicine for that...
WHAT IS HEART MEDICINE?
Heart Medicines are practices, tools, rituals, traditions, and plant teachers that help you step into a more empowered presence of heart; in life, business, and relationship. For all your relations.
This is your opportunity to engage with a variety of lovingly selected heart medicines, in a supported and safe container, to see what lights you up and reignites the clarity you seek to thrive!​​
OUR JOURNEY INCLUDES THESE HEART MEDICINES:
YOGA, MINDFULNESS & MOVEMENT ARTS: Together, we will harmonize body, heart & mind through movement, meditation, and breath practices. We'll explore ancient traditions that help you thrive in a modern context, while creatively embodying & expressing the heart's capacity to guide you through life with greater awareness, adaptability, and ease.
HEART TO HEART DHARMA DISCUSSIONS: We'll drive life's questions deeper into the heart of understanding, uniting science & spirituality. These juicy workshops will help align your heart and mind, expanding your possibilities.
SACRED SOUND & SONG: Our explorations in vibrational resonance will help you harmonize with the frequencies of love, free your voice, and express your heart's truth, in tune with the rhythm of all life.
SHAMANIC JOURNEY: We'll enter into a shamanic sound journey through the three worlds, guided by the ancient Meso-American plant medicine of Cacao (for heart opening), along with Sananga (for clarity of vision), and Rappeh (for clarity of connection).
MAYAN FIRE & CACAO CEREMONY & COSMOVISION READINGS: In the Mayan tradition, the fire is considered the Ear of the Universe. Here, as we imbibe the heart-opening medicine of Cacao and build the ceremonial fire, we'll release what is ready to be burned away, offer our prayers & intentions, humble our hearts to the great unknown, and receive the ancient mayan wisdom teachings.
WACHUMA (SAN PEDRO) PLANT MEDICINE CEREMONY: Together, we will journey through the day with the grandfather medicine, the divine masculine, a stoic and wise cactus that slows the thinking mind and brings your heart back to stillness and presence, to witness the spirited interconnectedness of all beings.
AYAHUASCA PLANT MEDICINE CEREMONY: We'll also journey through the night with the sounds of the Icaros (medicine songs) and the grandmother medicine Ayahuasca, the divine feminine, a jungle vine that lifts the veil between the physical and spirit world, and teaches you the profound lessons you are ready to receive.
SAUNA & PLANT BATH: In community, we'll sweat out physical and energetic toxins; clearing space for new beginnings, and steeping in the intelligence and healing properties of plants.
DEEP IMMERSION IN NATURE: We invite you to join us in the fertile and feral lands where our own seeds of deep transformation were sewn - majestic Lake Atitlán (the Mayan 'Womb of Creation'), in the volcanic highlands of Guatemala. Take a break, gain a shift in perspective, and give yourself permission to re-wild as your bare feet kiss the Earth and you receive Mother Nature's gifts.​
NOURISHMENT: We'll enjoy 3 delicious and wholesome plant-based meals per day, with unlimited coffee, herbal teas from the garden & triple-filtered drinking water. Extra snack purchases are available.
​TIME & SPACE FOR REST & REFLECTION: We offer this fertile ground for you to process and integrate your experiences and surrender into softness.
INTEGRATION & AFTERCARE: With ongoing support and guidance post-retreat, discover how to integrate the insights into your life after our week together, as the journey continues to blossom within you.
​​THIS JOURNEY IS OPEN & INCLUSIVE TO ALL.
All activities are optional. No experience is necessary. Though some gentle preparation is encouraged (we will provide this information when you inquire about booking).
You are invited to honour your needs, your space, and your heart's knowing. Of course, the alchemy is in the sharing! We'll be co-creating an intimate container - a loving and encouraging space to connect more deeply within and with each other.
​​
THE TAKE-AWAYS:
* You will step into your next chapter REFRESHED, INSPIRED & EMPOWERED!
* You'll also leave with a helpful TOOLKIT of PRACTICES & DEEP EXPERIENTIAL INSIGHTS to continue your journey along the Heart Path.​
* You'll remain FOREVER CONNECTED (digitally & spiritually) to your family of Heart Medicine Journeyers through our private online forums & group chats, to help keep you motivated & inspired.
Hosts & Lead Facilitators:
​Guest Facilitators:
CJ ANANDA PAGE & COBY HADAS (Plant Medicine & Shamanic Ceremonies)
IZAIAS MENDOZA & ANA IZABEL PEREL (Mayan Fire & Cacao Ceremonies & Cosmology)
STARTING: $1,979 USD
Flights & Ground Transportation not included.
$88 is donated directly to Space Of Love Foundation, supporting Water 4 Life Global.
✨ FOR COMPLETE RETREAT INFO:
❤️🙏🏼