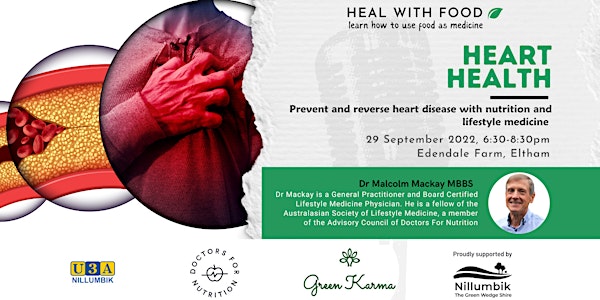 Heart Health: Heal with Food
Are you troubled by a cardiovascular condition? Find out how various foods and diet can help you heal your condition.
When and where
Location
Edendale Community Environment Farm 30 Gastons Road Eltham, VIC 3095 Australia
About this event
Food is powerful and with the right foods we can prevent, manage or reverse cardiovascular diseases. In this talk, Dr Malcolm Mackay will discuss the role of nutrition in heart disease. Dr Mackay is a General Practitioner and Board Certified Lifestyle Medicine Physician. He has a Graduate Diploma in Human Nutrition, a fellow of the Australasian Society of Lifestyle Medicine and is a member of the Advisory Council of Doctors For Nutrition.
A healthy meal box will be provided during the event.
Heal with Food is a community health project initiated by Green Karma charity, funded by Nillumbik Shire Council and supported by Doctors for Nutrition and U3A Nillumbik. The project aims to help our communities to reduce their dependency on pills and take charge of their health.