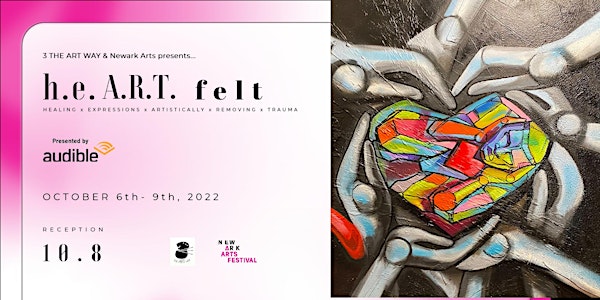 "h.e.A.R.T. felt"
3 The Art Way & Newark Arts presents h.e.A.R.T. felt an art experience featuring live music, spoken word and more!!
When and where
Location
33 Washington St 33 Washington Street Newark, NJ 07102
About this event
3 The Art Way & Newark Arts presents...
h.e.A.R.T. felt (Healing x Expressions x Artistically x Removing x Trauma).
Presented by Audible.
On view October 6th- October 9th, 2022.
part of the Newark Arts Festival's "The Healer's Space" city wide art exhibit Curated by Armisey Smith
Featured Artists : Janice Anderson, Carol Cleveland, Armando Diaz, Kwame (Jay Golding Art), Elijah Minton, Samad Onque, Suliman Onque, Yvonne Onque, Viva Pancho, Denise Toney.
Join us, as we create an environment of peaceful, playful, passionate and profound energy. Powerful vocals x spoken word and live painting will be the artistic alchemy that enhances your audio and visual taste buds. Giving you love Straight from h.e.A.R.T.
Reception will be held
October 8th, 2022 . 3-6pm
33 Washington Street, Newark, NJ 07102.
Performances by Gail Campbell, I AM Mega, Euphony, Sliqq, Ali Montana. Live Painting by Suliman Onque.
Sounds by DJ Fauzi.
Join 3 The Art Way and friends as we give YOU the art experience of a few Lifetimes!
www.3theartway.com @3theartway2
www.newarkartsfestival.com @newarkarts