Description
Heart Behind the Art is a monthly event series hosted by The Root, designed to create community, cultivate inspiration, and provide artists with a platform to showcase their work, whatever the medium.
MEET THE ARTISTS: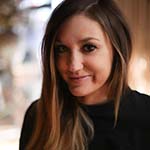 Michelle Ryan is the founder of True North, here in downtown New Albany. She opened the brick and mortar location in March of 2015, which showcases the work of 65 local makers and designers. After opening up shop, she moved forward with jewelry making, and has been building her brand since. Today, her jewelry line is carried by two stores in Louisville, KY, one in Lagrange, as well as in True North. She greatly enjoys and loves the work she is able to do with the makers in the community, and is immensely grateful for the community support shown over the last four and a half years. She loves having her small business in her hometown, and is excited for all the great things happening in New Albany.

Jeff Minton is the owner of 8th Street Pizza, which is a boutique, pay-it-forward pizza shop and ministry that includes the finest ingredients with made-to-order New York style pizza. A word from Jeff: "In limine' On Poverty—well-meaning people believe that giving may seem like the kind and Christian thing to do, but it almost always ends up undermining the very relationship you are attempting to build. It creates a debt to debtor relationship, destroys dignity and hope and teaches the children in poverty that hope comes from rich "Christian" people, not hard work and education. In Midtown, for 30 years the people have been fed, clothed, their utility bills and medicine paid for all under the guise of and opportunity to know Jesus. Most if not all have said no. So when Jesus asked, "Do you want to get well?" (John 5:1-17) Most have said no to Him too. I believe that when Jesus said, "Truly I tell you, whatever you did for one of the least of these brothers and sisters of mine, you did for me," in Matthew 25:40, I'm pretty sure that He meant for us to read verses 31 to 39 also. That as believers, we must understand the difference between a crisis (catastrophic) or chronic (lifestyle poverty) need and instead of being a handout station or a bank that we come along side of those in need and become a relational partner in their lives just as Jesus commanded us to do. And that's exactly what He did."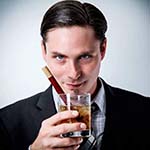 Richard Darshwood, the face of J&B Magic Shop & Theater in New Albany, is a wildly animated trickster who entertains not only with his baffling sleight of hand and witty antics but is sure to put his spell on you with his delightful humor and charm. He has previously astonished many notable celebrities like Grammy Winner Miranda Lambert and Super Bowl Champion Clay Matthews of the Green Bay Packers but on the evening of our whimsical dinner, he is sure to perplex and amaze you too. Try not to blink and still you won't believe your eyes when he shows you the magical power of your very own imagination. For more information about Richard Darshwood you can visit www.darshwood.com.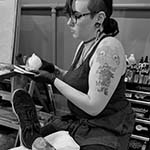 Miranda Watson, a 25-year-old and from Louisville, KY, is a guest artist at Bananafish Tattoo Parlour in New Albany, Indiana. Growing up, she told her parents that she wanted to tattoo, but she never thought her dream would become a reality. Miranda started her apprenticeship in 2014 - and balanced a full-time job while in the process of learning. In October of 2017, she graduated her apprenticeship and continued to balance her other job in the medical field and tattooing. In October of 2019, she took that leap and began tattooing as a full-time job. She finds a lot of inspiration in fantasy and gaming.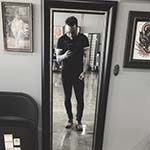 Charlie is an artist at Bananafish Tattoo Parlour. "I was an engineer turned tattoo artist. I was married for 9 years and after my divorce decided to follow my dreams, thus here I am."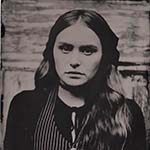 Christian Johnson owns the Odd Shop in downtown New Albany, but she also creates mosaic portraitures from broken albums.