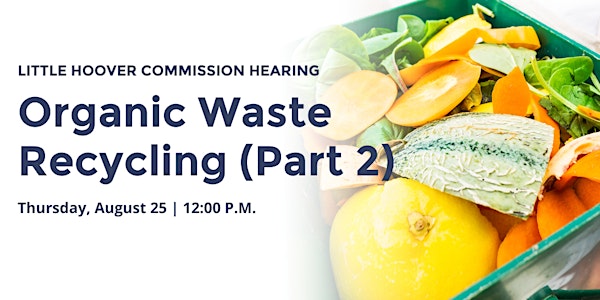 Hearing on Organic Waste Recycling (Part 2)
Please join the Little Hoover Commission on Thursday, August 25 at noon for our second in a series of hearings on organic waste recycling.
About this event
AGENDA:
Hearing on Organic Waste Recycling (Part 2)
Noon
Thursday, August 25, 2022
Join Online or By Phone Via Zoom
Online: https://bit.ly/3C7KrQo
Toll Free Phone: (888) 788-0099
Webinar ID: 981-2706-9836
Password: 372287
1. California's Requirements for Diversion of Organic Waste
a. Edible Food Recovery
Becky Silva, Director of Government Relations, California Association of Food Banks
b. Implementing SB 1383 in Rural Jurisdictions
Staci Heaton, Deputy Executive Director, Rural Counties Environmental Joint Powers Authority (ESJPA); Senior Policy Advocate, Rural County Representatives of California
Jared Carter, Deputy Public Works Director, County of Madera
c. Public Comment (3 minutes per speaker, limited to 30 minutes total)
Registration for the hearing is not required but if you wish to add the event to your calendar or you would like to receive additional information about the study, please sign up for the event.