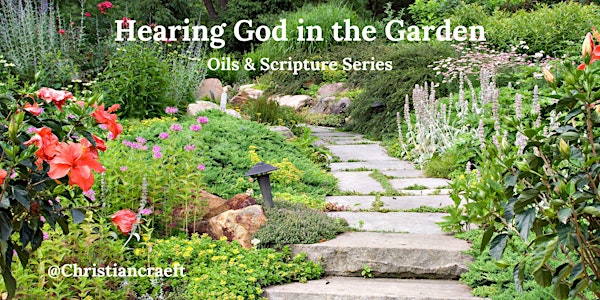 Hearing God in the Garden - Oils & Scripture Series
Join other women interested in their spiritual development in this mini-series with scripture, prayer & essential oils.
Date and time
Monday, June 5 · 4:30 - 5:30pm PDT
About this event
Hearing God in the Garden is about taking the time to pause and be with God, hear Him through scripture & prayer, while being invited to allow the aroma of essential oils to assist you.
This meetup is inspired by the scripture where God calls out to Adam & Eve "on the breeze" in the Garden of Eden (Gen 3:8). I imagine the scent of aromatic oils in the air as God speaks to Adam & Eve and I hope you will experience both the pleasure of the essential oils & the joy of God's presence in this gathering.
Each gathering in the series of 5 biweekly meetups will include:
a new prayer & scripture reading
discussion of the scripture reading
a new essential oil revealed to support you in your experience of Hearing God in the Garden
information on the essential oil & why it was selected
methods to enhance your daily spiritual practices through prayer, scripture & essential oils
Humans have been inhaling the aroma of essential oils since the beginning of their creation. We will visit some of the many reasons why they were revered so greatly throughout time and in scripture. Learn the ways that essential oils were created to bring you in more harmony with God and with your own nature while also learning how you can integrate essential oils into your regular spiritual practices for cleansing, illuminating, and grounding among many other things.
Want to get the essential oils?
Each meetup will conclude with information on where you can purchase the essential oils, highlighting the specific brand of essential oils used so you can obtain oils of pure quality for safe & effective use. Providing branded content enables these classes to be offered for free.
How can you participate?
Join us either virtually or in-person (if you are local to Pittsburgh, PA please reach out to inquire about the location and we would love to have you join us)! If you join virtually and have your own oils, feel free to bring them to join in on the experience.
There is much to benefit from virtually whether you have essential oils or not. Joining with other women to support each other in our spiritual journey while being in devotional time with God is such an enriching experience.
Want to obtain your essential oils in advance & attend virtually to have the full experience?
Please reach out to Amy Lohr through christiancraeft@gmail.com to request details.
Please note delivery from the distributor could take a minimum of 7 days, so please make your request as soon as possible so you can make your purchases. Meetups will span over a period of two months so you will have time.
Please note: You are welcome to join ANY or ALL of the 5 Meetups in the series, so no worries if you miss a gathering.
About the organizer
Do you ever just feel stuck with the progress you are trying to make in life or that no matter who you turn to for help, a psychotherapist, a healer, or coach, you just don't seem to get what you are needing? I can help with that. I help people get unstuck through coaching that uses both traditional and nontraditional methods. With my experience in the mental health field, as a healer, and as a coach, I have a unique perspective on what works and doesn't. As an advocate for helping people recover from psychotherapy, I help people get beyond psychotherapy and into their personal truth while experiencing healing and personal growth.
Whether its helping people feel less overwhelmed, or re-discovering their awesomeness, or accessing their freedom to just be who they are, we work together on getting unstuck with individual coaching or group programs.
With many educational programs, I teach people how to live more naturally and healthy while also helping them access all the supportive tools they need to be well with the most ease.
Check out my Getting Unstuck program for a series of 3 coaching sessions designed to give you everything you need to get and stay unstuck.
Catch any of my regular wellness classes on Creating a Toxin Free Home, Essential Oils for Everyday Living, Next Steps with Essential Oils, Mindfulness Practices, Supporting Your Emotional Health with Essential Oils.
Website: www.amylohr.com
Email: info@amylohr.com
Instagram: @OilsWonderland, @lohr_amy