Kaleidoscopic pop band Hearing Aid Beige will perform a headline show at the iconic Barrel House in Totnes with support by The Rat Affair.
About this Event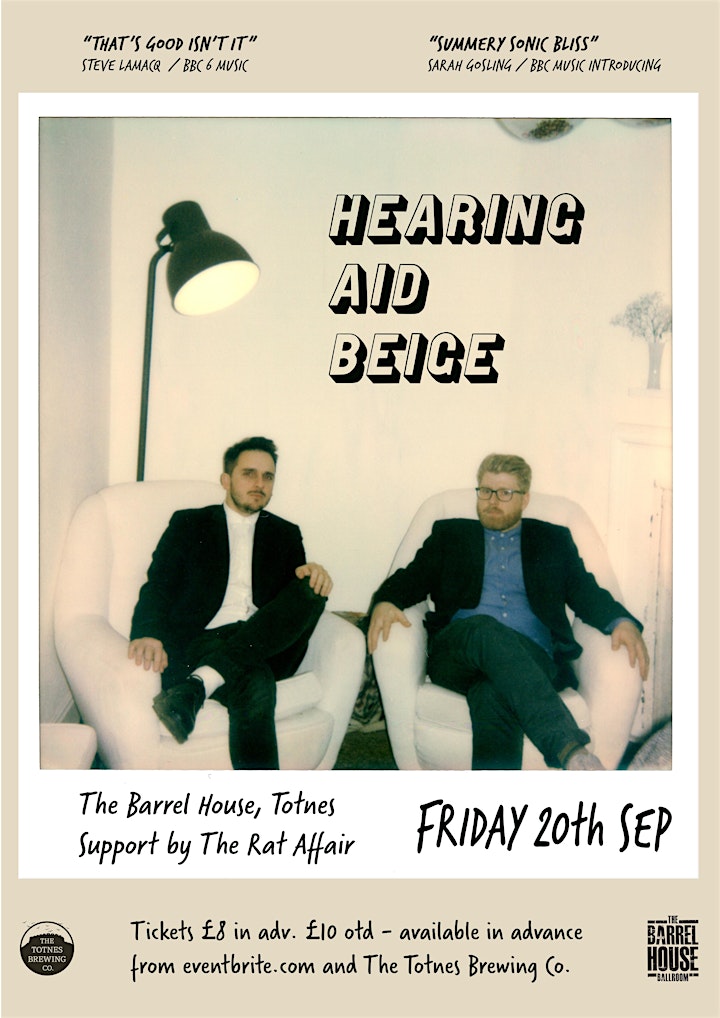 Hearing Aid Beige's music takes some of the most distinctive elements of 60's rock and arranges them to build an incredibly modern sound. They have the ability to echo Pink Floyd and Ariel Pink in the same verse, and they can come up with a Brian Wilson-esque melody just as easy as they deliver a Mac DeMarco inspired guitar hook. It all results in songs that are kaleidoscopic, easy to listen, fun and relaxing… all at the same time.
Based in Totnes, a small town in the southwest of the UK, Simon Hampshire and Tommy Williams have created a perfect song writing partnership. Simon splits his time between architecture and other musical projects, including Yndi Halda. Tommy, for his part, is an experienced producer and also live audio engineer for artists such as Bonobo, Honne and Jordan Rakei.
The artistic personality of both makes Hearing Aid Beige a band that pays attention to the smallest detail of their creations. From the perfectly defined aesthetic of their chosen artwork to the carefully produced sound layers in each song, they compose a world inhabited by mesmerizing vocal harmonies, geometric figures, dreamy choruses and pastel colours.