Description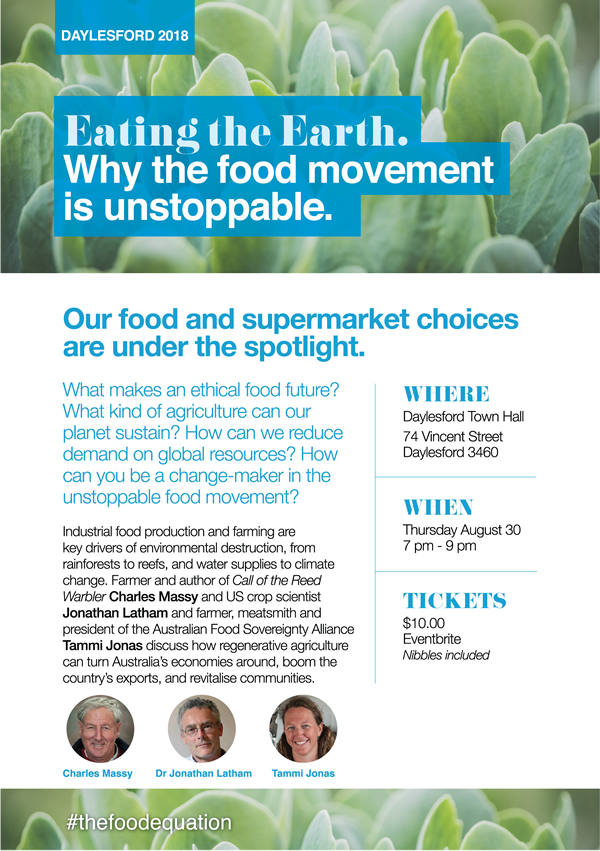 It takes more than 4000 chemicals to grow, process, preserve and pack our food. Industrial food farming is a key driver of environmental destruction, from rainforests to reefs, and water supplies to climate change.
Who decides whether our food is safe? What makes an ethical food future? What kind of agriculture can Australia sustain? Hear about innovative farmers regenerating their land and witnessing astounding transformations. Farming economies are turning around and rural communities are revitalising.
This forum will interest food buyers, farmers, backyard gardeners, health workers, policy makers and leading thinkers.
Refreshments included in ticket price at this event.
SPEAKERS
Charles Massy AO. His earlier bestselling book, Breaking the Sheep's Back, exposed the $10 billion collapse of the wool industry. His latest book, Call of the Reed Warbler, challenges the way we farm and grow food, and puts a lens on the vital connection between soil and our health. Using his personal experience as a touchstone ~ from an unknowing, chemical-driven farmer with dead soils, to a radical ecologist carefully reviving a 2000 hectare property back to biological health ~ Dr Massy tells the real story behind industrial agriculture and the profit-obsessed global corporations driving it. And in a brilliant series of narratives he shows how innovative farmers are regenerating their land and witnessing astounding transformations. Since publication of Call of the Reed Warbler late 2017, Charles Massy has been in huge demand as a speaker in both urban and rural communities, and with farmer groups.
Dr Jonathan Latham is an international food advocate and crop scientist based in New York. He is executive director of the Bioscience Resource Project, and editor of Independent Science News. The Project's peer reviewed biosafety papers provide critical analysis of new technologies in the public interest. He is also the director of the Poison Papers, which reveals extraordinary collusion between governments and polluters. Dr Latham is author of scientific papers in diverse fields including virology, ecology, genetics and molecular biology. He is a biologist and biopolitical theorist, and talks frequently at scientific and regulatory conferences. He has written for Truthout, Salon, MIT Technology Review, Resilience and the Guardian.
Tammi Jonas is resident meatsmith at Jonai Farms, where she and her family of ethicurean farmers raise pastured rare-breed pigs and cattle. Jonai Farms is engaged in the solidarity economy of community supported agriculture-CSA, feeding 80 member households each month. Tammi is president of the Australian Food Sovereignty Alliance, where she advocates for ethical and ecological farming, and everybody's right to determine food systems. She is also chair of the AFSA Legal Defence Fund, which supports farmers dealing with inappropriate regulation and planning. Tammi has been writing about food culture since 2006 at her blog, Tammi Jonas: Food Ethics, and has been widely published in both academic and general texts.