Description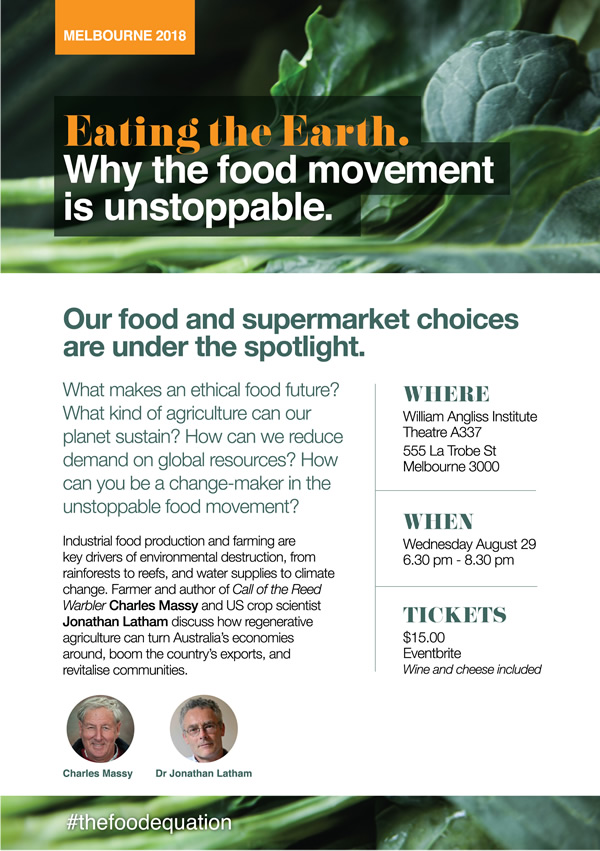 It takes more than 4000 chemicals to grow, process, preserve and pack our food. Industrial food production and farming are key drivers of environmental destruction, from rainforests to reefs, and water supplies to climate change.
What makes an ethical food future? What kind of agriculture can Australia sustain? The panellists will look at the chemical load in our food, the downsides of industrial and monoculture agriculture, and discuss how regenerative agriculture can turn farming economies around and revitalise communities.
This forum will interest food buyers, backyard gardeners, farmers, health workers, policy makers and leading thinkers.
Wine and cheese included in ticket price at this event.
SPEAKERS
Charles Massy PhD AO. His earlier bestselling book, Breaking the Sheep's Back, exposed the $10 billion collapse of the wool industry. His latest book, Call of the Reed Warbler, challenges the way we farm and grow food, and puts a lens on the vital connection between soil and our health. Using his personal experience as a touchstone ~ from an unknowing, chemical-driven farmer with dead soils, to a radical ecologist carefully reviving a 2000 hectare property back to biological health ~ Dr Massy tells the real story behind industrial agriculture and the profit-obsessed global corporations driving it. And in a brilliant series of narratives he shows how innovative farmers are regenerating their land and witnessing astounding transformations. Since publication of Call of the Reed Warbler late 2017, Charles Massy has been in huge demand as a speaker in both urban and rural communities.
Dr Jonathan Latham is an international food advocate and scientist based in New York. He is executive director of the Bioscience Resource Project, and editor of Independent Science News. The Project's peer reviewed biosafety papers provide critical analysis of new technologies in the public interest. He is also director of the recently published Poison Papers, which reveals decades of collusion between chemical giants, regulators and governments. Dr Latham is author of scientific papers in diverse fields as virology, ecology, genetics, genetic engineering and molecular biology. He is a biologist and biopolitical theorist, and talks frequently at scientific and regulatory conferences. He has written for Truthout, Salon, MIT Technology Review, Resilience and The Guardian.
Professor Marc Cohen is an Australian pioneer of integrative medicine and has made significant impacts on education, research, clinical practice and policy. He is Professor at RMIT University's School of Health Sciences and a core member of RMIT University Health Innovations Research Institute. Prof Cohen is a registered medical practitioner with degrees in western medicine, physiology, psychological medicine and biomedical engineering. Prof Cohen appears regularly on Australian radio and television, has written for major Australian newspapers and sits on editorial boards of many international journals. He has published more than 90 peer-reviewed articles, authored more than 20 book chapters and edited eight books on holistic health. Prof Cohen will facilitate this panel and contribute commentary on clinical impacts of the chemical load in our food.