Description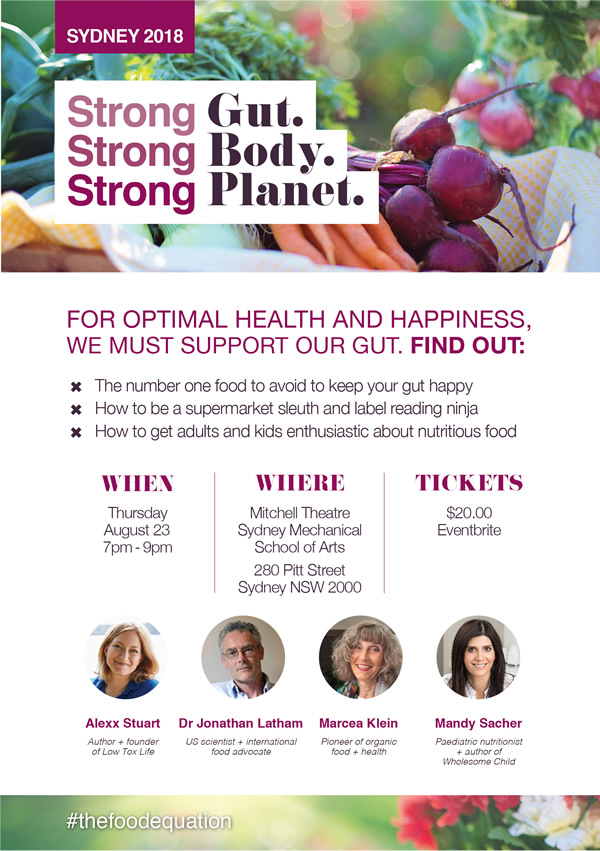 We know that our gut is the basis of our overall health yet do you know you could be eating food that pokes holes in membranes? Come and find out what's in your food and how to protect your gut.
Learn how to:
Be a supermarket sleuth and label reading ninja
Get more good bugs in your gut
Get your kids enthusiastic about nutritious food.
Alexx Stuart is an educator, motivator and game changer who runs online courses and hosts an inspiring podcast on reducing our toxic load. Through Low Tox Life, which she founded in 2009, Alexx provides live support and tools for people to self-help without falling into overwhelm or Internet black holes. She gently clears a path through the maze of mass-market ingredient cocktails, focusing on four key areas: Body, Home, Food, Mind. A columnist for Wellbeing magazine, Alexx is sought after as a speaker and consultant to businesses committing to change for good. Her new book, Low Tox Life: A handbook for a healthy you and a happy planet, was launched in June 2018.
Dr Jonathan Latham, is an international food advocate based in in New York. He is executive director of the Bioscience Resource Project, and editor of Independent Science News. The Project's peer reviewed biosafety papers provide critical analysis of new technologies in the public interest. He is also the director of the Poison Papers, which reveals extraordinary collusion between governments and polluters. Dr Latham is author of scientific papers in diverse fields including virology, ecology, genetics and molecular biology. He is a biologist and biopolitical theorist, and talks frequently at scientific and regulatory conferences. He has written for Truthout, Salon, MIT Technology Review, Resilience and the Guardian.
Marcea Klein is an author, educator, wholefoods chef and integrative mind-body health coach. Since her pioneering work in the 1960's with organic wholefoods in the USA, Marcea has chalked up an impressive record of ventures. She opened Berkeley California's first wholefood eatery, a bakery in London, and Australia's first traditional tofu factory in Sydney, where she also established the East West Centre and the Wholesome Gourmet Cookery School. She has written widely on food and nutrition, penning a whopping seven books, and has been a regular contributor to the Sydney Morning Herald, Wellbeing magazine and Nature & Health magazine. As a presenter, Marcea has appeard on SBS and ABC TV.
Mandy Sacher is a paediatric nutritionist, mother of two and founder of Wholesome Child. Through her private clinical practice and seminars she has helped thousands of families improve their health and wellbeing. Her bestselling book, The wholesome child: nutrition guide and cookbook, has triggered consistent praise from parents in Australia and the USA. In 2006 Mandy co-founded the MEND Program to research and prevent obesity in children. She consults to day care centres on nutritional menu plans, and runs regular workshops at preschools, mother's groups, and medical practicies. Mandy writes regularly for MamaMia, HuffPost, Daily Mail and many other food and nutrition websites.