Description
| Tuesday July 25th |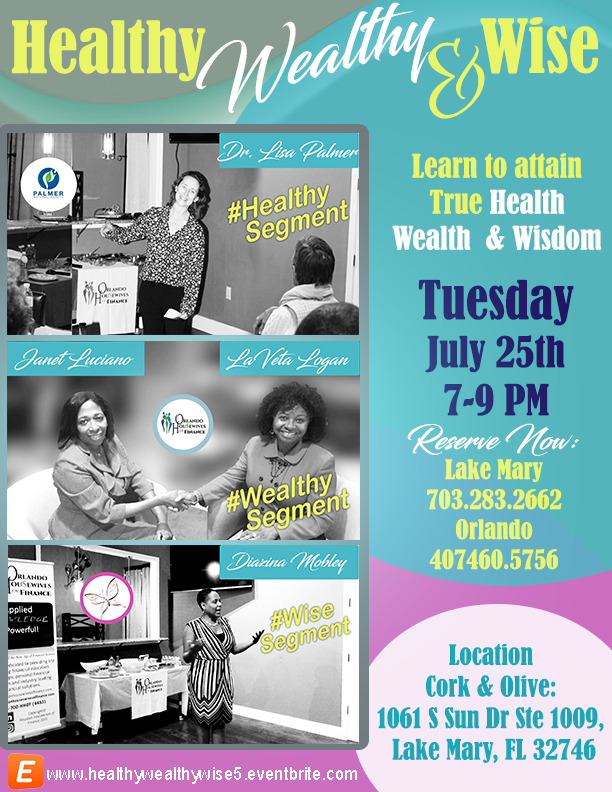 ---
Description of event:
Learn how to attain true wealth, health & wisdom. This event is complimentary. Bring Your friends and family. Seating is limited. As a thank you for joining us at our event Orlando Housewives of Finance will give a complimentary no obligation financial consultation.
---
Dr. Lisa Palmer, DC | HEALTHY story Link Here

How to skyrocket your energy in the New Year to achieve all your healthy 2017 resolutions that become lasting.

The common mistakes and barriers people run into when setting out to achieve their health goals and how to overcome them.
LaVeta Logan & Janet Luciano Financial Educators | WEALTHY video Link Here
Building a Financial Foundation



Financial security is not a DREAM its a PRIORITY
Diazina Mobley, LCSW Mindful Guidance Solutions | WISE story Link Here
It's a brand new year and you know exactly what you want. So why do you get stopped before reaching your goals?

Smash self-sabotage! Unravel unrealistic expectations! Set yourself up for success!

Learn how to tap into your inner wisdom, transform RESOLUTIONS into SOLUTIONS and have the life that you'd love.
---
Contact us:)

LaVeta Email: LaVeta@lavetalogan.com | Lake Mary |
Janet Email: janet@janetluciano.com | Orlando |
---
---
Events 2017

Get 2 know "ORLANDO CHAT & CHEW' | Get 2 Know "ORLANDO HOUSEWIVES OF FINANCE"
#Orlandochatandchew | #OhousewivesofFinance | #Orlandohpousewivesoffinance | #nosotrasfl | #simediausa
Organizer of Healthy, Wealthy & Wise - #OHOF
We are fulfilling our mission of "No Family Left Behind" through multicultural financial education. Our clients mean the world to us! To be able to change a life financially is a very rewarding mission. We look forward to having the pleasure of working with you and yours.
 LaVeta Logan started her journey like everyone else, letting our finances manage our lives. We all knew how to work hard for money and how to spend money. As we embraced the powerful impact of learning how to manage our finances, we each realized that we wanted to teach others how to accomplish what we have – a solid financial foundation! 

From our Family to Yours:)  Lets Chat & Chew together!                                                                              
#OHOF is an  affiliate of Houston Housewives of Finance