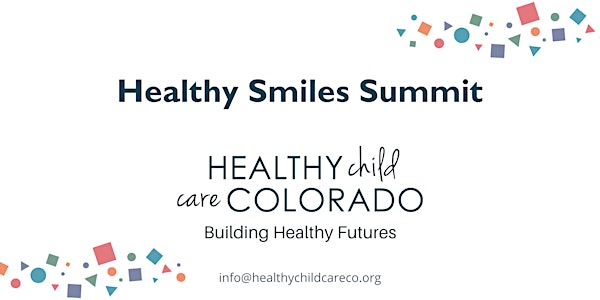 Healthy Smiles Summit (Virtual)
Learn about the importance of good early oral health habits!
By Healthy Child Care Colorado
Date and time
Saturday, March 25 · 8:30am - 3pm PDT
About this event
Our expert staff are ready to share the importance of good early oral health habits. Attendees will learn simple and fun ways to engage children and families in conversation, songs, books, and learning center activities that promote healthy habits. The Summit will be focused on learning how to plan and implement policies and practices related to the 5 Basics of Oral Health:
Early Childhood Professionals Receive:
Certificate for 5.5 hours of professional development
Tooth Healthy Toolbox: curriculum binder, family engagement tips, and an assortment of activity ideas and materials.
Summit Session Descriptions
Cavity Free Kids: This session focuses on oral health education for young children and their families. Cavity Free Kids includes a rich collection of lessons, activities, stories, songs, and other resources that actively engage young children in fun-filled, play-based learning and help parents practice good oral health habits at home.
Healthy Smiles Champion: The champion session builds upon the Cavity Free Kids training and aims to improve the oral health of young children by supporting early childhood programs with the implementation of tooth healthy practices. You will receive the support and materials needed to begin implementing tooth brushing and coaching tools to support adding tooth healthy practices in your program.
Program Policies: This is a session designed to help you learn how to create and maintain an effective health policy. You can use the information to create a policy that supports implementing tooth healthy practices in your program. We will review sample policies and tools that will help you to create tooth healthy policies for your family and/or staff handbooks.
*This training is provided at no cost to participants
Notes:
This training is offered via Zoom and participants are required to actively participate using audio and visual.
The link to join the training will be sent to your registered email a few days before the event.
About the organizer
Healthy Child Care Colorado's mission is to build safe, supportive, and healthy early childhood settings and systems where children and professionals learn and grow.
We promote and support best practices by providing grants, professional development, technical assistance, and advocacy.