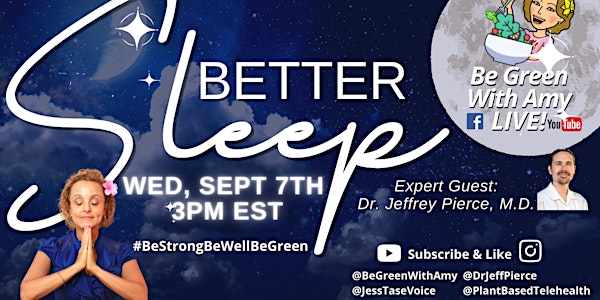 Healthy Sleep - Why You Need It and How to Get It. Jeffrey Pierce, M.D.
Healthy Sleep - Why You Need It and How to Get It. Jeffrey Pierce, M.D., Plant Based Telehealth
Refund Policy
Contact the organizer to request a refund.
Eventbrite's fee is nonrefundable.
About this event
View LIVE on @Be Green With Amy FaceBook or Be Green With Amy YouTube
If you're in need of better sleep, it may be time to consider your sleep hygiene. Double board certified, family medicine physician Dr. Jeffrey Pierce will discuss how your habits may be preventing you from getting the quality sleep you need.
Dr. Pierce's bio and contact below.
🛍 Amy's Favorite Kitchen Gadgets, Gifts, Books and More! Amazon Store
🆓Receive 5 Free Recipes from me.
Voice Over https://JessTaseVoice.com
Engineer https://BeGreenWithAmy.com
FREE OFFER!
🆓Receive 5 Free Recipes from me.
For great whole food, plant based recipes, hacks and more check out: Https://BeGreenWithAmy.com
To arrange private Zoom cooking classes or coaching with this lifestyle
Follow Amy:
👍🏽 Facebook
🎥 YouTube
🎧 Podcasts
🐥 Twitter
Hi I'm Amy.
My husband Rick & I adopted a Whole Plant lifestyle in 2012.
We have had fantastic health results. Together, we've lost over 130 pounds!
We offer private, lifestyle coaching and Zoom cooking lessons.
We love to share our knowledge of this lifestyle and hope to spread the word and help others to Be Strong, Be Well and Be Green!🌱
We work many hours bringing this information to you. Kindly show your appreciation by subscribing to and sharing our channel. This lets us know you liked watching and would like to see more content like this. When you subscribe, it also helps us grow to increase the quantity and quality for your viewing. 💞
Be Strong, Be Well and Be Green!🌱
Dr. Jeffrey Pierce, M.D.
https://PlantBasedTelehealth.com
​ @Plant Based TeleHealth
In addition to seeing patients with the many chronic conditions, Dr. Jeffrey Pierce also has a special interest in using the power of lifestyle to help support a healthy pregnancy.
Dr. Pierce is double boarded in Family Medicine and Lifestyle Medicine. He is a physician with www.plantbasedtelehealth.com Dr. Pierce is passionate about using a whole food, plant-based diet & other lifestyle medicine modalities to help people get healthier, get off of medications, & live longer, fuller lives. His goal is to meet his patients where they are, & work with them at their pace to improve their health, one day at a time.
Since beginning his journey in plant-based medicine, he has been repeatedly amazed to learn how a very healthy diet & lifestyle habits can help prevent, treat, & even reverse illnesses such as overweight & obesity, diabetes, hypertension, cardiovascular disease, high cholesterol, fatty liver disease, chronic kidney disease, autoimmune diseases such as arthritis, multiple sclerosis & colitis, as well as depression, early dementia, & some cancers.
Dr. Jeffrey Pierce was born and raised in South Texas. He went to the University of Texas – Pan American for undergraduate studies & then Baylor College of Medicine for medical school. He learned how to be a family doctor through his training at the Santa Rosa Family Medicine Residency in northern California, & later completed a fellowship in global health leadership at Contra Costa Regional Medical Center and Massachusetts General Hospital.
He has worked teaching residents and caring for patients in outpatient clinics, hospital wards, and emergency rooms in northern California, as well as working extensively around the globe, including El Salvador, Honduras, Peru, the Philippines, Lesotho, Malawi, South Sudan, & Kenya.
In addition to his work consulting and teaching lifestyle medicine, he continues to practice and teach high risk and surgical obstetrics, mentor outstanding family residents in global health, & to teach point-of-care ultrasound through the Global Ultrasound Institute.
The contents of this video/website are for informational purposes only. Information provided is not intended to be a substitute for professional medical advice or treatment. Always consult your health care provider if you have any health related concerns or questions.
Follow Amy https://BeGreenWithAmy.com
Join us at Be Green With Amy Facebook or YouTube!
When you use our Affiliate links to make purchases we do earn a small commission without any extra cost to you