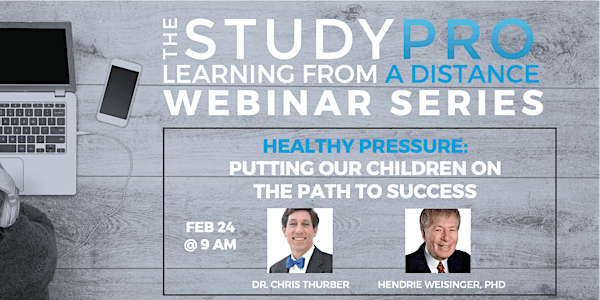 Healthy Pressure: Putting Our Children on the Path to Success
Applying healthy pressure enhances kids mental health and performance but unhealthy pressure does the opposite per Drs. Thurber & Weisinger.
Date and time
Thursday, February 24, 2022 · 6 - 7am PST
About this event
If you've ever wondered, 'What's the right amount of pressure to put on my kids?" you've been asking the wrong question.
In The Unlikely Art of Parental Pressure, Dr. Thurber and Dr. Weisinger reveal why the critical question to ask is: What's the right KIND of pressure to put on kids?
Harmful pressure has contributed to a global surge of anxiety and depression in young people, but their book outlines eight transformations that caregivers can make to raise healthy, happy, high-functioning children.
In February's "Learning from a Distance Webinar" The StudyPro welcomes Dr. Hendrie Weisinger and Dr. Christopher Thurber, authors of "The Unlikely Art of Parental Pressure." who will present:
"Healthy Pressure: Putting Our Children on the Path to Success"
In this webinar Drs. Weisinger and Thurber will share:
How to identify the distinction between healthy and harmful pressure
Practical suggestions to transform harmful pressure to healthy pressure
What to do and say if your child is underperforming despite your best efforts
Parents will learn how to transform unhealthy pressure into a powerful force that guides, encourages, motivates, and inspires their children to be their best selves and will ultimately build a deeper connection with their child.
More About the Speakers:
Dr. Hendrie Weisinger is a world-renowned psychologist trained in clinical counseling and organizational psychology. He is the author of several successful books, including the New York Times Best Sellers, Nobody's Perfect, and Performing Under Pressure: The Science of Doing Your Best When It Matters Most.
Dr. Christopher Thurber is a thought leader in positive youth development. He has dedicated his professional life to promoting social and emotional adjustment for young people who are spending time away from home. A graduate of Harvard University and UCLA, Dr. Thurber has served as a psychologist and instructor at Phillips Exeter Academy since 1999.
The link will be sent ~3 days prior to the webinar
About the organizer
The StudyPro was created to fill a gap in the world of student learning.

Lots of smart students do well academically, yet struggle with managing increasingly rigorous coursework and homework demands. The skills required to manage these demands --and to become independent and effective learners --aren't fully taught in school, but the expectation is that students have mastered them. These skills are known as Executive Function Skills.

This is where The StudyPro comes in. We help students build the critical "process" competencies that they need to succeed now, as well as to face the challenges of college, the workplace and life.


INITIATION
SELF-ADVOCACY
LEARNING FROM MISTAKES
PLANNING
PRIORITIZATION
TIME MANAGEMENT
The StudyPro offers a free speaker series to bring our community together, share valuable insights from experts, and try to help make parenting just a little bit easier.