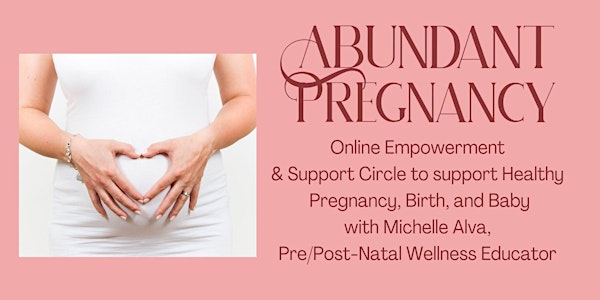 Healthy Pregnancy, Birth, and Baby Online Empowerment & Support Circle
This ONLINE class is for women to strengthen their mindset for a healthy pregnancy, birth & baby, and receive support from coming together.
About this event
This class is offered every other week online (dates are listed below), and is beneficial for women who want to conceive, become more fertile, and pregnant women of any age, at any trimester of pregnancy.
This class integrates NLP, Hypnosis and Mind-Set Change Processes to clear negative beliefs and create an optimal mental-emotional-energetic state to benefit both baby and mommy to be.
Do you feel scared and vulnerable, or safe and abundant during your pregnancy? How you feel influences how your baby is developing in utero, and will affect your baby's lifetime.
Join this group empowerment and support circle to surround yourself with support and vulnerably with like-hearted women.
Women will have the opportunity to ask questions, share, and learn the benefits of mindful self-awareness, meditation, hypnosis, and gentle breathing exercises to calm and energize during pregnancy and beyond. Women will also learn the power of our words, how to cultivate a healthy mindset, and create empowering use of language and beliefs to support a healthy pregnancy, labor, and birth experience.
Each class will have a different theme and will depend on the group's unique needs and goals for the day.
You can register to attend each online class separately for $33 per class, or register for all 8 classes for only $227 which includes Abundant Pregnancy Online Program-Value $697). Register for the 8-Class Series with Michelle Alva at michellealvalove@gmail.com.
Online Class Schedule on Tuesdays from 8pm ET to 9:15pm ET on the following dates:
8/23/22
9/13/22
9/27/22
10/11/22
10/25/22
11/8/22
11/22/22
12/6/22
Learn more about the Abundant Pregnancy Guided Audio and Video Series created by Michelle Alva HERE and Download The Abundant Pregnancy Audios Here Too. This is an investment with life-time benefits for you and your baby!
"Working with Michelle throughout my pregnancy has been one of the best decisions I made as an expectant mother. We started our sessions when I was in my first trimester, and now at two weeks from my due date, the physical, mental and emotional, transformation I have experienced has been incredible. Michelle not only has extensive knowledge about pregnancy, labor and delivery, and motherhood, but as a mother herself she understands the ups and downs of pregnancy. Our sessions were always different and she knew just what I needed in that moment - whether it was reassurance, healing, confidence, relaxation, or working through past issues - Michelle met me right where I was and guided me to inner peace and self love. Without a doubt, I highly recommend Michelle if you are trying to conceive, pregnant, or at any step in the journey."-Amy Molden