Learn how policies and programs can lower energy bills and promote healthy homes for energy burdened households.
About this event
Direct Link for today's webinar - https://us06web.zoom.us/j/88067986943
Join the Electrify Coalition for Electrification Week in partnership with ZERO Coalition and Sustainable Building Week - promoting sustainable building practices.
Electrification Week explores 5 topics relating to building electrification. This free webinar will explore how weatherization and electrification programs and policies can help energy burdened households lower their energy bills and create healthier homes.
54% of Oregonians live in housing built before 1978. Many of these buildings need upgrades to improve insulation and reduce energy consumption and transition them off of expensive and carbon intensive heating systems like gas or oil. People living in these homes are more likely to experience sick days and hospital visits caused by mold, asthma, cold temperatures and an inability to take refuge from bad air quality. However, these upgrades can be difficult to access and expensive for low income homeowners.
We will discuss the learnings from current weatherization and electrification programs and how policies and programs can help low income homeowners reduce energy burdens and enjoy healthier, safer, more comfortable homes.
Who do these programs serve, and why is this work so important now?
What are some of the big challenges these programs face?
How do health impacts relate to this work?
Is there a connection between energy bills and the health of communities?
What does holistic policy design look like within this context?
Panelists
Jackie Zusi-Russel - Communications Coordinator/ Home Energy Score Assessor, Community Energy Project. For nearly 10 years, Jackie has worked in advocacy for non-profit causes, residential energy efficiency, and solar. She has worked on successful political campaigns in both Oregon and Nevada. She has conducted Home Energy Scores on over 1,000 homes in the Portland area as a certified Sustainable Homes Professional.
Isaiah Kamrar - Program Manager, African American Alliance for Homeownership . Isaiah manages the PCEF-funded "Power to the People PDX" program aiming to reduce barriers to entry in the green economy for Black homeowners by tackling systemic issues that prevent frontline communities from accessing investments to protect from the adverse effects of climate change. Isaiah graduated from Southern Oregon University with dual-degrees in economics and financial mathematics and a research focus on the inequitable returns on investment in college education. He has been working in housing and program management for the past 6 years and is thrilled to lead AAAH's newest sustainability program for the African American community in Portland, OR.
Themba Mutepfa - Project Coordinator, Verde Builds. Themba is a Zimbabwean native who has a background in community health education and environmental health justice work. Prior to his current position, he worked as a Data Analyst in the Maternal and Child Health department for the state of Oregon and assisted in the Title V Block grant which provides funding to the state maternal and child health (MCH) programs, serving 35 million women and children in the U.S gain access to preventive health services and information. Moving to the states and being raised by a single mother in a low income community, gave him the passion he has today to help improve our communities. His dreams and goals are to help bring environmental wellness and health to underserved communities.
Donations: Please consider making a donation for this webinar to the Electrify Everyone Fund. All proceeds from your donations go towards installing free heat pump water heaters in low income homes through the nonprofit Community Energy Project. Your donation will help reduce carbon emissions and lower utility bills for these families. Thank you!
The Electrify Coalition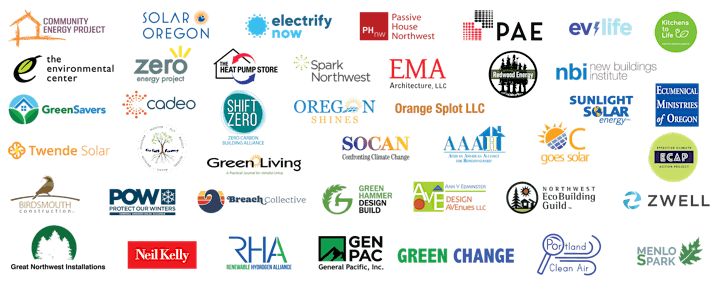 Organizer of Healthy Homes - Energy Efficiency, Electrification and Equity