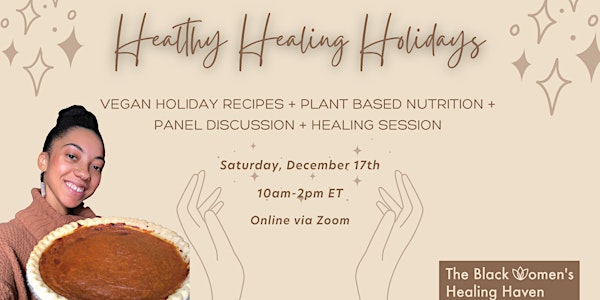 Healthy + Healing Holidays
Recommit to your holistic health + healing journey with plant based nutrition, vegan recipes, inspiring discussions, and breathwork.
About this event
Celebrating the holidays by continuing habits that are disrupting your health and well-being are staying in 2022, okay?!
We're breaking the generational cycle of illness and death from preventable disease! We're nourishing our mind, body, and spirit with whole food plant based ingredients that align with our values and add years to our lives. We're divesting from the normalization of animal exploitation and acknowledging the interconnection of animal liberation and Black liberation. We're empowering ourselves with tools to cope with holiday stress so that we can show up fully present with our loved ones. We're gettin' free and healing holistically! Join us.
Our Healthy + Healing Holidays program will feature incredible guest speakers who will leave you inspired to take control of your health and shift into greater alignment.
Schedule
10am - Black Feminism + Veganism: A Call for Collective Liberation (panel discussion)
11am - Heart Healthy Holidays: Plant Based Nutrition
12pm - Veganized Holiday Favorites: Cooking Demo
1pm - Embodied Ease and Expansion: Breathwork Journey
More details and speakers to be announced!
Join us for the full program to experience all the magic, or check the schedule and participate in what feels most aligned!
Whether you're new to veganism, veg-curious, or a long time lover of all things plant-based, this is for you!