Description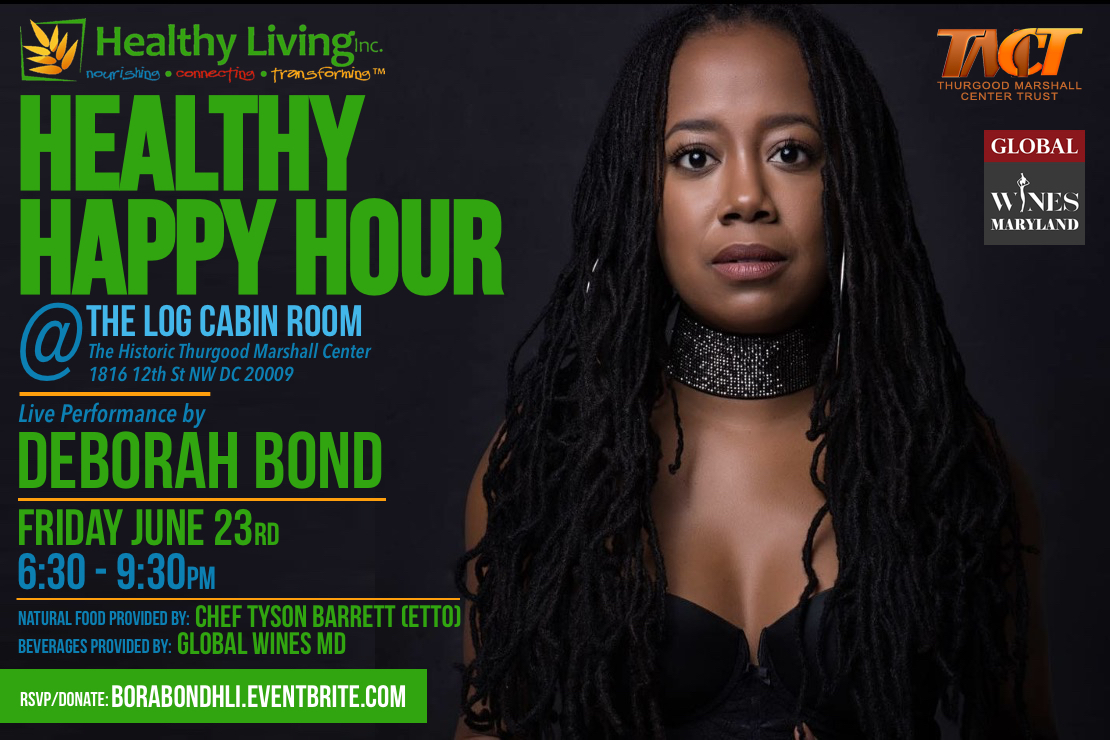 Join us for our 2nd "Healthy Happy Hour" & support the work of Healthy Living, Inc!
Healthy Happy Hour is a casual, new fundraiser series held in an intimate setting- "The Log Cabin Room" at The Historic Thurgood Marshall Center, HQ of Healthy Living, Inc.
Each Healthy Happy Hour features:
Live music from exemplary and tasteful artists residing in the DC area

Complementary & delicious, natural food prepared by a notable DC area chef

Complementary wine provided by notable DC area wine brokers
Join us on June 23, 2017!
We are excited to feature a live performance by Deborah Bond! (DeborahBond.com)
* Debórah Bond and her production team and band, Third Logic, have successfully mixed elements of jazz, funk, progressive r&b, and British Soul, gaining an international following in U.S., U.K. and abroad. Debórah Bond, with a voice that shares various elements, lyrical expression and musical love of other noted great women in music history.
Plus:
* Delicious, Natural Food c/o Chef Tyson Barrett of Etto (ettodc.com)
(Options for vegans & omnivores alike)
* Beverages provided by: Global Wines MD (globalwinemd.com)
Info About Venue / Healthy Living, Inc HQ:
"The Log Cabin Room," looks and feels like a virtual log cabin.
The Log Cabin Room is located on the ground level of the Thurgood Marshall Center with direct access from the parking lot, located on the right side of the building.
* Limited parking available in the parking lot and on 12th, T and S streets NW. The Thurgood Marshall Center is just two blocks south of U street, close to U Street Metro.
***************
Be a partner in generating impact!
We ask that you either make an advanced donation or RSVP with the intention of donating on site at the event. Your generous contribution goes directly to support the work of Healthy Living, Inc. Donations via Eventbrite are tax-deductible, minus processing fees.
About Healthy Living, Inc (HLI):
HLI is a 501(c)3 community-based nonprofit whose mission is to foster a culture of health, one healthy meal at a time. We teach people from all walks of life how to prepare delicious and nutritious food regardless of budgetary constraints.
HLI's healthy cooking outreach & nutrition education takes place through our after-school programs, shelter programs, WIC education programs and numerous other platforms for community engagement that educate 1000s of youth & adults each year. We work in partnerships with organizations such as DCPNI, So Others Might Eat, N Street Village, Bright Beginnings, Inc, Boys & Girls Club of Greater Washington, Concerned Black Men National, DC Department of Health, American Kidney Fund and numerous other public-private partnerships. This past year, HLI had some major milestones: We moved into our new HQ at the Historic Thurgood Marshall Center for Service & Heritage. We launched a brand new website! (healthylivinginc.org). We also launched a new full time after-school program with our partner DCPNI serving the youth & families of the Mayfair / Parkside communities in Ward 7, Washington, D.C.