Healthy Growing, Healthy Living in Rexdale: A Strategic Networking Event
Description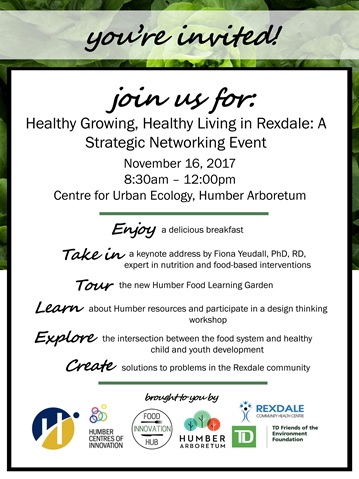 The Centre of Innovation in Health & Wellness in partnership with the Food Innovation Hub is inviting you to join us for an invite-only, strategic networking event to explore the intersection between healthy child and youth development in the Rexdale community, and the food system.
We are very pleased to present to you, our keynote speaker, Fiona Yeudall, PhD, RD, Director of the Centre for Studies in Food Security, and Professor at Ryerson University. She has a passion for evaluating the effectiveness of food-based interventions in improving food security, has done extensive work and research in nutrition in food, and will be the perfect inspiration.
Come ready to learn, explore, and create! The Food Innovation Hub will facilitate an interactive workshop inspired by the design thinking process to guide you and your group in brainstorming and creating your most innovative solutions. "To what problem?" you might ask. The focus of this workshop will be to leverage Humber resources in order to solve food and health themed problems occuring locally, in Rexdale. So upon registration we ask that you submit to us organizers a problem that you have witnessed or experienced as a member of the Rexdale community. One of these problems will be chosen from a random draw as the focus of the workshop.
You'll also get a chance to enjoy a delicious breakfast, network with each other, and tour the Humber Arboretum and the new Food Learning Garden.
Please note: this is a hands-on event that requires full participation. When checking off that you are attending, you will be carefully placed in a workshop group. If you can no longer attend for any reason, please notify us at your earliest convenience.
We also ask that you email organizers Sue (susan.petkovsek@humber.ca) or Cassandra (hello@foodinnovationhub.ca) with any dietary restrictions, allergies, or accessibility requirements you may have. Parking and transporation information will be sent to you upon registering.
Schedule
8:30 am Registration, welcome, networking, breakfast
9:00 am Introductions
9:15 am Keynote Address - Fiona Yeudall
9:45 am Networking and Food Learning Garden Tour
10:15 am Design Thinking Workshop
11:50 am Presentations
Full list of partners:
1. Humber Arboretum & Centre for Urban Ecology
2. Food Innovation Hub
3. Centre of Innovation in Health and Wellness
4. School of Community and Social Services
6. Humber Office of Sustainability
7. School of Hospitality, Recreation and Tourism
8. School of Health Sciences
9. Rexdale Community Health Centre