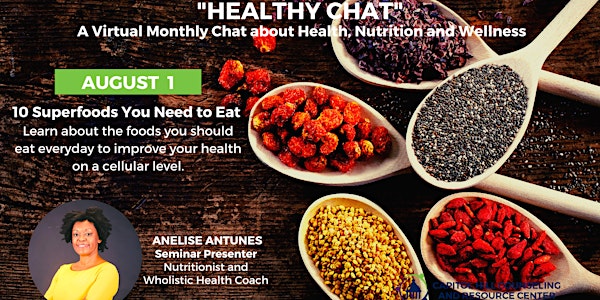 HEALTHY CHAT! A Virtual Nutrition, Health & Wellness Chat Series
Sales Have Ended
Registrations are closed
Registration has ended for the First Mondays on February 7, 2022. Check the Eventbrite page for upcoming dates on March 7 and April 4.
Learn health tips to look and feel better during "Healthy Chat", a virtual health, nutrition and wellness chat series with Anelise Antunes.
About this event
The Capitol Hill Counseling and Resource Center is excited to continue its virtual health, nutrition and wellness programming with the new "Healthy Chat" series! The presenter is acclaimed Nutritionist and Wholistic Health Coach, Anelise Antunes. Register to receive a Zoom link on the Monday of the event. Join the chat and the fun!
MONDAY, MAY 9: Nutrition 101, Building a Solid Foundation
This health chat will provide you with the basic notions of building your foundation of health and nutrition—macronutrients vs. micronutrients. Anelise will talk about how to maximize the nutrients intake in your body. We will also discuss the harmful foods and food additives.
MONDAY, JUNE 6: Seven (7) Benefits of Gardening that Prove it Helps Your Mind and Body
More and more hospitals and community gardens have been popping up in the last years. During the two years of pandemic lockdown, taking care of plants, vegetables, and herbs and talking about it on social media became a trend. There are over 22 different case studies reported by the Preventive Medicine Reports showing a positive correlation between gardening and reducing depression and anxiety symptoms. Anelise will be talking about how growing your food can also help you and your family eat healthier.
MONDAY, JULY 11: Be the CEO of Your Health
After these two years of a pandemic that lingers over us, we understand the need to maintain good health for ourselves and our families—finding out the basics to keep a healthier lifestyle. How to speak with your physician about your health. Anelise will share nutrition boost tips, following the basics from nutrition 101, so you may continue to improve each day for long-term health and longevity.
MONDAY, AUGUST 1: The 10 Superfoods You Need to Eat
Some antioxidant-rich foods (superfoods) can enhance the sense of well-being and vitality and prevent chronic diseases. In this session, you will learn about the ten superfoods you need to be eating every day to improve your health on a cellular level. Learn about their nutritional benefits. Anelise will also discuss the ten foods you should avoid to maintain a healthy lifestyle. This nutritional health talk will change how you eat and how you look.
=======================================
The Capitol Hill Counseling and Resource Center is proud to present the "Healthy Chat" series, a health, nutrition, and wellness chat to improve our lifestyle and provide tools for longevity from a science-based perspective.
Disclaimer: This program is not intended to diagnose, treat, or cure a disease or condition. It is intended to provide informational, educational, and self-empowerment purposes ONLY. Please consult with your doctor or wellness practitioner if you have a condition that requires medical attention.
This online series will be on Mondays monthly at 6:00 pm.