Healthy Buffalo Fundraiser to Benefit the Broad & Owens Families
Please join us for an end of summer party and a chance to raise money for Dawson Broad and Carrie Owens.
About this event
Friends,
Please join us on September 25th at Wilkeson Point, where we will host an End of Summer Bash to raise money for the Broad and Owens families. The one things I try to stress more than anything to the people that come through our organization is that when you play for Healthy Buffalo you are part of a family. Whether it is the young kids we coach or the adults that play in our leagues that we compete with and against week after week. While you play hard with and against each other on the court or the ice or the field, it is just as important to make sure we are there for one another off the court as well.
Over the past year, there were a couple tragic accidents that had a devastating impact on two very important people to our organization and we would like to bring our Healthy Buffalo family together to raise some money for both of them.
Back in July, Dawson Broad was involved in a tragic accident that left him with a spinal cord injury. Dawson was a star quarterback in high school, where he also had a love for baseball and basketball. He came to be the MVP for our Healthy Buffalo softball team, he never disappointed when his team was in need of a home run. He has been involved with Healthy Buffalo for a few years now and has impacted his team immensely. Dawson has been at ECMC since the beginning of July and has been getting stronger every day. Just as much as he loves being active and being a part of the Healthy Buffalo family is how much he is loved by each and every one of us.
On November 8th of last year, Carrie Owens was involved in a devastating motorcycle accident where she nearly lost her life and doctors were forced to amputate the lower part of her left leg. Despite the odds, Carrie was back teaching high school remotely shortly thereafter, and not too long after that, she was back on the sidelines coaching. Carrie has showed an infinite amount of resiliency, courage, and strength to get to the point she's at right now in the recovery process, but still has a long way to go. Carrie has been a teacher for 19 years and basketball coach at the collegiate and high school level for over 14 years. Carrie and her husband Reuben have been involved with Healthy Buffalo for more than 14 years in a variety of capacities; players, volunteers, workers, and advocates. Carrie asks for your continued support throughout her long road to recovery and getting back on her feet.
It's just $20 per ticket and 100% of the proceeds will be donated to the Broad and Owens families. Our friends at the Buffalo Waterfront are providing us the venue for the entire day free of charge and Kevin's Catering is donating the food for the event. If you can't make the event but would still like to donate to the cause you can click the link above to buy a ticket and 100% of the proceeds will be donated. Besides raising some money for the families it is also going to be a lot of fun and a great way to put a wrap on the summer.
I hope to see everyone there. If you have any questions please let me know!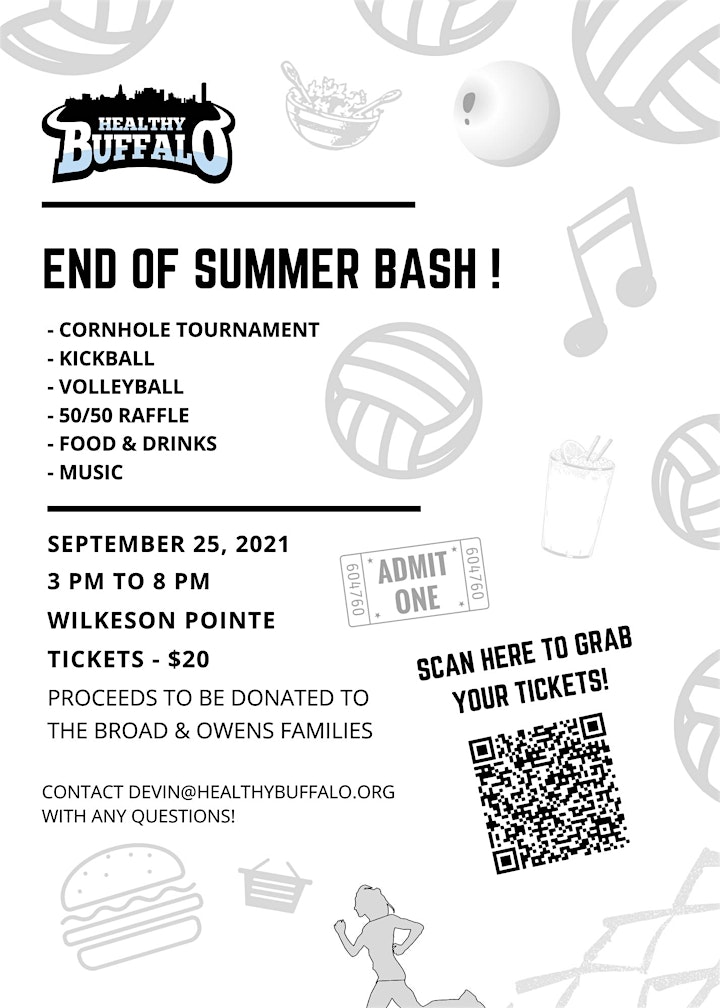 Organizer of Healthy Buffalo Fundraiser to Benefit the Broad & Owens Families