Description
In recent months, the pharma industry has hit news headlines in ways we haven't seen in a long while. Most recently Martin Shkreli, a pharmaceutical entrepreneur was faced with US charges of fraud for drug price hikes, Valeant Pharmaceuticals unveiled drug pricing through partnership with Walgreens, while we are seeing the craziest acquisitions to date such as Pfizer's $155 Billion dollar takeover of Allergan! Although large pharma has had some major strikes against them, we are seeing an emergence of new business models, partnerships fostered from start-ups with large pharma, and transparency to drug pricing targeting consumers.
Our speakers will discuss new business models in pharma, novel approaches to partnerships and how drug transparency will shape the landscape on consumer driven healthcare.
Come join over 150 women for our 4th Annual Event at JP Morgan Healthcare Conference! This event is always sold out as we have women attend from all over the world. Make sure to confirm your spot today!
**We thank Roger Royse Law firm for Co-Hosting this event with us!**
Agenda:
5:00-5:30: Networking and Wine Tasting (OneHope)
5:35-6:30pm: Keynote speakers
Jessica Grossman II CEO II Medicines360

Elizabeth Kiernan Pattyn II Director of Life Sciences II Truveris
6:30-7:00: Interactive Panel Discussion
Jessica Grossman II Medicines360

Elizabeth Kiernan

Pattyn

II Truveris

Roger Royse, Royse Law Firm
7:15-8:15pm: Networking, company demos, and heavy appetizers
Speaker Bios:
Jessica Grossman II CEO II Medicines360
Jessica is a seasoned industry executive and medical technology pioneer with a proven track record at women's health care companies. She brings a wealth of experience in product development and commercialization, coupled with the ability to move quickly and nimbly to accelerate product offerings," said Dr. Victoria Hale, Founder and Board Member of Medicines360. "Her leadership, vision and entrepreneurial background will be invaluable assets to Medicines360 as the company transforms from development and commercialization of its first product and moves to the next chapter of expanded product growth and global leadership in women's health."
Dr. Grossman most recently served as president and CEO of Sense4Baby, Inc., a start-up company that developed an innovative, wireless maternal/fetal heart rate monitoring system for women with high-risk pregnancies. During her tenure, the company closed a $4 million Series A investment and she rapidly led the company to a successful acquisition following U.S. Food and Drug Administration (FDA) approval, CE mark and commercialization of the company's lead product within 18 months of joining the organization. In addition, Dr. Grossman was founder and president of Gynesonics, an early-stage medical device company focused on minimally invasive solutions for women's health. She raised more than $22 million in venture capital financing and invented and helped develop the first intrauterine, ultrasound-guided radiofrequency ablation device for fibroid tumors, a common disorder in women. Dr. Grossman was also a medical director at Ethicon Endo-Surgery, a part of the Johnson & Johnson family of companies.
_______________________________________________________________
Elizabeth Pattyn II Director of Life Sciences II Truveris
Elizabeth Pattyn is the Director of Life Sciences at Truveris, the leading provider of pharmacy benefit software solutions. Prior toTruveris, Elizabeth worked in the Health and Life Sciences practice at Oliver Wyman and Castlight Health. She has an MBA in Healthcare Management from Wharton and a BA from Cornell.
______________________________________________________________
We thank our event co-host and sponsor: Royse Law Firm and OneHope Wines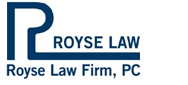 Royse Law Firm provides sophisticated, yet affordable, legal services to growing companies, high net worth individuals and investment funds in the technology sector as well as more traditional businesses such as hospitality, agri-business, real estate and manufacturing. Our clients include multi-national companies with globally dispersed ownership, management and operations as well as closely held and family businesses due to their need for integrated legal solutions that emphasize tax efficiencies. Our tax expertise is a common thread that runs throughout our practice and distinguishes the Royse Law Firm from other general business firms. We frequently advise other law firms on tax aspects of their corporate, real estate, and commercial transactions and provide tax advice to litigation attorneys in various contexts, including the taxation of recoveries and professional liability. Finally, we regularly advise on mergers and acquisitions (M&A), corporate equity and debt financings, and partnership and joint venture transactions. @RoyseLaw @rroyse00