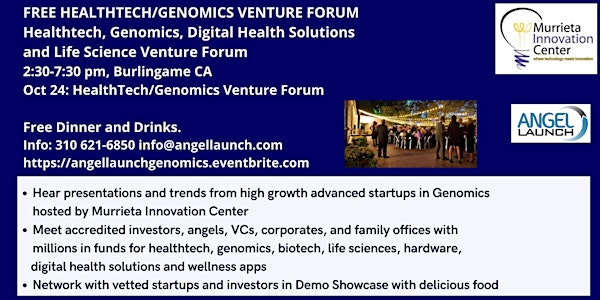 HealthTech , Life Sciences & Genomics Venture Forum
Tech, Investing, Business, Startups
When and where
Location
Burlingame Community Center 850 Burlingame Ave free street parking Burlingame, CA 94010
About this event
Hosts: Angel Launch-- Murrieta Innovation Center-- Murrieta Genomics
Info: Cell 310 6216850. Office 650 226 3490 or info@angellaunch.com
This event is offered in person only not on zoom.
EVERYONE WHO ARRIVES BY 3pm to 3:30 GETS FREE SUSHI.
INVESTORS or PARTNERS WHO WANT MEETINGS WITH PRESENTING STARTUPS:
Would you like to schedule onsite meetings or virtual meetings with any presenting startups? You can request a meeting held onsite on Oct 24 or virtual meeting at your convenience on another date when you register and we will contact you.
ABOUT THIS EVENT
This event is generously hosted by Murrieta Innovation Center in partnership with Angel Launch. Tickets include; program, drinks, networking dinner, and Demo Showcase.
See what's happening in So Cal biotech when the Murrieta Innovation Center brings their most promising genomics startups to Silicon Valley!
From diagnostics and medical devices to drug development and genomics, you will hear about many new innovative approaches to life science and biotech.
Attendees and startups presenting include these markets in connection with genomics:
Sensors, healthcare, wellness, fitness, medical devices, enterprise and consumer apps, services, platforms, insurance, patient care, health management and operations, health services, biometrics, agtech, foodtech, pharma, life science, biotech.
If you are a startup who wants to pitch, we have already selected presenters for this event. You can still attend. You can pitch at another event on Oct 17. https://angellaunchoct17.eventbrite.com.
_______________________________________________________
EVENT SCHEDULE
1:30-2:30 Invite Only--Private Meetings with Presenters
2:30-3:00 Networking and Public Registration
3:00-3:30 Sushi and Drinks; Must arrive by 3pm for Free Sushi
3:30-5:00 Startup Demos and Audience q/a
5:00-7:00 Networking Reception with Demo Showcase
______________________________________________
About Murrieta Innovation Center | A Hub for Life Sciences Companies
The Murrieta Innovation Center (MIC) is the primary incubator for life science firms in Southwest Riverside County. MIC is a dedicated building constructed by the City of Murrieta in 2012 to serve the region's entrepreneurial and startup sector. The MIC was contracted to local 501(c)3 Impact Southwest Riverside County in 2020 by the City of Murrieta. There are now nine biotech startups working out of the MIC.
The MIC is now home to 12 life sciences startups, spanning from DNA and genomic sequencing to cancer diagnostic research and applications, and is owned by the City of Murrieta and run by Impact SWRC. A $3 million federal EDA grant was recently given to MIC to finance the construction of a new wet lab, a clean room, a new dry lab, and the restoration of existing office and conference facilities.
Murrieta Genomics
Murrieta Genomics, the only genomics lab in the region that focuses on aiding companies, is nurturing genomic-based innovators in their lab. The mission of Murrieta Genomics is to help founders and entrepreneurs succeed. This incubator is dedicated to helping founders, entrepreneurs, and companies grow by providing access to high-quality business and industry experts, high-level research, industry connections, and state-of-the-art labs.
_____________________________________________________________________________________
COVID COMPLIANCE:
We comply with local guidelines and government rules which do not require vaccination or masks. Please DO NOT attend If you are not comfortable with this policy, are high risk have close contact to high risk people or have any other concerns. We do recommend you are vaccinated but not required.
Please be advised that a risk of exposure to COVID-19 exists in any event or public space, including the Event. Prior to registering for and attending the Event, please ensure you have read the latest CDC Guidelines for Prevention. By attending this event, you acknowledge this inherent risk and, as a condition of entering this space , you acknowledge, understand and confirm each of the following in accordance with applicable health guidelines:
• We recommend you are fully vaccinated and boosted at least two weeks before the event but not required.
• That you are not currently experiencing any of the following symptoms of COVID-19, as identified at CDC.gov, including, but not limited to:
• Cold; Fever or chills; Cough Shortness of breath or difficulty breathing; Fatigue; Muscle or body aches; Headache; New loss of taste or smell; Sore throat; Congestion or runny nose; Nausea or vomiting; Diarrhea;
• That prior to attending you have not been in contact with someone with confirmed or suspected COVID-19 symptoms without completing a 14-day quarantine;
• That you are not under any self-quarantine orders;
Please do not attend this event if you have any symptoms, are high risk or have other Covid concerns.
PRIVACY REQUIREMENTS AND GDPR/CCPA:
Privacy Compliance: GDPR Compliance: If you reside in EU Country, UK or Switzerland, we are GDPR compliant. You agree we can contact you for follow up emails from Angel Launch.
CALIFORNIA CCPA Compliant: If you reside in CA, you consent to receive emails from Angel Launch and our partners and that we can provide your contact info to sponsors.