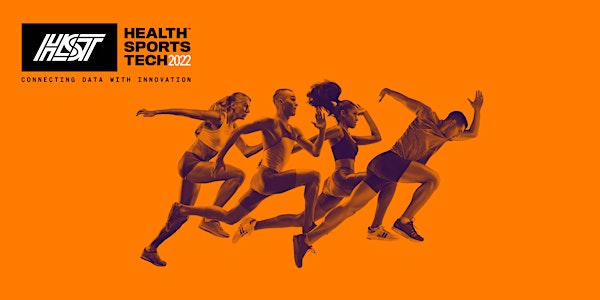 HealthSportsTech 2022
A Global Conference on Sports Health & Wellness Technology & Data eSports & Gaming
When and where
Location
Penn State Great Valley Convention Center 30 Swedesford Road Malvern, PA 19355
Refund Policy
Refunds up to 30 days before event
About this event

HealthSportsTech 2022 will explore the cutting edge of sports health and wellness technology & data. Topics will range from the critical role of data in sports health tech to emerging global opportunities in eSports & gaming. Keynote addresses and moderated discussions with industry and thought leaders will be paired with interactive technology demonstrations, presentations and networking opportunities. The importance of establishing clinical validation pathways for entrepreneurs will be discussed, as will the increasing importance of privacy, security and interoperability considerations in product design and the growing market of commercialized health data. Finally, there will be a startup pitch competition including emerging companies in sports, health and wellness.
Our goal is to deliver a conference which illuminates and explores the latest advancements in the evolving area of sports tech, connects the dots around sports health & wellness technology, and the critical importance of data and how it's managed.
Health Sports Tech 2022 – Friday, September 16, 2022
Agenda
8 – 8:30AM Registration and Breakfast – Atrium
8:30 Opening Remarks & Introductions (10 min) - Amphitheater
- Mark Stevens, Managing Partner, EnableHealth
- Amy Helwig, RTI Health Advance
8:40 -9:15 The Power, Complexity and Commercial Value of Sports Health & Wellness Data
- Charles Aunger, Managing Director of Technology for Health2047
Description: Hear from the Managing Director of Technology for Health2047, the AMA's Silicon Valley innovation subsidiary, and contributor to Forbes (and the first CIO of Cleveland Clinic/Abu Dhabi), on the pluses and minuses regarding the global explosion of sports health & wellness data, and how we as consumers benefit and protect ourselves
Learning Objective: Attendees will learn how and by whom sports-related health and wellness data is gathered, and the various privacy & security and commercial ramifications that are involved.
9:15 – 10:45 The State of Health IT Today
- Stephen Konya, Senior Innovation Strategist for the Office of the National Coordinator for Health IT (ONC), HHS
Description: Stephen Konya joined the U.S. Department of Health and Human Services (HHS) in the fall of 2015, as the Senior Innovation Strategist for the Office of the National Coordinator for Health IT (ONC). In addition to developing the Agency's external and internal innovation strategy, he also serves as a key liaison for innovation related projects and challenges, specifically targeting engagement opportunities with the healthcare startup and investor communities.
Learning Objective: Attendees will learn about the 2020-25 Federal Health IT Strategic Plan which includes a strong focus on supporting patients' secure access to their data and how ONC & HHS's vision for a more interoperable health system enables patients to play a more active role in their health and health care.
Reactor Panel: CHIME (John Kravitz/Geisinger, Board Chair); Delaware Valley HIMSS; (Jose Horta/ Healthjump, Board Member); Brooke Buckley, M.D., FACS, CMO, Henry Ford Wyandotte Hospital; Thompson Boyd, MD, FACHE/HLNDV – Moderator
10:45 – 11:30 Panel #1 Enabling Role of Technology in Sports Medicine, Health & Wellness
Dr. Michael Suk, Chair, Geisinger Musculoskeletal Institute, Moderator
Panelists: Dr. Josh Dines, Hospital for Special Surgery; Grayson Armstrong, MD, MPH, Massachusetts General Hospital; Arvind Subramaniam, Nanbar Health
Sponsored by: Stryker
Description: Dr. Suk is a member of the AMA Board and a national leader and innovator in orthopedics. He and his all-star panel will explore emerging healthcare technology and what's "hot" in the musculoskeletal space.
Learning Objective: Attendees will learn of various cutting-edge diagnostic and treatment tools and devices being used by leading specialists.
11:30 - 12:15 Panel #2 Athletes for Care – Alternative Health/Wellness Treatments &
Technologies and the Athlete-Entrepreneurs Behind Them
Moderator: Jeanine Martin (Olympics, Tennis)
Panelists: Riley Cote (NHL, retired); Todd Herremans (NFL, retired); Anna Valent, Executive Director, Athletes for Care (NCAA, Swimming)
Description: Former Elite athletes will discuss how they have leveraged their passion and experience in sports to promote alternative treatments and technologies supporting health & wellness.
Learning Objective: Attendees will learn from those with firsthand experience regarding the challenges and opportunities faced by professional athletes interested in leveraging their own background and perspective to enter the field of sports health technology as an entrepreneur or investor.
12:15 – 1:30PM Networking Lunch – Emerging Technology Pavilion
(12:15-12:30PM) Pattie Diggin, Cottrell Center/WCU, Pavilion
(12:30 – 1:30PM) StartUp Pitch Competition - 4 SMEs, 3 Expert Judges - Amphitheater
Moderator: William Paiva, OSU
Judges: Pierre duPont, Cerity Partners; Charles Aunger, Health 2047, Dr. Neal Lemon, Cooper Health
Companies: LECTRA, Nanbar Health, PROmotion Health and Wavy Health
________________________________________________________________________________
1:30 TRACK I Sports Health & Wellness - Amphitheater
1:30 - 2:15 Emerging Diagnostic Tools, Medical Devices & Sports
Moderator: Adrienne Kirby, Former CEO, Cooper University Health System
Presenter: Michelle Laflamme, CEO, Emovi/KneeKG (Montreal, Canada); Valerie Wilson, VP Operations, Emovi; Michael Carra, VP of US Sales
Description/Learning Objective: The current knee pathway is very fragmented and has significant economic consequences for payers and providers. Knee replacements are commonplace but up to 20% of patients dissatisfied with the results. Our three panelists will discuss these issues, potential causes and solutions to improve knee care throughout the patient journey and will illustrate a new model of care and its benefits within a Healthcare System.
2:15 – 3:00 Panel #3 The Critical Role of Business & Clinical Validation Pathways in Advancing Innovation
John Kravitz, CIO, Geisinger, Moderator
Panelists: Dr. Scott Heinerichs, West Chester University; Kim Ireland, Smart Health Innovation Lab; Eziah Syed & Helene Rutledge, Mend
Sponsored by: Mend
Description: Geisinger CIO and CHIME Board Chair John Kravitz will lead a panel discussion including clinical experts and start-up health IT company executives on the mutual value gained through pilot programs and clinical validation pathways within a health system.
Learning Objective: Attendees will be shown demonstrations of how emerging health technology companies and their technologies mutually benefit from Proof of Concept and Pilot projects with health systems using specific examples from world-renown clinical innovator, Geisinger Health System.
______ _____________________________________________________________________________
1:30 TRACK II Emerging Health Ecosystems of Esports, Gaming & Wearables
– 2nd Floor Classrooms
1:30 – 2:15 PA Esports Coalition: Global Survey of Esports and Virtual Gaming Trends & Their Clinical, Behavioral Health & Wellness Implications
- Bill Thomas, Board Chair, PA Esports Coalition, Moderator
Panelists: Dr. Michael Suk, Geisinger; PA State Rep. Danilo Burgos; Dr. Glenn Mitchell, Harrisburg University; Pete Powell, Nerd Street
Sponsored by: PA eSports Coalition
Description: Board members of the Pennsylvania Esports Coalition explore the hottest trends in Esports & virtual gaming, and their emerging clinical applications and benefits.
Learning Objective: Attendees will share examples of the clinical benefits of Esports and virtual gaming.
2:15 - 3:00 Panel #4 Wearables – Present & Future Trends Exploration
Panelists: Vanitha Subramanyam, Architect/Developer; Rajaram Thiruvanmiyur Sivaramakrishnan, Innovation Technology Developer; Swamy Sriperumbudur, Consultant
Sponsored by: RTI International
Description: Research Triangle Institute, RTI International, is a nonprofit organization founded in 1958 to provide research and technical services to government & industry. RTI will showcase how a user's personal health and exercise data can be collected from wearables into a cloud platform and enable visualizations using cloud tools to monitor progress and track user's activity as well as show how technology can alert the user when heart- beat irregularities are observed.
_______________________________________________________________________________
3:00 BREAK (30 minutes)
3:30 – 4:15 Panel #5 - Pain Management… Fixing the Past, Creating the Future
Moderator: Michael Kirchhoff, MD, Chief Innovation Officer, Cooper University Health Care.
Advances in Addiction Treatment: Kaitlan Baston, MD, Division Head of Addiction Medicine, Cooper University Health Care.
Advances in Pharmacotherapies: Basant K Pradhan, MD, Founding Program Director Neuro-modulation, Psychedelics & Mindfulness (NIP) Fellowship, Cooper University Health Care.
Advances in Technology and Implantables: Michael Sabia, MD, Division Head of Pain Management, Cooper University Health Care.
Emerging Technologies: Neal Lemon, PhD, Director, Cooper Innovation Center.
Description: Leading New Jersey Academic Medical Center highlights its breakout work in the field of Pain Management.
Learning Objective: Attendees will gain knowledge in light of the ongoing opioid crisis of alternative tools & treatments and emerging technologies at use in the specialty field of pain management.
_____________________________________________________________________________________
4:15 – 4:30 Microsoft – Reception Preview
- Michael Stover, Microsoft Technology Center – Philadelphia
4:30 – 5:00 Closing Keynote: Life After the NFL - with Tech Support
- Jelani Jenkins, Former NFL Linebacker, Miami Dolphins and Founder/CEO Postseason
Description/Learning Objective: Attendees will learn how a mobile app can provide online support to elite athletes as they seek to successfully transition to a life and career after professional sports.
5:00PM Conference Wrap Up – Takeaways
- Mark Stevens, Managing Partner, EnableHealth
5 – 7:00PM Evening Reception – Microsoft Technology Center - Philadelphia (Adjacent to Penn State/Great Valley)
Start-Up Pitch Results
PLEASE NOTE: Event has been rescheduled for Friday, September 16, 2022. The agenda is current and will be updated if time and participant information changes.