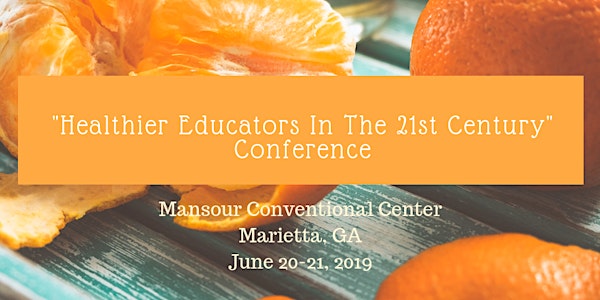 Healthier Educators In The 21st Century Conference
When and where
Location
995 Roswell St NE Marietta, GA 30060
Description
The First Annual "Healthier Educators In 21st Century" Conference 2019 will kick-off the Summer with a relaxing and exciting time for educators to win back their clarity, vitality, and serenity. This year's conference is culminated with "EduHealth, Edutainment, and Eduengagement." The power packed workshop and panel discussions are aimed to support the total well-being of educators, to identify realistic performance productivity, goals, and culture changes in the educational system that will better empower and equip our educators to be healthy and effective in our schools.
As educators you will learn how to work in a stress-free environment to increase your chances for a healthier longer life span, even after retirement. The excitement for this healthy journey is to move educators to another level of accountability as you seek to enjoy your educational career without being burned out with stress and anxiety.
Snapshot of The Non-Traditional Training Conference For Educators
June 20, 2019
4:00 p.m. – 9:00 p.m.
Pre-Registration Packet Pick-up
On-site Registration
Social Event Sessions
Greet & Meet Mixer
Educators Social Network
The Educators Round Table Discussion "It's About You"
"Paint the Town" Brush & Sip by Impact Event & Entertainment, LLC.
June 21, 2019
8:00 a.m. – 4:30 p.m.
On-site Registration
Opening Session
Breakfast
Keynote Speakers
I. Concurrent Sessions: Mind, Body, & Spirit
Weight Loss, Reverse Chronic Illness, Body Pampering
Handling Stress and Anxiety with an Overload
Take A Load Off and Live Beyond the Classroom
Special Education Teachers Are Drowning In Paperwork: How Can We Help Them?
II. Concurrent Sessions: "Take Action"
Educator's Classroom Safety
Educator's Action Plan:
What About Writing Grants?
Start Your Own School
Edupreneurship (Branding & Marketing Your Ideas)
Get the Book Written
III. Concurrent Sessions: Engage Students With Inquiry Based Learning
Science, Math, English, Social Science, and Technology
Stop Teaching and Faciltate the Learning
IV. Concurrent Sessions: Align Your Health Needs
Rev-up Your Fitness: Powerful Body Workout
Discover the New You: "Essential Self-Care"
Health Empowerment:Healthy Eating & Daily Living
V. Concurrent Sessions: Admin to Adminstrator (Principals, Assistant Principals, Superintendents,
District Administrators, Counselors, Instructional Coaches, and Lead Teachers)
Turn Your School Around from Defectiveness to Effectiveness
Nurturing Teacher Leadership: Seven Challenges for School Principals
No More Excuses: My Health Is Important
Educators for Life Fit and Wellness Program
VI. Concurrent Sessions: Teacher Leadership (Teachers)
Three Essential Characteristics of Parallel Leaders
Building Positive Teacher-Student Relationships: Socially and Academically
Closing Session
Circle of Health Recognition Awards
Teachers
Administrators
Teachers Social Lounge "Unplug"
Meals and Snacks (Included in ticket Price)
Breakfast Nibblers
Lunch
Afternoon Snack Bar
Who should attend: (Teachers, School Administrators, School Board Members, Support Staff, Community Leaders)
REGISTRATION INFORMATION:
Presenters Registration Link: https://goo.gl/forms/5TQUDX5whpI5HfTi1 or www.ahealthieryoudetoxify-cleansewithdrvbenson.org
Sponsorship Link: https://goo.gl/forms/P8GuSC9IWAClYGwi1 or www.ahealthieryoudetoxify-cleansewithdrvbenson.org
Vendors Registration Application Download: www.ahealthieryoudetoxify-cleansewithdrvbenson.org
Sponsor A Teacher Donation Form: https://goo.gl/forms/2dLovzNJmzkaeYFu2 or www.ahealthieryoudetoxify-cleansewithdrvbenson.org
One Day Conference Registration Form: https://goo.gl/forms/UIM1zWAkKoLgtLt72 or www.ahealthieryoudetoxify-cleansewithdrvbenson.org