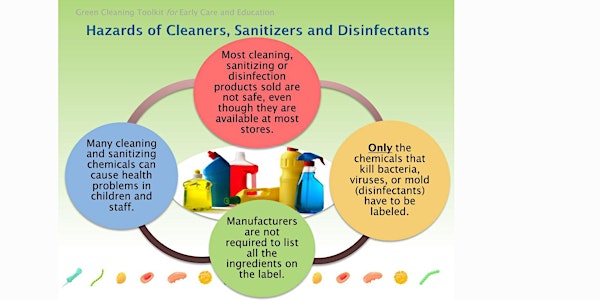 Healthier Cleaning and Disinfecting- FREE Training, Tuesday, 9/6, 6pm PST
Safer Cleaning, Sanitizing, and Disinfecting Training (FREE)
About this event
Many products used to clean, sanitize, and disinfect contain toxic chemicals that can harm children especially.
To help communities reduce their risk, the Western States Pediatric Environmental Health Specialty Unit (WSPEHSU), at University of California San Francisco is offering two FREE trainings on safer cleaning and disinfecting practices!
Our team is made up of environmental health specialists, and our main goal is to address the diverse environmental health needs of children in Federal Region 9. Our experts will lead an overview of key materials, including unveiling materials that were recently translated into Chamorro, Samoan and Tagalog!
Why is Safer Cleaning, Sanitizing, and Disinfecting Important?
Many products used to clean, sanitize, and disinfect contain toxic chemicals.
Children are more sensitive than adults to the health effects of toxic chemicals in the environment.
Health effects from exposure to environmental toxins may not show up for years or even decades.
Up to one-third of childhood cancer is due to environmental causes.
By the End of This Presentation You Will be Able to:
Recognize the hazards of group care for young children provides ideal conditions for the transmission of infectious disease.
Protect young children (and childcare personnel) from infectious diseases the harmful health effects of hazardous products
Choose and use the least harmful products to clean, sanitize and disinfect.
Understand how behaviors can reduce the risk of infectious disease as well as, or better than, chemical products.
WHEN:
Tuesday, 9/6, @ 6 PM-7:30pm (Pacific Standard Time)
Zoom Link:
Meeting ID: 968 4879 6047
Password: 645456
Phone or Conference room password: 645456
--- One tap mobile (iPhone) +16692192599,,96848796047#,,,,1#,,645456# US (San Jose) +16699006833,,96848796047#,,,,1#,,645456# US (San Jose)
--- Dial by your location +1 669 219 2599 US (San Jose) +1 669 900 6833 US (San Jose) +1 213 338 8477 US (Los Angeles) 000 800 050 5050 India Toll-free 000 800 001 4002 India Toll-free +52 554 161 4288 Mexico 1800 062 2403 Mexico Toll-free Meeting ID: 968 4879 6047 Password: 645456
--- Connecting from a room system: IP: 162.255.37.11 SIP: 96848796047@zoomcrc.com
Meeting ID: 968 4879 6047
Password: 645456