Description
Michigan Health Information Network Shared Services (MiHIN) is calling all financial services and healthcare developers, product managers, big idea men and women and anyone who has a problem to solve in the finance or healthcare space to join us on May 30-31, 2019 at the MotorCity Casino Hotel in Detroit, Michigan for the 2019 MiHIN Connectathon Conference.
The healthcare and financial services industries are undergoing dramatic digital transformations that are impacting nearly every aspect of their operations. There are several common themes driving innovation and transformation in both industries:
Open Business Models – financial services firms and healthcare organizations are unlocking value from data and creating synergies with 3rd parties by opening core platforms using application programming interfaces (API's).
Digital Identity Proofing – reliable, high assurance and frictionless digital identity verification is fundamental to the digital delivery of products and services in the finance and healthcare space in compliance with regulatory and risk requirements.
Highly Personalized, Data Driven Experiences – data is driving key decisions about both customers and patients in the finance and healthcare spaces. Creating a 360-degree view of customers and patients is critical to providing highly personalized and relevant experiences.
Attendees of the 2019 MiHIN Connectathon will spend two days to:
Collaborate, build, and demonstrate solutions with synthetic data using MiHIN's Interoperability Land™, a digital environment that uses data visualization to test interoperability between systems
Explore parallels and synergies between the finance and healthcare industries to create innovative new solutions to unsolved problems
Leverage open business models to create dynamic ecosystems of value between healthcare and finance
Explore the value and opportunity of cross-industry digital identity networks
Exploit healthcare patient matching technology to create unified customer experiences in financial services
Breakfast and registration will open at 8:00AM, and event will begin at 9:00AM.
Laptops will not be provided, so please make sure to bring your own.
We look forward to seeing you on May 30 and 31 at MotorCity Casino in Detroit!
------------------------------------------------------------------------------------
Meeting Location:
MotorCity Casino, Grand Ballroom, Salon C
2901 Grand River Ave, Detroit, MI 48201 (Lower Level)
This event is held in Salon C of the Grand Ballroom at the MotorCity Conference Center. Enter the Conference Center from Brooklyn Street. Walk straight to the Grand Ballroom. Salon C will be on the left.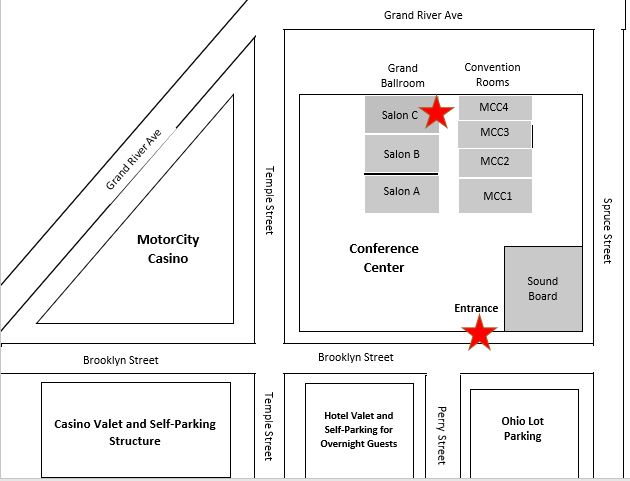 Daily Attendees: It is easiest to park in the Ohio Lot and cross the street, entering the Conference Center.
Overnight Attendees: Please park in the Hotel Parking Structure.
If you do not wish to park in either of these structures, you are also able to park in the casino parking structure.
Valet is complimentary for all conference attendees.