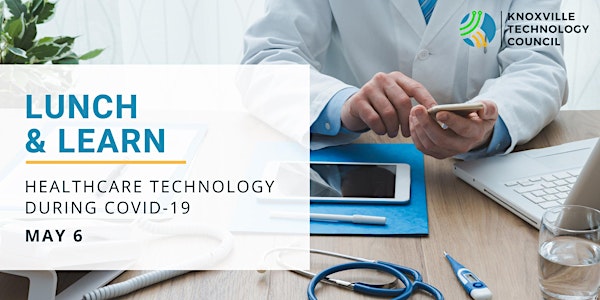 Healthcare Technology During COVID-19
Join us for a timely event focused on the technology response to COVID-19!
About this event

Healthcare IT Virtual Learning and Networking Event
Hear directly from healthcare technology leaders at EDP Biotech, TeamHealth, University of Tennessee Medical Center, and Covenant Health about how local companies and organizations are stepping up in big ways to scale, pivot, and innovate in service to the public during the pandemic.
Panelists
Eric Mayer, EDP Biotech
Jared Meredith, TeamHealth
John Jeffries, University of Tennessee Medical Center
Mike Ward, Covenant Health
Agenda
11:30 a.m. - Login & Networking
11:45 a.m. - Welcome
11:50 a.m. - Healthcare IT Panelists Presentations
12:35 p.m. - Audience Q&A
1:00 p.m. - Additional Networking
1:30 p.m. - Event Wrap-up
About Knoxville Technology Council:
The Knoxville Technology Council connects, develops, promotes, and advocates for the technology industry in the Greater Knoxville region. We believe the technology industry is essential for our community to thrive. KTech unites the region's technology leaders and empowers businesses and entrepreneurs through networks, events, resources, and more. We are advancing Knoxville as a technology hub and center of innovation.