Healthcare Reform: What to Expect and How it Will Affect Your Business

Tuesday, June 18, 2013 from 8:00 AM to 10:00 PM (EDT)
Event Details
Healthcare reform will affect companies of all sizes administratively and financially.  It's important to find out by how much and what you can do today to prepare.
Who Should Attend?
All Business Owners, Controllers and/or the person who makes financial decisions for the organization. 
Overview:
We will discuss healthcare reform and its impact on an organization (both over and under the 50 threshold).  We will include time lines and impact.
Attend and hear about how Healthcare reform will affect your companies:
Government reporting requirements

Taxes – payroll and other

Health benefits

Penalty fees

Requirements in 2014, with report back to 2013; 2015 and 2017
Presenters and host:  ADP The Payroll Company and Partners 
In recent conversations Jim Lauckner, Director of ITAG reports that there seems to be much mis-information out there. For example did you know that "large employers" are defined as 50+ FTE (but this includes part time equivalents of 30 hours pp per week. So if an employer has people working for them and the total number of hours worked are equal to or greater than 1,500 per week (50 people time 30 hours) they fall under this law! In 2014 even the smallest of penalties may be almost $4,700.00 per month and it goes up each year after that.
This briefing by experts will discuss some of the critical change that go into law in 2014 and for which companies need to prepare now for include:
Employer "Play or Pay" Mandate for large employers (50+ FTE) to provide Affordable Minimum Essential Health Coverage to FT employees or potentially become subject to Shared Responsibility Penalty

Individual Mandate to purchase insurance or pay a penalty

Federal and State Insurance Exchanges,  including Individual subsidies**

Guaranteed issue:  Pre-existing conditions prohibited

Essential Health Benefits (EHB)**Coverage standardized for small group plans

No Annual dollar limits on Essential Health Benefits (EHB) in any plan

90-day limit on Waiting Periods**

Employer annual reporting  of employee coverage**

Annual Insurer industry fee for fully-insured plans through 2018*

Reinsurer Fees through 2016*

Wellness Incentives**

Deductible caps of $2k for individual and $4K for family for small group plans**
When & Where

Chester County Economic Development Council
737 Constitution Drive
Exton, PA 19341


Tuesday, June 18, 2013 from 8:00 AM to 10:00 PM (EDT)
Add to my calendar
Organizer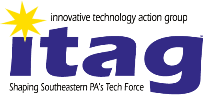 ITAG's mission is to promote Information Technology, Communications, and Technological Processes, to all companies and individuals in Southeastern Pennsylvania as a means to become more effective in an increasingly sophisticated global marketplace. ITAG is an initiative of the Chester County Economic Development Council. It is funded in part by the private sector and the Chester County Workforce Development Board.