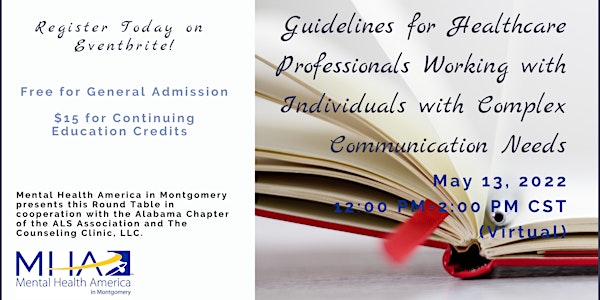 Healthcare Professionals and Individuals with Complex Communication Needs
Please join Mental Health America in Montgomery (MHA-M) in this year's first Round Table, a virtual mental health learning opportunity.
About this event
Guidelines for Healthcare Professionals Working with Individuals with Complex Communication Needs
May 13, 2022
12:00 PM – 2:00 PM CST
Registration is FREE and Continuing Education (CE) credits are available for a fee of $15.
Intended Audience: Counselors, Nurses, Social Workers (Any Mental Health or Social Service Professional) and anyone else interested in learning more about ALS are welcome.
ALS Therapist Network Membership: Opportunity to join and accept referrals to work with people with ALS and their families.
Symposium Outcome: Participants will express increased confidence in communicating with clients who have complex communication needs.
First, register here on Eventbrite. Then if you need CE credits, pay the $15 fee online or by check to the MHA-M office at 1116 South Hull Street, Montgomery, AL, 36104.
CE credits are available for Counselors, Nurses, and Social Workers. Most professional boards accept these credits; please check with your board first to see if they accept them.
Counselors 2.0 (NBCC)
Social Workers 2.0 (ABSWE)
Nurses 2.4 (ABNP002, Exp. 03/2025)
The CE Certificate of Attendance will be sent approximately 2 weeks following the presentation to everyone who pays for the session and completes the online evaluation. Contact us if you have any questions or concerns about accessing this opportunity.
In addition, we offer an opportunity for participants to join the ALS Therapist Network and accept referrals to work with people with ALS and their families/friends/caregivers.
Presentation materials and recordings can be accessed by those who register.
Mental Health America in Montgomery presents this special symposium in cooperation with the Alabama Chapter of the ALS Association and The Counseling Clinic, LLC.
Counselor Continuing Education is provided by The Counseling Clinic in cooperation with Mental Health America in Montgomery (MHA-M). The Counseling Clinic has been approved by NBCC as an Approved Continuing Education Provider, ACEP No. 6779. Programs that do not qualify for NBCC credit are clearly identified. The Counseling Clinic is solely responsible for all aspects of Symposium , which qualify for NBCC credit.
Nurses may use either the Counselor or Social Work credit hours for CE credit. Upload the CE certificate to your Alabama Board of Nursing transcript online. If you need assistance with uploading your CE certificate, please contact Charlene Roberson at charlenemr@knology.net.
AGENDA
11:30 AM | ZOOM Log In
12:00 PM – 1:30 PM | Presentation
1:30 PM- 2:00 PM | Panel Discussion/ Q&A with All Presenters
Presenters:
Lisa Bruening, MS
Melissa C. Enfinger, MS
Alair Altiero, PhD, LPC
A person with ALS/Caregiver
Objectives: At the conclusion of this presentation participants should be able to:
1. List 3-4 barriers to a therapeutic relationship with a person with ALS/MND.
2. Describe 3 common demographic of a person with ALS/MND.
3. List 3-4 impacts ALS/MND may have on communication skills.
4. Describe 3-4 guidelines professionals can use to improve communication.
5. Detail 3-4 impacts ALS may have CG/PwALS.
6. Detail 3-4 strategies Mental Health Professionals use when working with PwALS and CGs.
Overview:
This content will be limited to communications with persons who have ALS. It will include both barriers and challenges those persons with ALS experience. Emphasis will include specific guidelines and strategies Mental Health Professionals may use when improving communications using the framework of Beyond Speech Alone. Formal content will close with a person with ALS or Caregiver detailing their story dealing with communication issues.