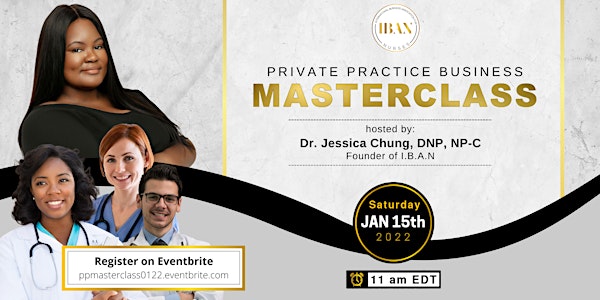 Healthcare Private Practice Business Masterclass
Private Practice Business Masterclass
About this event
This Masterclass is for Healthcare Providers who are considering, thinking about, hoping and even scared to start their own private practice!
Dr. Jessica Chung, founder of the International Business Association for Nurses, will be providing knowledge and information on how you can start your own practice and practical tips for success.
This 90 minute Masterclass will cover:
✅ How to shift your mindset from healthcare provider to Entrepreneur
✅ Several types of private practices that you can own and operate
✅ Practical steps to take to start your private practice
✅ How to generate 6 to 7 figure profit
✅ Introduction to the 12 week Private Practice Business Consulting Program
✅ Resources & tools you can use to get started.
And more!
You cannot miss this event!