Healthcare Pioneers - Atlanta GA

Thursday, June 26, 2014 from 1:00 PM to 6:00 PM (EDT)
Event Details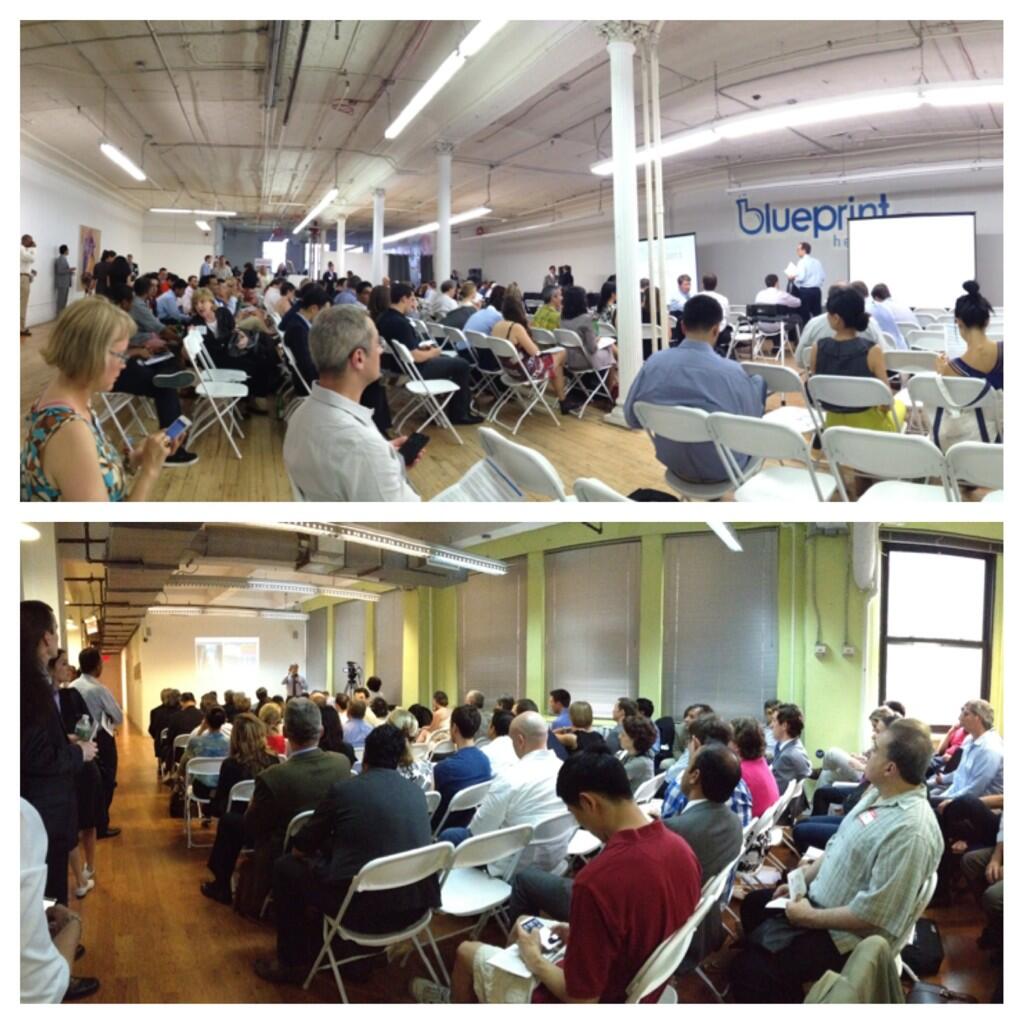 Executives, Investors, Entrepreneurs and Advisors joining from local Atlanta networks represent: Emory Healthcare, Kaiser Permanente, Ritz Group, Medtown Ventures, Forge Atlanta, SEMDA, ATDC, Stoney River Capital Partners, several prominent medical technology accelerators, 7 investor groups, 2 attorney groups, 85 (and growing) professionals with expertise in developing and commercializing Digital Health and Medical Device technologies.
Tickets Online - $49-$99 until June 25. Tickets day of event - $250.
New Speakers Added. Speaker Bios
Shark Tank Finalists have been selected. No further applications will be accepted.
Exhibit Tables are available. Please call (347) 903-4362
All Full-Day Conference Pass holders will be receiving a 6 month access to the Healthcare Pioneers Community Membership - Check out these perks!
Limited Seats Left for Workshops. Please apply ASAP. Do not delay.
Are you facing a financial hardship? If cost of tickets, exhibit tables, or sponsorship is a financial burden, there are multiple ways you can help to EARN tickets, exhibit tables, or even sponsor spots. LEARN MORE
PROGRAM SCHEDULE & FEATURES:
On-site registration + Setup for Exhibitors and Workshops - 11am-noon
Noon - Speed Networking in Networking Center. All Healthcare Executives are welcome.
TRACK A: Networking Center, open all day
TRACK B - Medical Devices (info below) - 1:00 to 4:00pm
TRACK C - Digital Healthcare - (info below) 1:00 to 4:00pm
TRACK D - 2:00 to 4:00pm (by appointment) - Technology RoundTables Like You've Never Seen Before - 1 company per table  (We match company's/individual's specific needs with experts in the respective fields for roundtable networking and discussion) Learn More. Advisors will be selected from conference attendees AND from the local Atlanta Healthcare Pioneers network.
SHARK TANK - start at 4:15. Finalists include: a kiosk for outpatient setting that helps nurses take vitals, a novel Insulin Delivery Patch Pump System, Cardiac Implant for left atrial appendage occlusion, and single-use device for kyphoplasty (spine surgery). How our Shark Tanks Work.
DETAILED SCHEDULE:
TRACK B: Medical Device Commercialization Workshop - Chris Fair and Greg Downey from MedTown Ventures (Speaker Bios)
| | | |
| --- | --- | --- |
| 1:00 - 1:30 | Quality System Control/Regulatory | Chris Fair, MedTown Ventures  (Speaker Bios) |
| 1:30 - 2:00 | Building a Sustainable Financial Plan | Chris Fair |
| 2:00 - 2:15 | Break | ---- |
| 2:15 - 3:15 | Customer Role in Product Development | Greg Downey |
| 3:15 - 3:45 | Building a Go-To-Market Plan and Team | Greg Downey |
| 3:45 - 4:00 | How to be Attractive for M&A | Chris Fair |
TRACK  C: Health IT & Digital Healthcare Workshop (Speaker Bios) (IT, mHealth, Telemedicine, ehealth) - designed to connect designers, developers, and health care professionals in a common forum. Panels start at 1pm.
| | | |
| --- | --- | --- |
| 1:00-2:00pm | Transforming Telehealth into mobile and digital health care solutions | Moderated by Nirav Desai(Speaker Bios) |
| 1:00 - 1:15 | How is telehealth evolving with digital health?Where exactly is telehealth going? Nirav will share 2 key graphs that tell the story of telehealth's future and share case studies to show how hyper-innovation is changing telehealth. | Nirav Desai, Hands On Telehealth |
| 1:15 - 1:30 | How do you go from devices to solutions, from products to services? How do you ensure patients (and the care team) stay engaged beyond the initial honeymoon? Let Christian share some examples from his consulting projects to illustrate proven tactics that ensure telehealth sustainability. | Christian Milaster, Ingenium Telehealth |
| 1:30 - 1:45 | The Art of Community Health- Integrating, maintaining and sustaining a healthy algorithm in today's healthcare ecosystem. | Matt Jansen, Telehealth International Partnership |
| 1:45 - 2:00 | Discussion + Q&A on Digital Health | ALL |
| 2:00 - 2:10 | Break | ---- |
| 2:10 - 2:30 | What it takes for technology to be adopted in a hospital setting. We'll explore the top 2 reasons why technologies never get a pilot/ get adopted by a hospital or a larger health care organization. | Stephen Li, LibertyHealth Jersey City Medical Center (Speaker Bios) |
| 2:30 - 2:40 | Break | ---- |
| 2:40 - 3:10 | Security & Compliance in Health IT. Review the Critical Components and the total impact of the HIPAA Security Rule, HITECH Act, Meaningful Use, PCI-DSS, and FISMA | Moderated by Charles McNeil(Speaker Bios) |
| 2:40 - 2:50 | Attestation Myths & Facts for 2014. Compliance Implementation Strategies. | Charles McNeil, MBM eHealthcare Solutions |
| 2:50 - 3:00 | Field Lesson on the challenges of prioritizing PHI security within healthcare organizations from an executive level perspective. | Mark Batson |
| 3:00 - 3:10 | Securing and stabilizing your wireless network to ensure consistent and compliant access to your Critical data. | Josh Needle, Needle Solutions |
| 3:15 - 4:00 | Do You Have Intellectual Property to Protect? Please prepare your questions about patents and intellectual property before the conference. Audience participation at this workshop is required. | Clark Wilson, Gardner Groff Greenwald & Villanueva PC |
|   |   |   |
SPEAKER BIOS:
Digital Healthcare & Telemedicine Track
Nirav Desai, CEO, Hands On Telehealth - www.linkedin.com/in/niravrdesai
Mr. Desai is leading the panel: Transforming Telehealth into mobile and digital health care solutions. Although he decided in high school to NOT be a physician, Nirav Desai has spent the last 25 years involved in healthcare and related technologies, including executive roles in healthcare marketing and operations. Currently, he is a Principal Healthcare Strategist with Mobiquity, where he helps organizations across the healthcare ecosystem to capitalize on the hyper-innovation of mHealth and digital health technologies. Nirav also founded the Hands On Telehealth newsletter and interview show to advance the spread of strategies to grow mHealth and telehealth. His eBook, The 10 Secrets of Telehealth Success, has been downloaded over 2,000 times.
Matt Jansen, Chief Development Officer, Telehealth International Partnership - www.linkedin.com/pub/matthew-jansen-mpa/29/786/860
Matthew Jansen is participating on the panel:Transforming Telehealth into mobile and digital health care solutions. Matt has over 15-years experience in marketing, public/private enterprise strategic planning, program management, and resource development in the IT space.
He has designed local, regional, state, national and international sustainable and efficient telehealth solutions for hospitals, nursing homes, school clinics, corrections, specialty clinics, emergency departments, ICUs, primary care, child advocacy centers, medical missions, continuing education, public health and mental health.
Matt has joined the most experienced and highly successful Telehealth teams on the planet. As Chief Development Officer for TeleHealth International Partnership (TIP), his skills in applied telehealth, e-clinical, and mhealth initiatives and services will be focused on providing state-of-the-art high touch quality healthcare to hundreds of thousands of patients globally
Christian Milaster, President, Ingenium Telehealth - www.linkedin.com/in/christianmilaster
Mr. Milaster is participating on the panel:Transforming Telehealth into mobile and digital health care solutions. Mr Milaster is the Founder and President of Ingenium Telehealth, where he advises healthcare providers and technology companies on creating successful and sustainable telehealth services faster and better than anyone else (ask him why). His 27-year career spans employers like the Mayo Clinic in Rochester, MN and IBM Global Services in Germany and he brings to the engagements his experiences in the logistics, financial, and healthcare industry as a software developer, engineer, project manager, and process improvement analyst.
Clark Wilson, Gardner Groff Greenwald & Villanueva PC, - www.linkedin.com/in/clarkadwilson
Mr Wilson is leading the workshop: Do you have Intellectual Property to protect?
Mr. Wilson is an intellectual property attorney focusing exclusively on matters of patent and trademark law. His practice includes patent application preparation and prosecution, providing freedom-to-operate and non-infringement counsel, license negotiation and patent litigation counsel. Clark also engages in trademark application prosecution, trademark rights development strategy, trademark litigation counsel and cancellation and opposition proceedings at the US Trademark Trial and Appeals Board (TTAB).
Mr. Wilson has particular experience working with medical device innovators as both in-house and outside patent counsel. To further enhance his technical capacity in this industry, Clark went back to school and completed a Master's degree in Bioengineering. Clark has worked on technologies including: ophthalmic lens design/manufacturing/inspection/imaging, surgical implant devices; medical feeding equipment; diagnostic equipment; orthopedic equipment; software; and dental inspection and surgical equipment.
Mr. Wilson is a licensed attorney in Georgia, Florida and Washington, DC. And, he is Board Certified as an Expert in Intellectual Property Law by the Florida Bar Association. Only 6% of eligible Florida attorneys achieve Board Certification. Mr. Wilson is also been selected as a Georgia SuperLayers Rising Star in Intellectual Property law for 2013 and 2014, a designation given to only 2.5% of the state's attorneys. Mr. Wilson's blog: MedicalDevicePatentCounsel.com
Stephen Li, CIO, LibertyHealth Jersey City Medical Center - www.linkedin.com/in/stephen1617
Mr. Li is leading the workshop: What it takes for technology to be adopted in a hospital setting. Mr Li brings over 15 years of Experience in adoption of Healthcare Information Technology from McKesson, Cerner, Epic, GE, Siemens, Allscripts, and Meditech. His knowledge is of particular interest to startups developing technologies for hospitals and health care facilities.
Charles McNeil, VP & COO, MBM eHealthcare Solutions - www.linkedin.com/pub/charles-e-mcneil/25/853/574
Mr. McNeil is leading the panel on Security and Regulatory Compliance in Health IT. Mr. McNeil's career spans across IBM, Ciba Vision, and Philips in product development, procurement, quality and customer support. He developed an innovative supply chain model to achieve compliance with the HIPAA Security Rule, HITECH Act, Meaningful Use, Joint Commission, CARF, PCI-DSS, Sarbanes–Oxley Act (SOX), ISO/IEC 27001, NIST, CSF and FISMA. He is a member of HIMSS, GA HIMSS, Technology Association of Georgia (TAG), Greater North Fulton Chamber of Commerce, Johns Creek Chamber of Commerce and Johns Creek Business Association. Mr. McNeil received his BS in Telecommunications Management from the Devry University.
Joshua Needle is participating on the panel: Security and Regulatory Compliance in Health IT
Joshua Needle is President of Needle Solutions, a provider of IT Solutions focused on Wireless Network integration and deployments.  Mr. Needle created Needle Solutions in 2008 to provide clients with a dedicated resource for successful and cost-effective project deployments. Needle's leadership and passion for delivering a quality product has allowed numerous entities, ranging from summer camps to University Campuses, with the knowledge and resources they need to achieve their goals.
Mr. Needle has been instrumental in the successful deployment of many major wireless initiatives in healthcare, outdoor, manufacturing, distribution, food processing, hospitality, banking and finance allowing major line of business applications, including SAP, to be deployed seamlessly. In 2012 Needle was awarded the contract to coordinate a global warehouse initiative for a textile manufacturing company with surveys and installations around the globe.  The success of the projects is due in part to a proven methodology based on over 10 years of field work and project coordination.  Needle Solutions is also a recipient of the 2012 (#10) and 2013 (#18) Bulldog 100 Award which is given to Fast Growth Bulldog Owned companies.
Prior to starting Needle Solutions, Needle was the lead engineer with IMCORP, Inc. in Marietta, GA where he was in charge of the Professional Services division and performed many of the engineering and quality control processes including Wireless Spectrum Analysis, Wireless Site Survey, Site Staging and Implementations, Extensive Network Documentation and Client Training.
Needle was born in Seattle, WA in April 1977 and moved to Atlanta, GA in 1987.  He graduated from the University of Georgia in 1999 with a degree in Management Information Systems.  While in College, Needle was the captain of the Rowing Team as well as an avid cyclist.  Needle has lived in Alpharetta, GA since 2000 with his wife, two daughters and a son.  Needle is also the brother of Mark and Ben Needle who currently hold the Guinness World Record for the "Most candies flipped off of the ear in under a minute".
Mark Batson is participating on the panel: Security and Regulatory Compliance in Health IT. 
Mark C. Batson is an experienced business executive and management consultant with over 20 years of expertise in general management consulting, healthcare operations, healthcare industry regulations, and healthcare information technology.  Over the past twenty years Mr. Batson has had an exemplary record of success managing entities in the healthcare, information technology and economic development industries. His expertise crosses the private industry, not-for-profit and government sectors.
Mr. Batson currently consults with ambulatory healthcare practices across the country in the areas of Financial Management, Management of Information Systems, Revenue Cycle Management and Quality Improvement (JCAHO, PCMH, Meaningful Use, etc.).    The primary focus of Mr. Batson's work is to provide consulting services to support, Healthcare Strategic Planning, Operations Management, and Health IT software implementations.  Mr. Batson has an outstanding record of accomplishments guiding healthcare organizations through the very challenging healthcare marketplace and implementing Health IT software systems in diverse healthcare settings.
Mr. Batson has worked as a consultant with Management Solutions Consulting Group, CEO of Morehouse Medical Associates in Atlanta, Chief of Staff of the Ohio Department of Health in Columbus, OH., and CEO of Akron Community Health Resources in Akron, OH.  Mr. Batson holds a BBA from Kent State University and a MBA from Case Western Reserve University's Weatherhead School of Management .  He volunteers on various boards and committees focused primarily on healthcare, information technology, and economic development.
Medical Devices Track
Chris Fair, Managing Director/Founder, Medtown Ventures - www.linkedin.com/pub/chris-fair/4/bb5/737
Mr. Fair has over 20 years of senior executive management and entrepreneurial experience focused in medical device and biologic platforms.  Mr. Fair's operational experience covers areas such as strategic market plans, product development, sales, marketing, finance and the ability to take platform technologies from creation through commercialization in the most efficient pathway possible.
Mr. Fair began his medical device career at DePuy, where alongside a small team of personnel, helped to build the spine franchise from a $10M business to a $350M business within a 9 year timeframe. Mr. Fair then served as Vice President Sales & Marketing, St. Francis Medical Technologies where he was responsible for the US launch of the XSTOP device. The launch of the XSTOP achieved $43M in US revenue in the first 11 months and resulted in the largest medical device multiple with an acquisition price of $725M to Kyphon. After St. Francis, Mr. Fair served as the COO of MedShape Solutions, an innovative shape memory polymer and nitinol company, where he remains an active advisor and investor. Most recently, Mr. Fair founded Amniox Medical, a spin out company based on amniotic tissue therapies for markets outside of ophthalmology. In the company's first year of operation, Amniox surpassed all revenue targets and achieved profitability.
Mr. Fair serves on the boards of several privately held medical device companies, and is an active angel investor within the community. Mr. Fair received his BS Business Administration from the University of Richmond.
Greg Downey, Managing Director/Founder, Medtown Ventures - www.linkedin.com/pub/greg-downey/2/521/260
Mr. Downey provides more than 18 years of senior executive management and entrepreneurial experience in the medical device and information technology, and has helped several high-growth domestic and European-based companies enter and grow in the United States. Mr. Downey's operational experience covers areas such as business development, sales, marketing, branding, strategy, identifying emerging technologies, and building strategic industry and investor relationships.
Mr. Downey began his career by helping launch a minimally invasive surgical division of Johnson & Johnson, Gynecare. He then went on to serve in executive sales, marketing and business development capacities for the first B-2-B healthcare exchange, medibuy.com, which raised over $160M through Kleiner Perkins and Oakwood Capital. After the company was acquired, Mr. Downey served as Vice President of Sales and Marketing for NoInk, a mobile healthcare technology firm spun out of Rose-Hulman Ventures. At NoInk, he led efforts to secure the company as the premier provider to the orthopedic industry. Upon the sale of NoInk, Mr. Downey assisted an international investment firm in bringing innovative software solutions into US Homeland Security, as well as mobile healthcare through partnerships with Cisco, Intel and Siemens. Mr. Downey then joined the founding team of OrthoPediatrics, where he managed tech transfer, branding, marketing and led several private placements that raised over $19M for the company. In 2010, Mr. Downey co-founded Purim Ventures, a private venture firm focused on providing strategic advisory and business development services to promising companies in medical device, emerging technology and consumer products.
Mr. Downey serves as an advisor and on the board of several non-profit organizations and privately held companies, including the Orthopedic Research Foundation, WishBONE, Round2Funding, and Brickhouse Coffee Roasters. He received a B.S. from the Krannert School of Management, Purdue University.
When & Where

Georgia Tech Conference Center
800 Spring St NW, Atlanta, GA
Atlanta, GA 30308


Thursday, June 26, 2014 from 1:00 PM to 6:00 PM (EDT)
Add to my calendar
Organizer
Healthcare Pioneers™ is a global Healthcare Innovation Network comprised of over 350,000 healthcare & life science industry professionals.
Healthcare Pioneers is sponsoring startups, helping organize workshops with top consultants in the country, and speeding the way for adoption of advanced technologies.