Description
Healthcare Innovation Breakfast: Digital Navigation and Driving Utilization of Your Benefits Program
Start your day right with breakfast and a side of innovation! Connect with Philadelphia's most progressive HR executives as we explore ways to maximize engagement of digital solutions and employer-sponsored health care programs.
Please join benefits leaders from top, local employers including Andy Rosa, Director HR, Benefits & Workforce Health, AmeriGas, John Lasky, CHRO, Temple University Health System and Sharon Castillo, Director, Delivery and Adminstration, Board of Pensions of the Presbyterian Church, as well as leaders from Limeade, Livongo, Ovia Health, and Teladoc, as they discuss strategies to increase employee engagement, satisfaction, and well-being while reducing trend.
Agenda:
8:00 – 9:00 Networking Breakfast
9:00 – 10:00 Panel Discussions
10:00 – 11:00 Visit Healthcare Ecosystem Pavilion Stations
At this event, sponsored by Accolade and co-hosted by the Greater Philadelphia Business Coalition on Health (GPBCH), you'll learn more about Accolade's integrated platform, connect with leaders transforming the healthcare experience and network with GPBCH's members and leadership – all while enjoying breakfast in the heart of the City of Brotherly Love!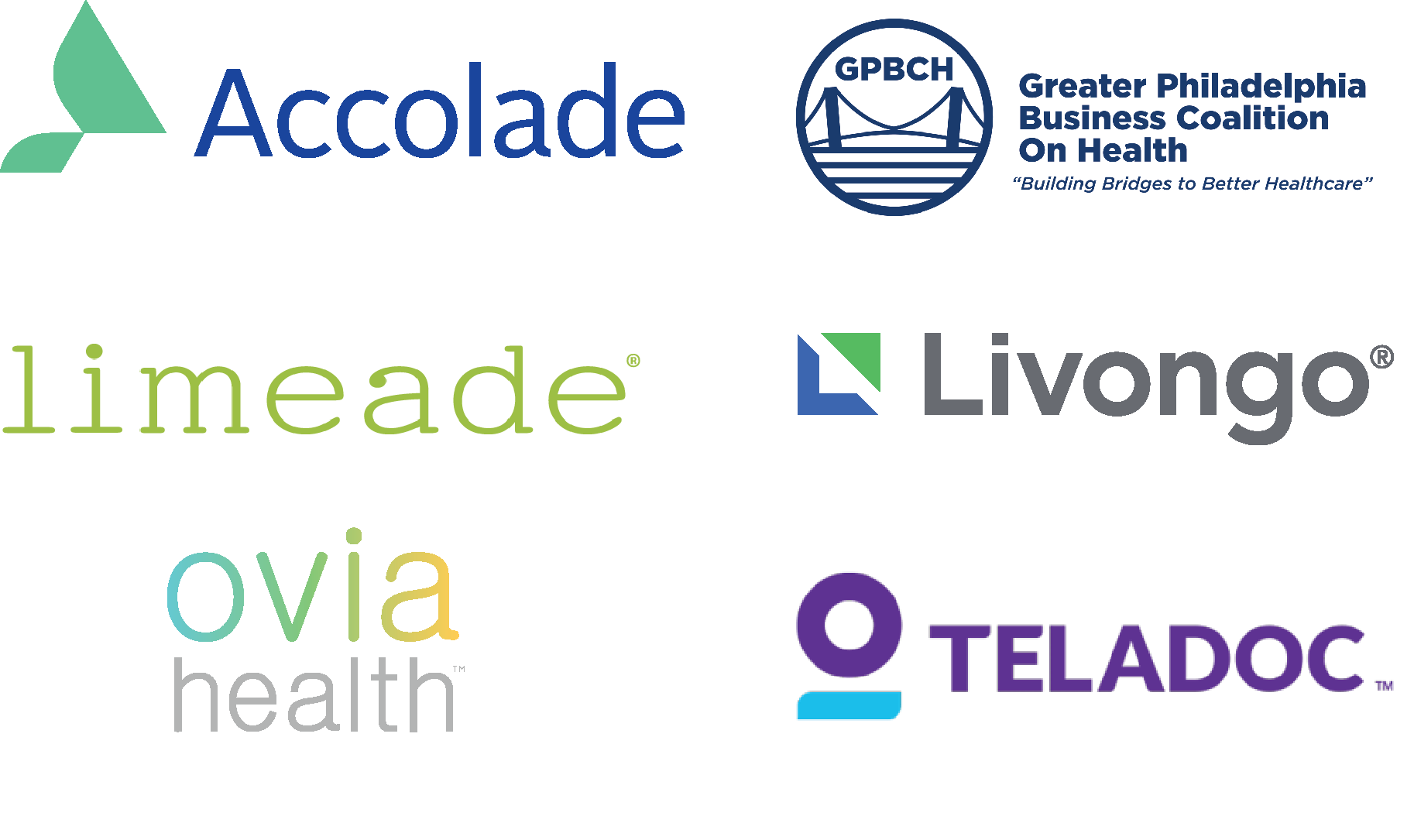 Greater Philadelphia Business Coalition on Health
The Greater Philadelphia Business Coalition on Health (GPBCH) represents the employer community in working with health plans, health care providers, and other system stakeholders to improve the value of health benefit spending for its members, by improving healthcare quality and safety and reducing health care costs.
Limeade is an employee engagement company that inspires commitment by elevating culture. Limeade technology creates an immersive experience focused on the whole person, the whole company and the whole ecosystem with integrated well-being, engagement, social recognition and aggregation software. Recognized for its own award-winning culture, Limeade helps the world's best companies develop happier, healthier and more productive employees.
Livongo has a vision of empowering all people with chronic conditions to live better and healthier lives. Livongo is redesigning chronic condition management, starting with diabetes, by driving behavior change through the combination of consumer health technology, personalized recommendations, and real-time support.
Ovia Health is the leading digital health platform for women and families. Trusted and loved by millions, Ovia Health's benefits solutions for fertility, pregnancy, and parenting empower employees to take control of their healthcare and start families with confidence.
Teladoc, Inc. (NYSE:TDOC) is the largest and most trusted telehealth provider in the world. Recognized by MIT Technology Review as one of the "50 Smartest Companies", Teladoc is forging a new healthcare experience with better convenience, outcomes and value. The company provides virtual access to high quality care and expertise, with a portfolio of services and solutions covering 450 medical subspecialties. By marrying the latest in data and analytics with its award-winning user experience and highly flexible technology platform, Teladoc has delivered more than 2.5 million medical visits to patients around the globe.
Organizer of Healthcare Innovation Breakfast
Accolade is a personalized health and benefits solution that dramatically improves the experience, outcomes and cost of healthcare for employers, health plans and their members. With a unique blend of compassionate advisors, clinical experts and intelligent technologies, we engage individuals and families in their health, establish trust, and influence their decisions at every stage of care. Accolade connects the widest array of personal health data and programs to present a single point of contact to the most effective health and benefits resources, while coordinating with providers at every step. Accolade consistently achieves 70 and higher Net Promoter Scores, 98% consumer satisfaction ratings, and up to 15% employer cost savings. Accolade has been recognized as one of the nation's 25 most promising companies by Forbes, a fastest-growing private healthcare company by Inc. 5000, and is consistently rated a Top Workplace across the country. For more information, visit accolade.com.