HEALTHCARE * ENVIRONMENTAL SERVICES * LEADERSHIP SERIES * ISSA Verified

Monday, July 17, 2017 at 1:00 PM

-

Friday, July 21, 2017 at 4:00 PM (EDT)
Event Details
Knowledge, Respect and Pride Saves Lives
Today more than ever, patients are at risk of Healthcare Acquired Infections (HAIs). Environmental Cleaning is a fundamental principle of preventing infection in all healthcare settings.
In 2016, U.S. healthcare facilities were penalized by Medicare for having patients return within 30 days of discharge, losing a combined $420 million.  Moreover, surgical patients who develop infections are 60% more likely to require admission to a hospital's intensive care unit. Surgical infections are believed to account for up to $10 billion annually. Are you okay with lost CMS reimbursement? Do you see a need to continue your professional development? Is it time for an operational tune-up for your department?
As a leader of the Environmental Services Department, you are faced with these questions:
What are the options for cleaning, disinfecting and monitoring the patient-care environment to reduce surface contamination and prevent HAIs?

What approaches are currently in use, and what strategies have recently emerged?

How do cleaning, disinfection and monitoring strategies interact?

Do current benchmarks exist for defining "clean" surfaces?

What equipment is necessary to support EVS operations?

What are important considerations when training EVS staff?
Can you answer these questions as they relate to your healthcare facility?
Please watch my short, 2 minute video and let me tell you about this program.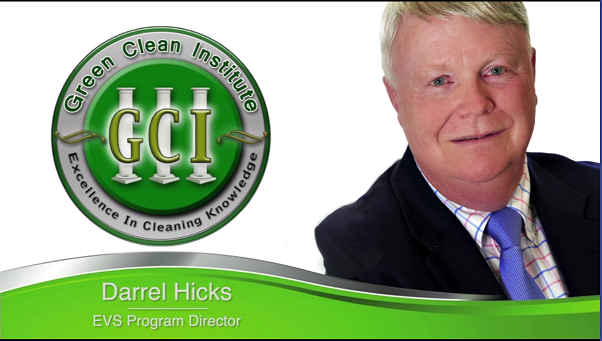 I have got a program answer that works!
Once upon a time, I stumbled my way through high school, finding no practical use for biology or chemistry classes. To me, they didn't have anything to do with "real life."  If I only knew then what I know now…
After 34 years of leading hospital environmental services team of up to 300 FTEs, I have learned that "real life" means bacteria, viruses and fungi. Real life means patient's #1 Fear of entering the hospital is "GERMS." And, real life education showed me how to fight and defeat the agents of disease through better, more thorough cleaning and disinfection.
I want you to experience classroom learning activities that equip you with the knowledge necessary to confront the present AND the future. Simple cleaning of the environmental surfaces may be one of our key defenses in the future battle against infectious disease. With antibiotic-resistant organisms proliferating on common touch-points for up to 56 or more days, the study of cleaning and measuring cleanliness is becoming all-important.
Sign up for this 4 day EVS Technician Master Series by June 1, 2017
and recieve $250 off the advertized price.
NOW, you have access to this knowledge
When you attend the four-day course, you'll get the following:
Infection prevention through better cleaning

Identifying the enemy

Coming to terms

Introducing Hands-On infection prevention strategies

Pondering the possibilities of "green disinfection"

Soft surfaces in healthcare and the problems they create

The Seven Steps of Processing

Establishing your own "Standards of Appearance"

Busting up biofilm

"C-diff Happens" for non-clinical staff

Discover Cleaning to a Scientific Standard

How to inspect what you expect-Measuring Clean

Disinfectants: What's in Your Bucket

No-touch room disinfection systems

A certification program for EVS technicians
You will get this, too:
Design for Maintainability-both cleaning and disinfection

Seven Aspects of Surface Selection in Healthcare

Discover the OSHA e-tool for healthcare

Brief discussion of CDC guidelines for cleaning/disinfection; EPA; the Joint Commission; CMS
As a bonus, we will spend an ample amount of time discussing "how to keep your in-house operation in house":
Benchmarking, work loading and productivity

How many supervisors do I need?

How many floor finishers do I need?

Look at tools and equipment to enhance your operation

Perform an audit of your operation

Articulate the value of your department
Sign up for this 4 day EVS Technician Master Series by June 1, 2017
and recieve $250 off the advertized price.
"One engaged, Certified EVS Technician,
given the right tools, products and time to do the job,
will prevent more infections than a room full of doctors can cure".  
Darrel Hicks
Now it is your turn to learn what I know.
How you finish is far more important than how you start. You don't wake up each morning thinking, "Okay, how can I fail today?" Successful endings are the result of good choices and consistent discipline put in sequence over an entire career. You are at the proverbial fork in the road. You can continue leading the way you're comfortable with, keep your head down and hope nothing worse happens, or, you can spend four days in a classroom of your peers discovering a better, more effective approach to providing a safe, clean and disinfected environment for your patients.
Certified Professional Development
Classroom space is limited and I don't know if this course will be offered again in 2017. Here is your call to action… Simply click on the registration button above and fill out the Eventbrite form. Register before May 1 and get $250 off the price of the course. Instead of $1,995, you pay $1,745. After May 1, 2017 the price will be $1,995.

Guarantee
If for some reason you're not delighted with the exchange of information between the class attendees and myself, the interaction you have with other industry professionals, the materials you will be able to take back to your workplace, and the overall experience of a Live class, then just let me know - and you get 100% of your registration back, via a check, directly from GCI to you.
Your Schedule at the A.C.E. Academy of Cleaning Excellence:
Monday, 12:00 pm - 5:00 pm

Tuesday, 8:00 am - 5:00 pm

Wednesday, 8:00 am - 5:00 pm

Thursday, 8:00 am - 5:00 pm

Friday, 8:00 am - 12:00 pm*
Complimentary lunch provided each day by GEM Supply.  * No lunch provided on Friday.
Instructors Bio:
J. Darrel Hicks, BA, REH, CHESP, A.C.E
Began his career in the management of housekeeping services in 1981 and recently retired as the former Director of Environmental services at a 500-bed, award-winning hospital in the United States.   
Darrel is the EVS Program Director at GCI Certified and owner/principal of Darrel Hicks, LLC.  He specializes in B2B consulting, webinar presentations, seminars and facility consulting services related to cleaning and disinfection. 
Mr. Hicks is a Past- President of the IEHA-Uniting Facility Managers Worldwide during the term 2006-2008 and holds the title of Registered Executive Housekeeper (REH).
He is an active member in AHE (the Association for the Healthcare Environment) where he holds a CHESP (Certified Healthcare Environmental Services Professional). Hicks earned his Certificate of Mastery in Infection Prevention (CMIP) in 2016. 
He is also accredited as an official ISSA Cleaning Industry Standard Certification, Accredited Certification Trainer. 
Hicks is nationally recognized as one of the subject matter experts in infection prevention and control as it relates to cleaning. He has written and published numerous articles in professional and healthcare related journals as part of his commitment to providing a cleaner, safer and healthier indoor environment.
David Thompson, A.C.T.,  A.C.E. 
David Thompson is President at GCI (Green Clean Institute), Director at the A.C.E. Academy of Cleaning Excellence and an ISSA Accredited Certification Trainer (ACT).
David has 45 years of healthy, progressive and positive expericence in the cleaning industry, certifying thousands of individuals annually and is uniquely qualified to provide conceptual knowledge to change indoor envrionmental health.
When & Where

Academy of Cleaning Excellence
1312 West Washington Street
Orlando, FL 32805


Monday, July 17, 2017 at 1:00 PM

-

Friday, July 21, 2017 at 4:00 PM (EDT)
Add to my calendar
Organizer
The Academy of Cleaning Excellence has four campuses in Florida: Kissimmee, Lakeland, Orlando and Tampa, with or fifth campus in Atalanta, Georia.
Each week there is a class being provided at one or more of our campuses, on such topics as: 
Infection Prevention
Understanding Microfiber
Carpet Care
Hard Floor Care
Saftety and Security
Stone Floor Care
Engineered Water
Bloodborne Pathogens
ISSA Master Technician
HEALTHCARE * ENVIRONMENTAL SERVICES * LEADERSHIP SERIES * ISSA Verified