Description

Imagine being able to improve your family's health and well-being with a healthcare program you can learn in one day and use for a lifetime!

The BodyTalk Access Class will teach you how to...
Immediately shift the nervous system OUT of the fight/flight mode INTO relaxation/repair

Normalize the stress-response "threshold" to maximize the amount of time the body/mind is in a relaxation state (regardless of external circumstances), improving mental coordination, focus and memory

Optimize hydration at the cellular level (reducing inflammation and swelling in some areas while enhancing cellular hydration in other areas, for example rejuvenation of skin)

Balance the key players of the immune system (relaxing over-enthusiastic cells in tendencies toward allergies and intolerances...and activating sluggish cells to more efficiently handle basic pathogen exposures such as common cold or more serious exposures)

Harmonize the 17 main musculoskeletal reciprocal circuits (for incredible reduction in muscle aches/pain, naturally improved flexibility, muscle tone, posture, coordination and balance, increaased ease of energy flow through meridians, improved coordination of digestion, and SO MUCH MORE)
This System was orginally designed for Third World Countries with little to no available healthcare, the founder realized it was equally important to make these techniques to everyone.
With these healthcare techniques at your own fingertips you can treat up to 60% of day to day health concerns on your own.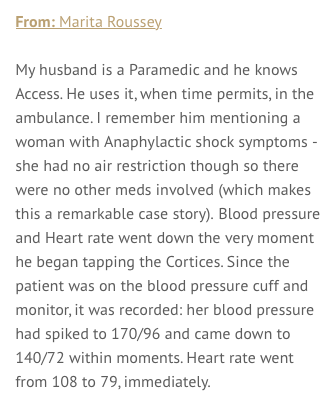 Please contact the coordinator with any questions or for assistance.
Elizabeth Gillis
regainhealthNH@comcast.net
603/566-0819
Date and Time
Location
Refund Policy