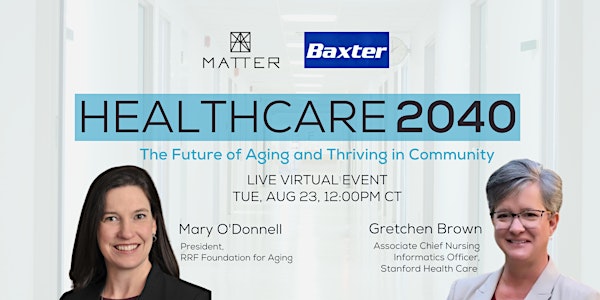 Healthcare 2040: The Future of Aging and Thriving in Community
Leaders from Stanford Health Care and RRF Foundation for Aging join MATTER and Baxter to discuss the future of aging in place.
About this event
What will healthcare for older adults look like in 20 years? What innovations should we invest in today to help us get there?
MATTER and Baxter present Healthcare 2040, an event series that invites industry leaders working in significantly transformative areas of healthcare to help us explore these questions.
How are we conceptualizing what it is to age? How is technology truly supporting all of us as we age? What will care outside of the hospital look like in 2040, and what will the gaps be?
Stanford Health Care Associate Chief Nursing Informatics Officer Gretchen Brown and RRF Foundation for Aging President Mary O'Donnell will discuss these questions and more in a conversation moderated by Baxter Vice President of Medical Affairs Carlos Urrea.
Agenda:
12:00pm CT | Opening remarks: Steven Collens, CEO, MATTER
12:05pm CT | An Overview of the Aging Landscape – how we talk about it and key considerations as we look forward
12:15pm CT | Panel Discussion
1:00-1:30pm CT | Networking and discussion*
* After the program, join us for networking and discussion via Zoom breakout rooms. If you wish to join, make sure to opt in when you register.

About the speakers:
Gretchen Brown, MSN, RN
Associate Chief Nursing Informatics Officer of Stanford Health Care
Gretchen's leadership experience is broad, functioning in roles that span opening Clinical Inpatient Access, a throughput hub, and interim director and associate chief nursing officer roles covering the office of emergency medicine, psychiatry, the emergency department and the inpatient patient care services area. Finally, Gretchen was instrumental in activating Stanford Health Care's 800,000 square foot, state-of-the-art hospital tower in 2019 as the point clinical representative across patient care services. She was the principal in bringing a new model of care to Stanford Health Care, the acuity-adaptable unit that brings flexibility in care to each individual service line and patient.
Through her work activating the new hospital, Gretchen began transitioning her focus on workflows related to clinical technology platforms and informatics. In her leadership role in informatics, she has led initiatives and innovation around EHR enhancements and clinical technologies including reimaging a patient hub and video conferencing solution, simplifying the patient interface with technology in the patient room of tomorrow.
Mary O'Donnell
President of RRF Foundation for Aging
Mary O'Donnell is president of RRF Foundation for Aging, a private foundation based in Chicago that is dedicated to improving the quality of life for older people. Mary joined the foundation in 2009, leading various aspects of its grantmaking, planning and strategic advancement efforts before stepping into her current leadership role in 2020. Nationally, she served on the Board of Directors of Grantmakers in Aging for several years and was selected by Grantmakers in Health as an emerging leader in health philanthropy. Locally, she has been active within Forefront and Chicago Foundation for Women. Mary received her master's degree from the University of Chicago's School of Social Service Administration with concentrations in geriatric social work and nonprofit management.
About the moderator:
Carlos Urrea, MD, MPH
Vice President Medical Affairs at Baxter
Dr. Urrea is a clinical global leader in Medical Affairs and Clinical Informatics. He was born and raised in Colombia where he received his medical degree from the National University of Colombia in 2001. He then moved to the United States and now holds a Master of Public Health from Johns Hopkins Bloomberg School of Public, a Master of Science in Health Services Administration from Barry University and is a graduate of the Patient Safety Officer Executive Development Program of the Institute for Healthcare Improvement.
Today, Dr. Urrea serves as Vice President Medical Affairs at Baxter providing medical oversight for evidence generation and dissemination activities and offers guidance in product development, pipeline and digital health strategy.
About Healthcare 2040:
The Healthcare 2040 series looks forward at how the healthcare industry should evolve by tapping industry leaders to take deep dives into transformative areas. Topics include: next generation care management and patient engagement, effective healthcare policy, and consumerism and precision health.
About Baxter:
Baxter is a global medical technology leader whose 10,000 employees have a single purpose: enhancing outcomes for patients and their caregivers by advancing connected care. Around the world, our innovations touch over 7 million patients each day. They help enable earlier diagnosis and treatment, optimize surgical efficiency and accelerate patient recovery while simplifying clinical communication and shifting care closer to home. We make these outcomes possible through digital and connected care solutions and collaboration tools, including smart bed systems, patient monitoring and diagnostic technologies, respiratory health devices, advanced equipment for the surgical space and more, delivering actionable, real-time insights at the point of care. Learn more at baxter.com